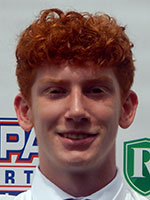 Connor Hilling and Colin Skeen scored touchdowns 2:25 apart in the second quarter Friday night, allowing Valley View to take control of a defensive struggle with visiting Berwick on the way to a 21-0 victory in the District 2 Class 4A semifinal.
The game remained scoreless beyond the midway point in the second quarter until Hilling took the ball off the right side as the tailback in the power-I. He ran right through a tackle attempt at the 25 and sped the rest of the way into the end zone for a 32-yard touchdown.
Sean Mackinder then intercepted a pass and returned it 48 yards down the right sideline to the Berwick 8.
Skeen scored from there on the next play and Valley View took a 14-0 lead into halftime.
Hilling, who carried 20 times for 133 yards, scored his second touchdown from the 1 during the fourth quarter, but by then the Valley View defense already had enough with which to work.
The Cougars held the Bulldogs to 97 yards total offense and 4-for-13 passing.
Ben Knorr led Berwick with 81 yards on 17 carries.
Valley View (11-1) advances to host North Pocono (10-2) Friday for the District 2 title. North Pocono won its semifinal on the road, 41-26, over Dallas.
MORE FRIDAY FOOTBALL
Scoreboard: https://nepasportsnation.com/fridays-football-scoreboard-6/.