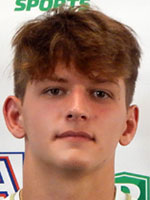 Wyoming Area covered 225 yards on 3 straight second-half touchdowns, then held on through a harrowing fourth quarter to defeat Wilkes-Barre Area, 31-30, Saturday afternoon at Wyoming Valley West's Spartan Stadium in Kingston.
Blaise Sokach-Minnick threw 3 touchdown passes, including two during the streak of 21 straight points to open a 31-10 lead in the first minute of the fourth quarter.
The Warriors held on despite three fourth-quarter touchdown runs by sophomore Mekhi Nelson, the leader of last week's comeback from 13 down to defeat Scranton in the opener.
When the Wolfpack were unable to get off a late attempt at the game-winning field goal, the Warriors held on to become the only Wyoming Valley Conference football team to start this season 2-0.
With Wyoming Area navigating injuries at running back, Nico Sciandra came off the bench to run for 120 yards and score 2 touchdowns. He combined with Sokach-Minnick, who overcame an early Pick Six to go 5-for-7 for 167 and 3 touchdowns, to lead the Warriors offense.
The Warriors defense seemed to have the Wolfpack contained, until the aftermath of Sokach-Minnick's 81-yard touchdown pass to Rocco Pizano for the 21-point lead.
Nelson ran 35 yards for a score with 10:24 left, just 1:03 after Pizano's touchdown.
The Wolfpack scored again 10 seconds later. They covered the ensuing kickoff and Nelson ran 23 yards for a touchdown on the next play to make it 31-24.
Nelson's 5-yard run with 5:57 remaining still left the Wolfpack with time even after the potential tying extra-point attempt was no good.
Wilkes-Barre Area got close enough to line up for a 21-yard field goal attempt for the lead. When the snap could not be handled, the Wolfpack was stopped short on the scramble that ensued.
Both teams hit field goals in the second quarter.
Jayden Rusyn, who also had a team-high eight tackles on defense, opened the scoring with a 27-yard field goal for Wyoming Area with 9:52 left.
Ian Bednar returned an interception 8 yards for a touchdown to give Wilkes-Barre Area a 7-3 lead.
Sciandra scored on a 14-yard pass from Sokach-Minnick for a 10-7 lead with 1:02 left in the half.
The Wolfpack hurried and tied the game, 10-10, on an Evan Corcoran field goal as time ran out in the half.
Wyoming Area piled up 435 yards total offense with the help of its three long second-half touchdowns.
Sciandra ran 79 yards for a score less than a minute into the third quarter, then Sokach-Minnick connected with John Morgan for a 65-yard touchdown three minutes later.
The Wolfpack lost quarterback Javant McClary to an injury during the game and Nelson, who also plays running back and wide receiver, took over at quarterback and led the comeback attempt.
MORE SATURDAY FOOTBALL COVERAGE
Hanover Area-Susquehanna game: https://www.nepafootball.com/event/2021-hanover-area-at-susquehanna/.
Honesdale-Abington Heights: https://nepasportsnation.com/hornets-rally-past-comets-20-19/.
Scoreboard: https://nepasportsnation.com/district-2-football-scoreboard-4/.