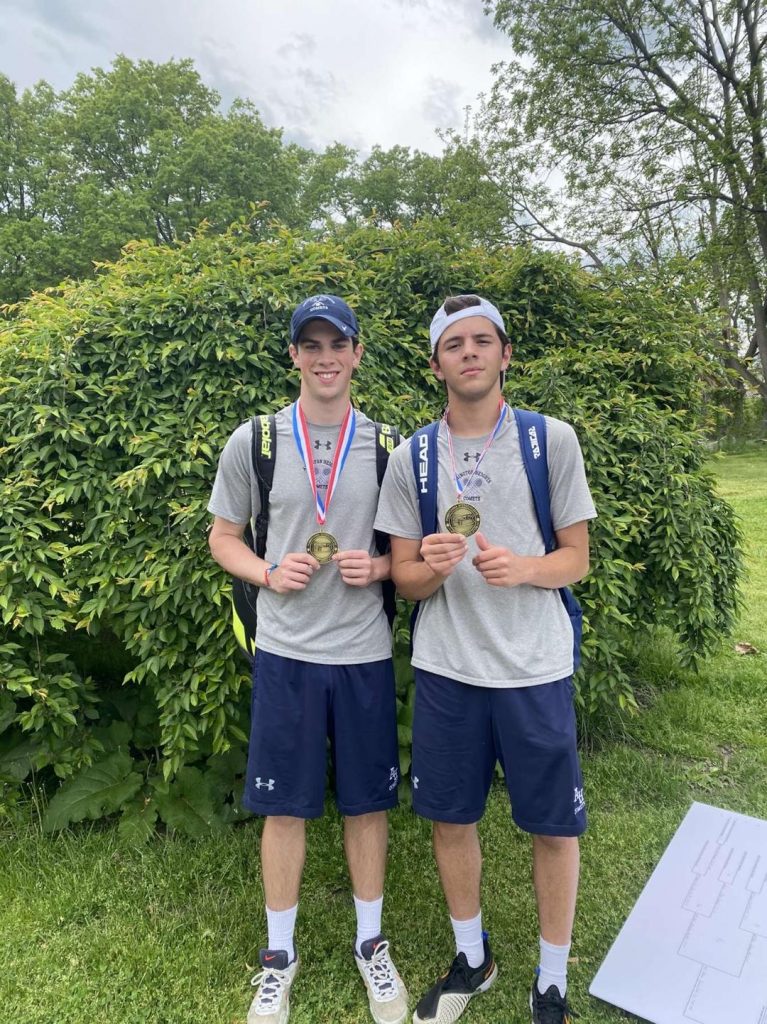 Sam Christman and Luke Morgan won an all-Abington Heights Class 3A final and the Dallas brother combination of Kyle and Tucker Chesman captured the Class 2A title when the District 2 boys tennis postseason wrapped up Wednesday with the doubles championships at Kirby Park in Wilkes-Barre.
Christman-Morgan defeated Domenic Peters-Ryan Salony, 6-1, 6-2, after both teams won their semifinal matches to begin the day.
The Chesman brothers won in the semifinals and took the title by injury default over Valley View's Luke Kotcho-Liam Harrison when Harrison was unable to play the final because of an injury.
Abington Heights swept all three Class 3A championships. The Comets won the team title before falling to Unionville, 3-0, Tuesday in the first round of the Pennsylvania Interscholastic Athletic Association state tournament and Praneel Mullaiah won the singles championship.
The Chesman brothers are the top two singles players on the Dallas team that won the District 2 title and advanced to Friday's state quarterfinals when it defeated Allentown Central Catholic, 3-0, Tuesday.
Abington Heights, the Lackawanna League champion which has won nine straight district titles, continued its local 3A dominance in the doubles semifinals.
Christman, who was also part of the championship doubles team last season, and Morgan defeated North Pocono's Patrick Cawley-Fred Kloss, 6-2, 6-1.
Thrid-seeded Peters-Salony battled through a long match to defeat second-seeded Michael Hamel-Stanley Shimko from Wilkes-Barre Area, 2-6, 7-5, 6-4.
The Chesmans won what turned out to be their only match of the day, 6-1, 6-2, over Scranton Prep's Ethan Borick-Gianluca Argenio.
Borick-Argenio won the first game before the Chesmans won the last six of the first set.
The Chesmans won four straight games in the second set for a 5-1 lead.
Kotcho-Harrison defeated the other Dallas entry Jason Joshi-Luca DeRome, 6-4, 6-3.
Harrison aggravated a previous hand injury during the match and was limited in the last few games, but Kotcho took charge, leading the team to victory.
Harrison iced the injury between rounds, but after testing it in warm-ups for the potential championship match, it was determined that he was unable to continue and the match was defaulted.