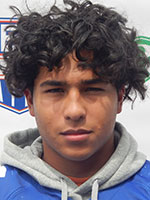 THROOP – Devin Ayala ran for three first-half touchdowns and Kyle Marcinkevich scored twice Friday night as Mid Valley ran away from visiting Holy Redeemer, 54-14, in a non-league football game.
Mid Valley scored the game's last 26 points to improve to 1-1 while Holy Redeemer dropped to 0-2.
The Spartans shut out the Royals after halftime while adding their last 20 points to send the game into the Mercy Rule.
Ayala ran for two of his touchdowns in the first quarter, including a 29-yarder that made it 20-7. He added his third touchdown, from 13 yards out, to make it 28-7 less than 17 minutes into the game.
Jacob Hunter found Justice Shoats with touchdown passes of 60 yards in the first quarter and 83 midway through the second to account for Holy Redeemer's scoring.
Marcinkevich caught a 31-yard pass from Riccardo for a touchdown in the first quarter and returned a punt 39 yards for the next-to-last touchdown.
Riccardo also scored on a 3-yard run and ran for a two-point conversion.
The other two Mid Valley touchdowns were on runs by Darnell Calloway and Zach Popko.
The lengthy first half included a combined 18 penalties.