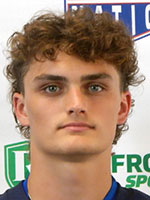 Matt Lonczynski threw two second-quarter touchdown passes and Ben Knorr ran for two third-quarter scores Friday night as Berwick pulled away from visiting Wallenpaupack for a 37-17 victory in the District 2 Class 4A football quarterfinals.
The victory earned Berwick (7-4) a shot at top-seeded Valley View (10-1) in the semifinals.
Berwick's special teams and defense gave the Bulldogs a 10-0 lead after one quarter before Lonczynski and Knorr got the offense moving.
Brendan Hinkle opened the scoring on a 33-yard field goal with 7:48 left in the first quarter.
Spencer Kishbaugh then returned an interception 85 yards for the first of his two touchdowns.
Roman Levant's 42-yard field goal pulled Wallenpaupack (4-7) within 10-3 with 9:31 left in the first quarter, but Berwick ran off 27 straight points in a span of 7:33 from late in the second quarter until midway through the third quarter.
Lonczynski threw touchdown passes of 32 yards to Rowan Slabinski and 34 yards to Kishbaugh in the last 1:37 of the second quarter for a 27-3 halftime lead.
The Berwick quarterback finished 9-for-12 for 145 yards passing.
Knorr took it from there. The running back, who gained 105 yards on 18 carries, scored on 9- and 4-yard runs in the third quarter.
Wallenpaupack's two touchdowns came from T.J. Schmalzle in the last 5:09.
Schmalzle ran 36 yards for one score, then took a 21-yard pass from Mabret Levant for the last points in the final minute.
Mabret Levant passed for 112 yards for Wallenpaupack, hitting Schmalzle 5 times or 106 yards.
MORE
Dallas-Pittston Area: https://nepasportsnation.com/wydra-bolesta-lead-dallas-victory/.
Delaware Valley-Scranton: https://nepasportsnation.com/weinrich-helps-dv-advances-to-final/.
Dunmore-Susquehanna Photo Gallery: https://nepasportsnation.com/dunmore-susquehanna-football-photo-gallery/.
Hazleton Area/Wilkes-Barre Area: https://nepasportsnation.com/hazleton-area-reaches-6a-final/.
Wyoming Area-Carbondale: https://nepasportsnation.com/sciandra-keys-outburst-by-warriors/.
Scoreboard: https://nepasportsnation.com/fridays-district-2-football-scoreboard/.