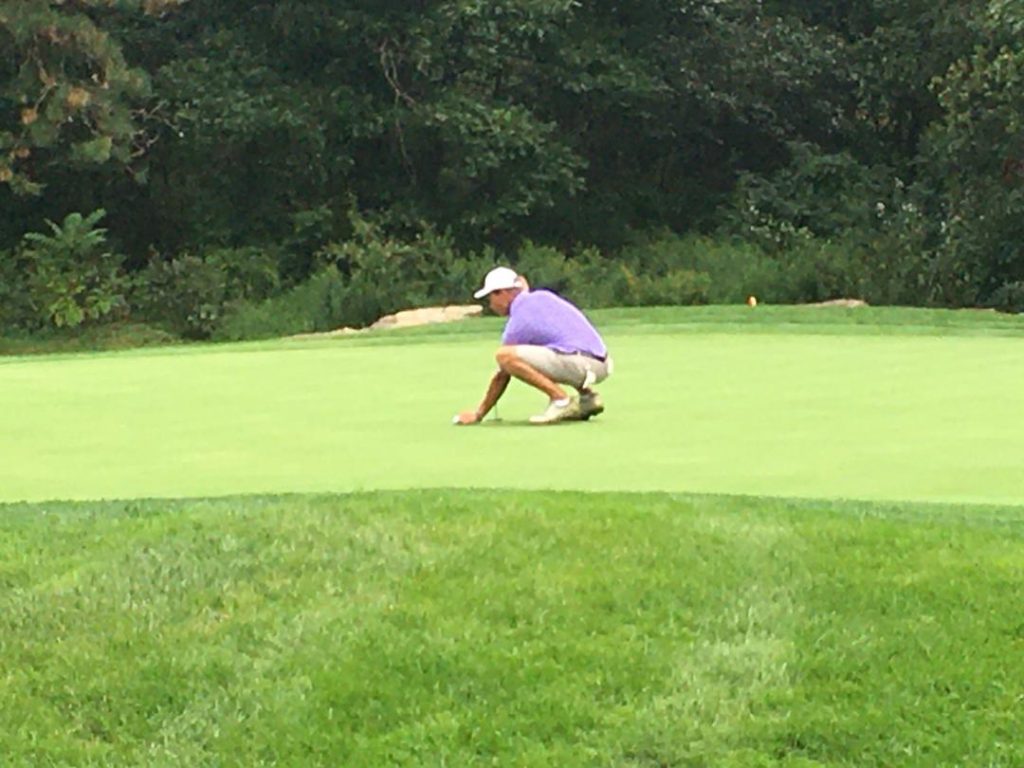 By Tom Robinson, NEPASportsNation.com
MOOSIC – By being willing to contain their aggression off the tee, Thomas Lynch and Michael Sewack were well positioned to attack pins.
Lynch and Sewack made the most of that strategy Friday morning while leading Scranton Prep to a 6½-2½ victory over rival Abington Heights in the annual Lackawanna League Division 1 showdown of District 2's most successful golf programs on the back nine at Glenmaura National Golf Club.
"It was a lot of just good positioning off the tee, playing strategic, not wanting to play too aggressive," Lynch said. "You can still make the birdie without hitting driver, so there's no point.
"That's where I feel like I separated myself. The other players would hit driver and I would lay it back just a little and have a longer shot, but still be able to convert."
Scranton Prep, the defending Pennsylvania Interscholastic Athletic Association Class 2A state champion, is the top-ranked Small School team in the Scranton Golf Center Super Six Power Rankings. Abington Heights, fifth in the state in Class 3A a year ago, is the No. 1 Big School.
With a combined 9 of 12 lineup spots filled by returning starters, both District 2 championship teams were unbeaten until facing each other for the early division lead.
"With the quality of team that Prep always has year after year, it's tough to come to their home course and capitalize," Abington Heights coach Frank Summa said. "You have to capitalize on mistakes and they didn't make them today."
Although there were still scenarios where Abington Heights could have pulled out a win on the last two holes, Lynch and Sewack helped make sure Scranton Prep came down the stretch with the lead.
Lynch birdied four of six holes after an opening bogey on the way to shooting a 3-under-par, 33 while posting comfortable wins in both singles and better-ball without ever using his driver.
"It was just a combination of a lot of long putts that I made where I was confident in the read with a lot of good positioning off the tee," Lynch said.
Sewack pulled the driver out of the bag once in a round of 2-under-par, 34 with three birdies, including on the last two holes where he secured a better-ball point after already having his singles point locked up.
"I hit two 80-yard wedge shots inside of six feet so that helped," Sewack said. "I hit 3-wood on a lot of holes and I hit it well all day. I was in a lot of fairways.
"That helped me because I was in good positions off the tee."
Scranton Prep improved to 4-0 while Abington Heights dropped to 2-1 in the division and 3-1 overall.
Sewack defeated Bryce Florey, 4 and 2, in the first foursome.
Luke Morgan gave Abington Heights its first point with a 3-and-1 victory over Brett Strong.
Sewack's birdie-birdie finish allowed him to combine with Strong for a 2-up victory over Florey-Morgan.
Thomas Lynch won over Quinten Birch and with partner Ben Galko, both by 4-and-3 scores.
Abington Heights' James Flickinger won the final hole to beat Galko, 1 up.
Michael Lynch gave Scranton Prep a third player under par while winning two points. He shot 35 during a 3-and-1 win over Michael Marion and 3-and-2, better-ball win with Gavin Walsh.
Robert Munley from Abington Heights split with Walsh in singles.