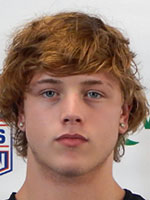 Colby Roberts ran for touchdowns in each of the first three quarters Friday night as Lake-Lehman returned to action with a 40-7 rout of visiting Hanover Area in a Wyoming Valley Conference Class 3A Division football game.
The Black Knights, who sat out last week for COVID-19 precautions, are 2-2, including winning both of their games against divisional opponents. Hanover Area fell to 1-4.
Roberts ran for more than 100 yards. His 28-yard touchdown gave Lake-Lehman a 12-0 lead less than five minutes into the game. Roberts scored from the 1 early in the second quarter for a 19-7 lead and on a 34-yard run 2:27 into the second half for a 33-7 lead.
Less than a minute after the first Roberts touchdown, Christian Torres hit Sean Dooner with a 52-yard touchdown pass to pull Hanover Area within 12-7.
Lake-Lehman then scored the game's last 28 points.
Javon Borger's 35-yard touchdown with 2:24 left in the second quarter gave Lake-Lehman a 27-7 halftime lead.
Cole Morio's 8-yard run less than two minutes into the game and Jeremy Scouton's 20-yard run in the fourth quarter accounted for the other Lake-Lehman touchdowns.
MORE FRIDAY FOOTBALL COVERAGE
Lackawanna Trail-Holy Redeemer: https://nepasportsnation.com/seven-lions-produce-tds-in-victory/.
Valley View-West Scranton: https://nepasportsnation.com/valley-view-races-to-48-points-in-rout/.
Wyoming Area-Crestwood: https://nepasportsnation.com/wyoming-area-blanks-crestwood/.
Scoreboard: https://nepasportsnation.com/fridays-football-scoreboard-2/.