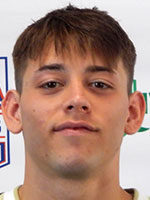 Leo Haros scored two first-half touchdowns Friday night and was part of the defensive effort that allowed Wyoming Area to shut out Crestwood, 27-0, in a non-league football game between Wyoming Valley Conference teams.
The Warriors (4-1) bounced back from their first loss and prevented the Comets (1-4) from following up their first win.
Crestwood made a first-quarter goal-line stand on fourth down, but Wyoming Area kept the Comets pinned and Haros picked off a pass that he returned 18 yards for a touchdown and 6-0 lead.
Joe Marranca led the defense with four tackles and four assists while Jayden Rusyn had three tackles and four assists.
Aaron Crossley had four tackles, an assist and two pass rushes. Nick Elko made one tackle for a loss and assisted on another. Usamah Alansari joined Haros with interceptions.
Blaise Sokach-Minnick added a sack on defense and led the offense by going 7-for-13 for 113 yards and a touchdown.
Haros scored on a 1-yard run on fourth-and-goal late in the half for a 12-0 lead.
Nico Sciandra scored on a short touchdown run and two-point conversion in the final minute of the third quarter for a 20-0 lead.
Sokach-Minnick found Rocco Pizano with a 20-yard pass to complete the scoring.
MORE
Friday night scoreboard: https://nepasportsnation.com/fridays-football-scoreboard-2/.