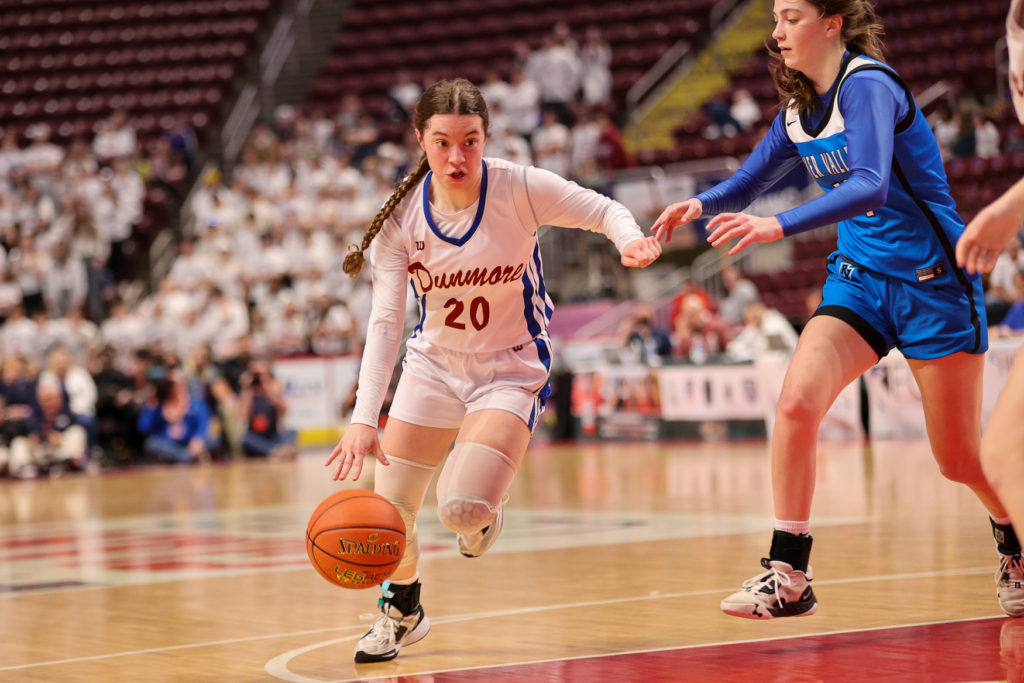 By Tom Robinson, NEPASportsNation.com
HERSHEY – Offensive rebounds – the prevention of them – were a priority for Dunmore going into Thursday night's Pennsylvania Interscholastic Athletic Association Class 3A girls basketball championship game.
They turned out to be one of the game's biggest factors on both ends of the floor.
Ciera Toomey grabbed 21 rebounds – her most since "maybe Biddy Ball" – as Dunmore used its dominance on the boards to remain in control throughout a 42-30 victory over River Valley at The Giant Center.
On a night when neither team could manage to hit 35 percent of its shots, defense and rebounding allowed Dunmore to pin down a long-pursued goal.
Dunmore used a 38-25 rebounding advantage and a defense that limited River Valley to 5 points over the last 10:12 to win the first girls basketball state title by a District 2 team since Bishop Hoban (now part of Holy Redeemer) in 1999. It was the first by a Lackawanna League girls team since Riverside in 1987.
"Going into the game, there were two things that I really just knew we needed to do to come out with the win," Toomey said. "I knew we needed to limit 4 (Ava Persichetti) and I thought Cadie Lewis did a great defensive job tonight. I'm happy for her.
" … Two, was limit them on the offensive boards because I watched I think every game that was on Hudl(.com) and their second opportunities were the game-changers."
Dunmore head coach Carrie Toomey, Ciera's mother, said the two tasks were connected.
"C was like a rebounding machine," Carrie Toomey said. "That was a big part of their game, getting rebounds and getting it back to 4.
"Ciera negated that. That was my hope that she could do that."
Tristan Canavan, who continued her postseason trend of converting consistently from close range, was the only player in the game to make as many as half her shots.
"We were trying to find our offense, because we didn't shoot particularly well," Carrie Toomey said. "We willed our way to that win."
Part of that will came from Lewis, who joined Ciera Toomey as the team's senior starters.
Persichetti was the game's leading scorer with 18 points, but it was never easy for the 5-foot-10 sophomore point guard, who already has more than 1,000 points for her career. She finished 2-for-8 from 3-point range and 7-for-22 overall.
"She worked for every single shot; every single point," Carrie Toomey said. "Cadie did amazing on her and the other girls helped as well.
"She's our defensive specialist, so I'm not surprised."
Ciera Toomey's five steals and a pair of fourth-quarter blocks were another big part of the defensive effort.
The University of North Carolina commit also led Dunmore with 14 points, but her biggest contributions came on the glass.
Dunmore got back half of its misses with Toomey's 11 offensive rebounds leading that effort.
Toomey had 10 on the other end of the floor where Dunmore held River Valley to 6 and kept 6-1 senior center Abby Pynos, the team rebounding leader on the season, from getting any. Dunmore retrieved more than three-quarters of the rebounds on its defensive end.
Sophia Talutto, who had a game-high 4 assists, and Canavan finished with 10 points each.
"It's an amazing feeling, especially for the seniors because they wanted it so bad," Canavan said. "We knew it was going to be a defensive game."
And, with that, one where the ability to control the most rebounds rose to the forefront.
MORE STATE FINAL COVERAGE
Quarter-by-quarter breakdown: State championship game recap – NEPA Sports Nation.
Key statistics: State championship in numbers – NEPA Sports Nation.
Brief recap: Lady Bucks grab state title – NEPA Sports Nation.
Photo Gallery: Dunmore/River Valley 3A Girls State Championship Basketball Photo Gallery – NEPA Sports Nation