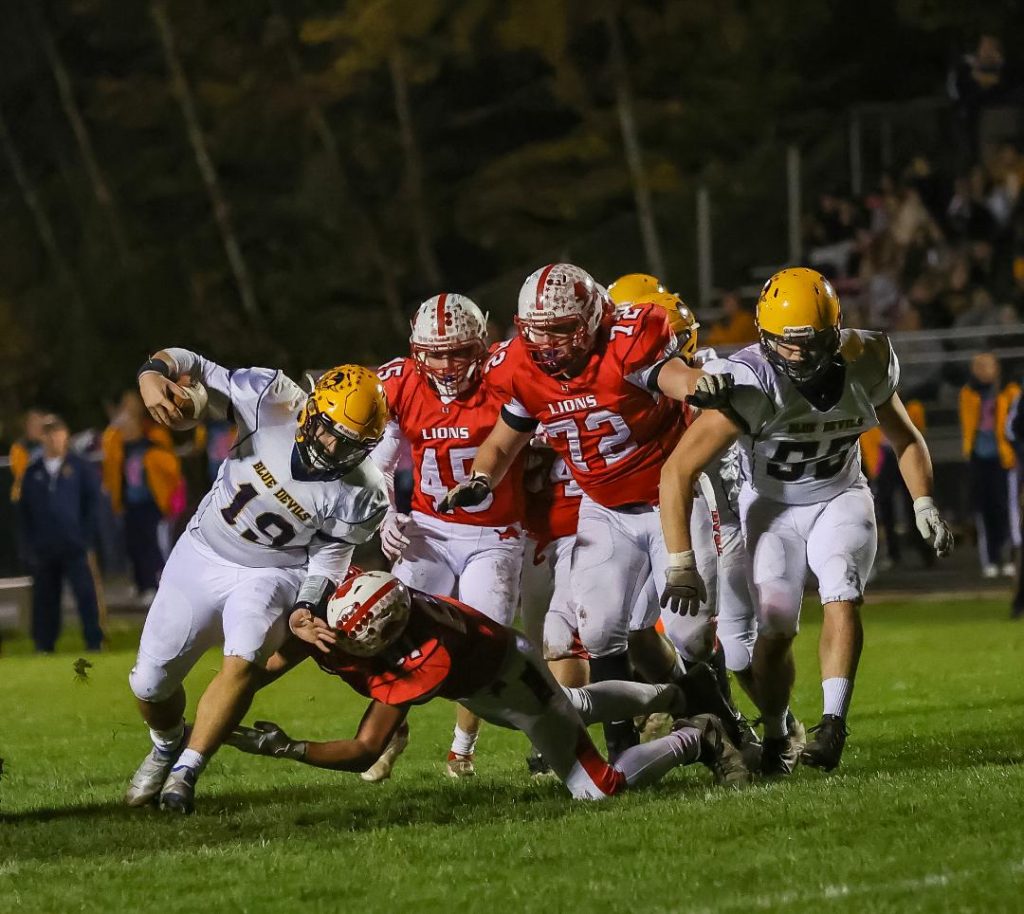 By Tom Robinson, NEPASportsNation.com
CLIFFORD TWP. – With quarterbacks James Sobol and Dominico Spataro leading the way, the Old Forge Blue Devils and Lakeland Chiefs won Lackawanna Football Conference championships Thursday night on the road.
Old Forge made it look easy, remaining undefeated overall with a 35-0 win over Lackawanna Trail in a meeting between the two teams that were unbeaten within Division 4.
Lakeland did it the hard way, rallying for the winning score with 2:22 left and keeping Dunmore from forcing a three-way tie in Division 3 by winning, 21-17, to finish 4-0 in the division.
The quarterbacks had their hands in all the scoring.
Sobol passed for three touchdowns and ran for two.
Spataro ran for two touchdown, passed 29 yards to Kevin Snyder for the game-winning score and sealed the win with an interception at the 2.
Sobol ran 14 yards for the game's first score with 4:45 left in the first quarter before going to the air for the first time. By halftime, he was 5-for-6 for 111 yards, including touchdowns of 37 yards to Casey Holzman and 20 yards to Ethan Tallo.
The Blue Devils added to their 21-0 lead with a 1-yard Sobol run in the third quarter and reached the Mercy Rule with 8:53 left on an 8-yard, Sobol-to-Tallo touchdown.
Spataro ran 1 and 31 yards for scores after Dunmore had jumped out to an early lead.
After the Bucks moved back in front, 17-14, in the fourth quarter, Spataro rallied the Chiefs again.
One play before the game-winning touchdown, he came up with a shot-gun snap that had gotten away and scrambled to keep the play to a four-yard loss.
Then, on third-and-nine, Spataro sidestepped a pass rusher and sent a high throw deep into the back of the end zone where Snyder went up and around a defender for the touchdown.
Lakeland's win prevented Mid Valley, which pulled away from a halftime tie to win 47-20 at Carbondale, from sharing the title three ways with the Chiefs and the Bucks.
Honesdale shut out West Scranton, 47-0, in an LFC Division 2 game.
Nanticoke defeated rival Hanover Area, 36-12, in a Wyoming Valley Conference Class 3A Division game.
MORE TO COME
Return to this website for more detailed coverage, still to come, on each of Thursday night's games.