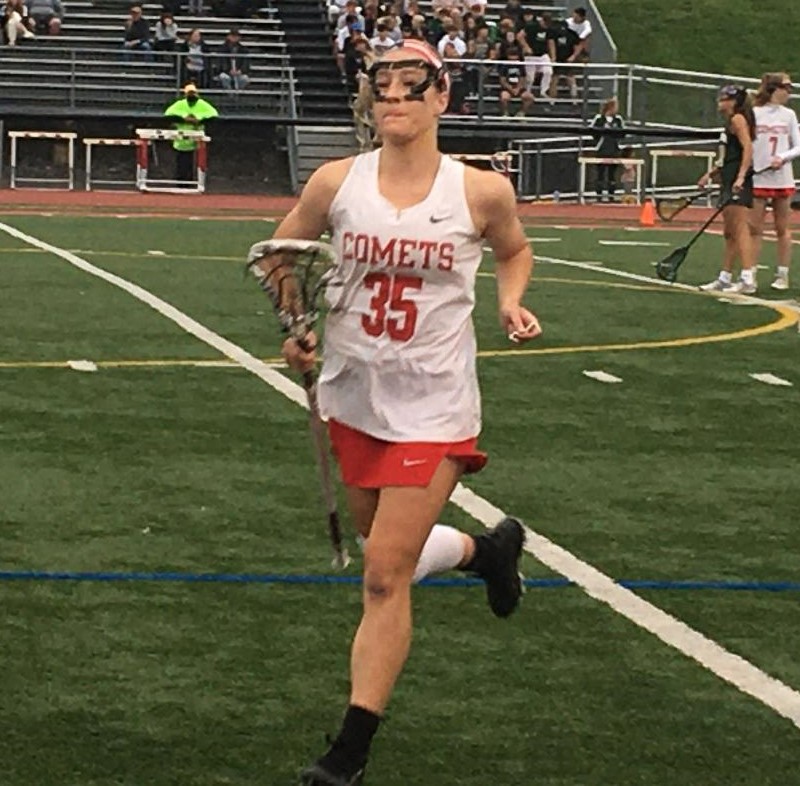 By Tom Robinson, NEPASportsNation.com
WRIGHT TWP. – Isabella Caporuscio went low and went high, including a no-look flick over her shoulder as Crestwood was breaking away for good.
She went left and she went right.
Caporuscio shot immediately after receiving passes and at other times waited until after a long run or a series of fakes and spins.
Scoring 13 goals in a district championship game requires – and provides the opportunity to show off – a variety of skills.
The Crestwood junior did just that while hitting her career scoring high Monday night in an 18-8 victory over visiting Wyoming Area in the District 2 Class 2A girls lacrosse championship game.
"One of the things we tried to develop, and her dad Aaron developed in her from a young age, is to mix up their shots a little bit," Crestwood coach Russ Kile said. "When we first started this program, we were one-dimensional shooters. We only had over-the-top shots.
"Now, we're finding players like Isabella, who can shoot from the top side, fake, low, high, anything. She has a huge repertoire of skills when it comes to shooting."
Caporuscio scored the game's first four goals in a stretch from 2:36 to 6:49 into the game. She later scored her team's last five goals, capping a streak of eight straight by the Comets for an 18-7 lead with 1:50 to play.
"I try to have as many different things in my pocket as I can," said Caporuscio, who also assisted three of the other five goals. "If I'm in the right spot at the right time, I have different shots that I can take to pull out of the pocket when I need them.
"Being a one-dimensional player doesn't get you very far in tough games like these."
After Caporuscio's fast start, Wyoming Area evened out play for the rest of a first half in which Crestwood wound up with a 15-14 shot advantage.
Caporuscio ran the ball in from about 40 yards out to take the shot for a goal with 38 seconds left, creating a 10-5 halftime lead.
Wyoming Area tried to make a move early in the second half.
Sofia Sabatini, who led the Lady Warriors with five goals and an assist, scored off a free position hit 1:25 into the half.
Sabatini then won the ensuing draw, getting the ball to Halle Kranson, who made the pass that sprung Makenzie Switzer for a goal 11 seconds later, cutting the deficit to 10-7.
Caporuscio set up a Hannah Ziegler goal, but Wyoming Area kept the pressure on, trying to get back within three goals, only to be turned away by two of Morgan Koons' eight saves.
From there, the Lady Comets took over.
They had 16 of the game's next 17 shots and scored eight straight goals to turn it into a Mercy Rule game. Julia Glowacki had two of the first three goals in that streak and Caporuscio had the other six.
"We knew they were going to come out strong in the second half and they did," Glowacki said, "but we adjusted to them.
"That helped and we started winning draws."
Crestwood combined a late-game advantage on draws with accurate passing to put together lengthy possessions. As the Lady Comets built their lead higher, they became increasingly more patient, taking time off the clock and adding to their lead.
"We kind of rekindled ourselves and regrouped," Caporuscio said. "We got back to playing the way we should."
Crestwood repeated its accomplishment of winning both Wyoming Valley Conference and District 2 Class 2A titles. In the last two seasons, the Lady Comets are 31-0-1 in WVC and District 2 competition with that tie coming, 16-16, in the previous meeting with Wyoming Area during this regular season.
"We knew we needed to come out fast," Caporuscio said. "Last time we played them, they came out just as fast as us.
"We had to raise the bar and pick up our level to come out with a win."
Glowacki had two goals and three assists while Hannah Ziegler had two goals and two assists for Crestwood. Grace Pasternick also scored and Olivia Aideldinger had an assist.
Switzer had two goals and an assist for Wyoming Area. Julia Gonzales had the other goal.
Crestwood finished with a 34-24 shot advantage.
Kylee Foy made nine saves for Wyoming Area.
Crestwood (18-1-1) will open the Pennsylvania Interscholastic Athletic Association state tournament May 31 at a District 2 site against the third-place team from District 1.
Wyoming Area (14-3-1) will hit the road to face the District 1 champion.
Bishop Shanahan (16-4), Mount St. Joseph's (14-5), Strath Haven (13-6) and Gwynedd-Mercy (9-11) are the four District 1 contenders going into Tuesday night's semifinals.