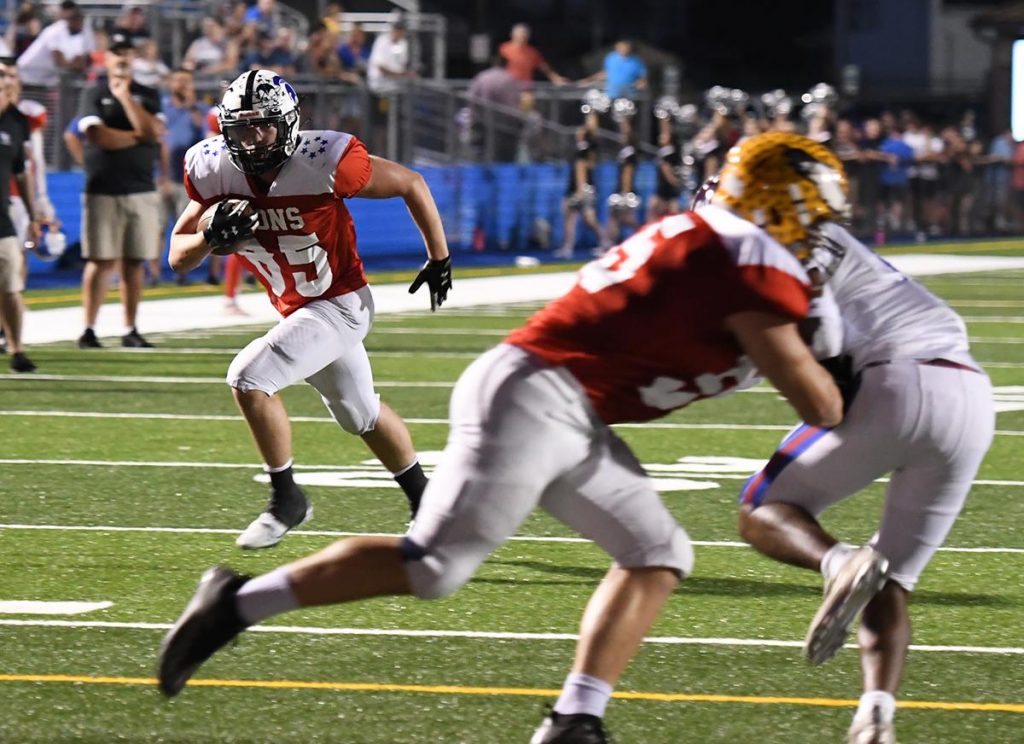 By Tom Robinson, NEPASportsNation.com
PECKVILLE – The occasion may have been the 88th annual Scranton Lions Club Dream Game, but John Henzes/Veterans Memorial Stadium is still the home of the Valley View Cougars.
Keith Olsommer may have stepped outside his coaching routine to lead the County team in the annual all-star game for Lackawanna Football Conference graduates, but he still had plenty of Delaware Valley Warriors on which he could rely.
Players from the two championship teams joined forces July 20 to lead the County past the City, 35-21, before a paid crowd of 7,469 in the game, which was presented by Northeast Rehab.
The top four tacklers on the County defense were from Valley View, which also accounted for both fumble recoveries, the County's only sack and one of its other two tackles for losses.
"At one point during the game, we had to have five of their guys out on the field at the same time; maybe it was even more than that," Olsommer said. "One of our coaches leaned over and said, 'this all-star team is having a hard time with the five Valley View guys who are out there, no wonder we couldn't move the ball against their whole defense'.
"They were a special group last year and you could see why they were so good. They had kids making plays all over the field."
Dante Randle, Andrew Heid, Jordan Rebar, Colin Skeen and Sean Mackinder were key parts of a defense that held the County to five first downs until the game's final eight minutes.
Valley View also provided the game's leading receiver, Mackinder, who scored on a 66-yard touchdown reception and Matt Cole, who went 5-for-5 on extra points and helped in the field position battle with his punts.
C.J. Ross threw touchdown passes to three different receivers while engineering the same offensive system he ran for Olsommer at Delaware Valley.
"It made it a lot easier," said Ross, who finished 5-for-8 for 131 yards. "I ran most of these plays for the whole year, so I had a good understanding of what was going on.
"The only thing that was a little different was the man coverage."
Warriors scored two of the touchdowns.
Joe Sciascia ran 2 yards for the game's first touchdown and Tim Kizis caught an 8-yard tight end screen from Ross for the last score and a 35-14 lead.
"That meant a lot," Ross said. "We ran that play a lot during the season."
Randle led the County defense with seven tackles, two assists and a fumble recovery. His tackles included one for a loss, one for no gain, two after just one yard and another for two yards on a fourth down to force a turnover on downs.
"Dante is a special player," Olsommer said. "He has a really bright future ahead of him."
Randle saw it as his role to provide more than tackles.
"I was just trying to be the hype man," said Randle, an NEPAFootball.com, all-District 2 choice as a defensive lineman for his play at end for Valley View. "I was trying to hype everybody up because that's what I did at Valley View.
"Once we were hyped up, everybody started flying around, everybody started making plays."
Many of those plays were made by former Cougars.
Heid had five tackles and two assists. Rebar made four tackles, assisted two more and both forced and recovered fumbles. Skeen had four tackles and an assist.
Mackinder also made two tackles, including one for a loss, and broke up a pass. His bigger contributions, however, came on offense with 4 catches for 113 yards.
"Sean gave us all kinds of options all over the field," Olsommer said.
Ross found Mackinder deep down the middle for the 66-yard touchdown and a 14-0 lead on the first play after Randle's stop on downs midway through the second quarter.
When players from Delaware Valley's LFC Division 1 and District 2-4 Class 6A Subregional champions or Valley View's District 2 Class 4A champions were not leading the way, those from another championship squad also made an impact.
Old Forge's Ethan Tallo caught a 34-yard touchdown pass from Ross with 12.9 seconds left in the second quarter for a 21-7 halftime led. Tallo worked his way down the right sideline, pulled in the pass and back-pedaled into the end zone.
"It was awesome," said Tallo, who also caught 2 passes for 39 yards in the opening scoring drive. "Tremendous.
" … I thought it was a great opportunity for us to put the chemistry together and see what we could do."
Nick Rasmus, another player from Old Forge's District 2 Class A champions and Pennsylvania Interscholastic Athletic Association state quarterfinalist, helped set up the score right before halftime.
The City appeared to be building momentum while cutting into the 14-0 deficit. It had 80 yards, 3 first downs and a touchdown in the previous 6 plays, when Rasmus broke in for a sack in the final minute of the half, forcing a fumble that Randle recovered.
Two plays later, Tallo scored the touchdown and the lead was at least two touchdowns the rest of the way.
John Greenfield, Old Forge's third player in the game, had a tackle, two assists and a broken-up pass. He also played fullback and carried twice for five yards.
"Nick and John were a huge part, offensively and defensively," Tallo said. "They played their hearts out all season long and to pay with them one more time was truly special."
Valley View, Delaware Valley and Old Forge players joined those from Abington Heights, Carbondale, Honesdale, Lakeland, Mid Valley, Riverside and Western Wayne on the winning team.
"I had a ton of confidence in our kids coming in," said Lackawanna Trail's Steve Jervis, who coached the City. "I give credit to the County. I think early on, they grabbed momentum, making some big plays and executing some first downs early on."
Mid Valley quarterback Cameron Riccardo took the County down the field for a seven-play, 58-yard drive that produced the first of two 21-point leads with 4:02 left in the third quarter.
Riccardo passed to Mackinder for 20 yards and carried 3 straight times for 32 yards to key a drive that resulted in teammate Devin Ayala scoring from the 2.
The City cut the lead to two touchdowns with three Wallenpaupack players producing scores that were sandwiched around the Ross-to-Kizis pass.
T.J. Schmalzle's 51-yard kickoff return helped lead to Shadrak Agyei's 2-yard touchdown run on the first play of the fourth quarter. Schmalzle scored the game's final touchdown on a 23-yard pass from Mabret Levant.
"I give our kids credit for hanging in there and fighting back in the second half," Jervis said. "Early on, we just shot ourselves in the foot a little bit. We had some problems with huddle communication, but we got that fixed."
The second-quarter City touchdown came on the game's longest play, a 69-yard pass from North Pocono's Will Soma to Scranton's Charlie Thompson.
The City included players from Dunmore, Holy Cross, Scranton Prep, Susquehanna and West Scranton in addition to those from Wallenpaupack, Lackawanna Trail, North Pocono and Scranton.
With the win, the County cut the City lead in the series to 42-41-4.
MORE COVERAGE
Expanded statistics: Expanded Dream Game statistics – NEPA Sports Nation.
Photo Gallery: 88th Annual Dream Game Photo Gallery – NEPA Sports Nation.