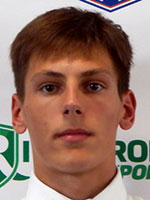 The zeroes coming into Friday night were in the win column for Crestwood and the loss column for Western Wayne.
They remained on the visitors side of the scoreboard throughout Friday night's non-league football game, allowing the host Comets to break into the win column with a 21-0 victory.
Noah Schultz moved the chains while rushing for more than 100 yards and three of his Crestwood teammates ran for the touchdowns on a night when the Comets nearly tripled the Wildcats' yardage production on the ground.
Brendan Dennis ran 5 yards for a touchdown in the second quarter, Allen Agnon scored from the 7 in the third and Ethan Shudak ran 4 yards for the last touchdown in the fourth quarter.
Crestwood is 1-3. Western Wayne is 2-1.
MORE FRIDAY NIGHT FOOTBALL COVERAGE
Valley View-Scranton game: https://nepasportsnation.com/unbeaten-cougars-keep-rolling/.
Scoreboard: https://nepasportsnation.com/friday-football-scoreboard/.