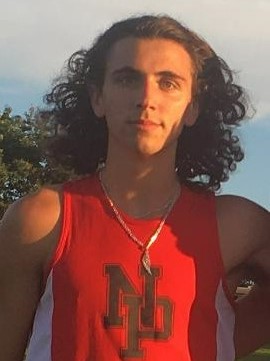 North Pocono's Caleb Kenyon, Riverside's Daniel Danilovitz and Forest City's Katy Korty each finished first in Lackawanna League cross country cluster meets Oct. 12 while leading their teams to 3-0 finishes for the day.
Kenyon and Aiden Horne finished 1-2 in a meet at Abington Heights to help the Trojans remain unbeaten by defeating Scranton Prep, 18-39, and Holy Cross, 15-44, while picking up a 15-50 forfeit from Carbondale.
Danilovitz led Riverside to victories over Mountain View, Susquehanna and Forest City in a meet at Dunmore.
At the same meet, Korty led the Forest City girls past Dunmore, Old Forge and Riverside.
Kenyon won on the Abington Heights Middle School course for the second time this season, but this time he broke away from his teammates and everyone else to finish in 16:30.2 for a 37-second victory.
Abington Heights dominated the same three opponents with four of the top seven finishers – Gavin Ross in third, Tommy Walsh fourth, Nicholas Booth sixth and Sean Rooney seventh.
Valley View went 2-1 on the day, led by Ethan Williams in fifth.
Scranton Prep went 1-2 with a win over Valley View.
Dunmore, Riverside and Old Forge all went 3-0 against the combination of Forest City, Mountain View and Susquehanna.
Danilovitz won in 16:41.65.
Joe Cardillo came in next for Dunmore in 16:50.73, leading five Bucks in the top seven on their home course. Tommy Clark was third then Matthew Behler, Carlo Escobar and Cullen Smith were fifth, sixth and seventh.
Mountain View's Cohen Anderson placed fourth.
Honesdale swept Mid Valley, Scranton and West Scranton in a meet at Wallenpaupack.
Brian McCormack from Scranton won in 17:08.
Honesdale had Aidan LaTourette second and Luke Murray fourth.
Mid Valley went 2-1 with Michael Novak placing third, Gabe Pacyna fifth and Vincenzo Iacavazzi seventh.
Luke Pikulski was sixth for Scranton.
Delaware Valley went 2-1 while Scranton and Wallenpaupack each went 1-2.
Scott Bevilacqua won in 17:32 on his home course at Lakeland where Montrose went 3-0 with wins over the Chiefs, Lackawanna Trail and Western Wayne.
Nathaniel Sinkovich was second to lead Montrose. He was followed by Elk Lake's Justice Johnson, Lackawanna Trail's Brayden Clarke and Blue Ridge's Heath Bowker.
Lakeland and Blue Ridge went 2-1 while Elk Lake and Lackawanna Trail were 1-2.
The Forest City and Mountain View girls each went 3-0 at Dunmore where Old Forge, Riverside and Susquehanna were 1-2.
Mountain View had Carissa Flynn second, Kathryn Long fifth, GG Larkin sixth and Aidia Tompkins ninth.
Lacey Danilovitz from Riverside was third and Rachel Korty from Forest City fourth.
Forest City's Laura Nebzydoski and Susquehanna's Julianna Bradley were seventh and eighth.
Scranton Prep's Jenna Hillebrand and North Pocono's Emily Franklin finished 1-2, but Abington Heights held on to the lead by remaining unbeaten with wins over Scranton Prep, Holy Cross and Carbondale.
The Comets were led by Emma Horsley and Maia Arcangelo third and fourth, Reese Morgan sixth and Gianna Sabatini ninth.
Kaitlyn Newberry was fifth to lead Valley View and Kaitlyn Farrell was seventh to lead Holy Cross.
North Pocono's Morgan Davis finished eighth.
Valley View and North Pocono also beat the same three teams.
Montrose won three times at Lakeland, beating the hosts Western Wayne and Lackawanna Trail.
Krista Jones from Elk Lake was first by 44 seconds, but Montrose had Daegan Giannone second, Paige Brewer fourth and Stephanie Summerville seventh.
Western Wayne's Madison Kammer was third, Lakeland's Morgan Lutz fifth and Elk Lake's Makayla Wagner seventh.
Lakeland, Elk Lake and Blue Ridge were each 2-1 for the day.
Honesdale went 3-0 and Scranton's Bella Noreika broke 20 minutes to finish first at Wallenpaupack.
Bella Dahlgren from Honesdale was second, Megan Kretschmer sixth and Kira Fox eighth.
Scranton's Emily Hopkins was third, Wallenpaupack's Morgan Anderson fourth and Mid Valley's Annika Von Ahnen fifth. Amelia King from Scranton placed seventh.
Scranton, Wallenpaupack and Delaware Valley all went 2-1 while Mid Valley and West Scranton were 0-3.
MORE
For complete scores of all the dual meets contested during the day's cluster meets, see the scoreboard at: https://nepasportsnation.com/tuesdays-district-2-scoreboard-8/.