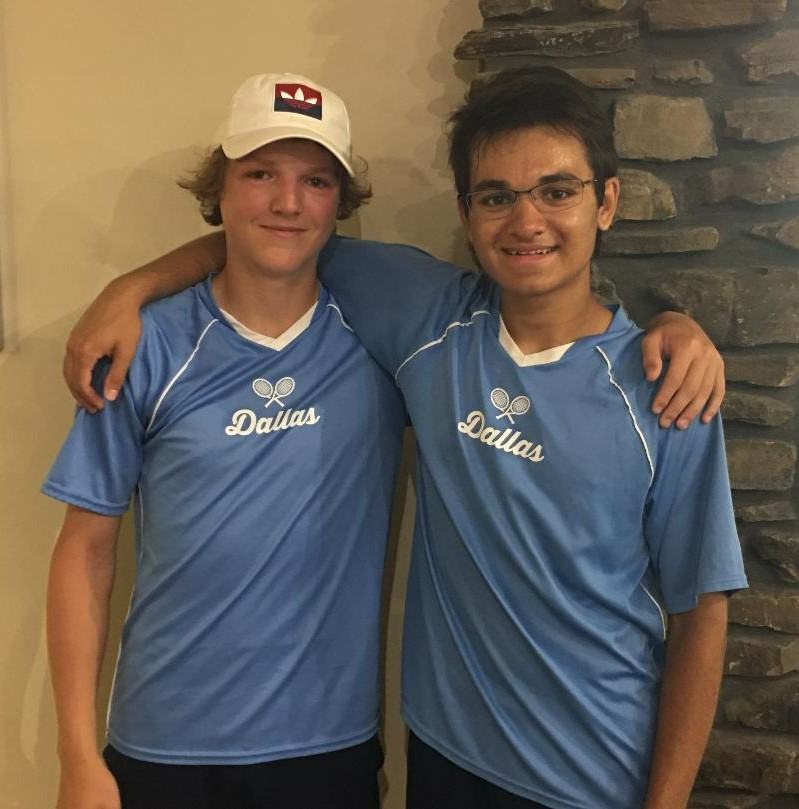 By Tom Robinson, NEPASportsNation.com
CLARKS SUMMIT – The Dallas Mountaineers are seeing familiar faces as they try to work their way through the Pennsylvania Interscholastic Athletic Association Class 2A boys tennis team tournament.
Dallas repeated the first-round result from a year ago, but will need a reversal of last year's outcome in order to continue its season.
The No. 1 doubles team of Luca DeRome-Jason Joshi provided the clinching point Tuesday in the opener of a PIAA doubleheader at Birchwood Tennis & Fitness Center when Dallas beat Allentown Central Catholic, 3-0.
A year ago, the Mountaineers beat the Vikings, 3-1, in the opening round.
The win sets up a rematch against unbeaten District 10 champion Fairview, the team that ended the Dallas season in last year's quarterfinals.
The Dallas-Fairview rematch is scheduled for Friday at the Hershey Indoor Racquet Club at 5:30 p.m. starting time changed from the original listing of 4 p.m. The winner proceeds to Saturday's semifinals.
In the second match of the doubleheader, Unionville defeated Abington Heights, 3-0, in Class 3A.
Unbeaten Wyoming Valley Conference and District 2 champion Dallas ran into some challenges after brothers Kyle and Tucker Chesman locked up two points at first and second singles.
ACC won the first set in two of the other three matches.
"It was a little tighter than I expected it to be," Dallas coach Joe Pugliese said.
DeRome-Joshi finished strong, winning the last three games for their clinching 6-2, 6-2 victory over Jake Zeller-Danny Patruno.
"I think what helped them was the two tough matches they had playing together at districts," Pugliese said. "I think that gave them the confidence to hang in there when things got tough and be able to pull this through."
DeRome-Joshi had reached the district doubles semifinals before losing in that round Wednesday.
"They definitely had a different style than what we've played before," Joshi said. " … This was definitely one of the best teams that we've played so far.
"After the first few games we were able to pick up their strategy and use different techniques."
Pugliese saw his team settle in as the match progressed.
"They started to coast toward the latter half of both sets," he said.
Joshi served the final game, getting the clinching point when ACC was unable to return his serve.
"It feels great to be able to bring our team back to Hershey like last year and be that deciding match that brings our team there," DeRome said.
Sophomore Tucker Chesman needed just 46 minutes to defeat Charlie Long, 6-0, 6-0, at second singles.
Freshman Kyle Chesman then got rolling in his 6-2, 6-0 victory over Timmy Spinosa at No. 1 singles.
Dallas then needed just one point.
No. 3 singles player Lucas Carver and No. 2 doubles team Jonathan Florencio-Mihuk Mikul each worked their way into second-set leads after dropping the first set, but DeRome and Joshi made sure no comebacks were needed.
Unionville grabbed its first two points in doubles, then waited for a singles player to finish off the Comets.
Andrew Poprik did the honors at No. 2 singles, ending the Abington Heights season.
Dallas will try to extend its season into Saturday's semifinals and finals. A win would put the Mountaineers against the winner between Lancaster Country Day (17-1) and Central Valley (12-5).
Fairview beat Dallas, 4-1, in last year's quarterfinals.
Dallas (13-0) 3, Allentown Central Catholic (12-8) 0
No. 1 singles – Kyle Chesman, Dallas, def. Timmy Spinosa, 6-2, 6-0.
No. 2 singles – Tucker Chesman, Dallas def. Charlie Long, 6-0, 6-0.
No. 3 singles – Michael Zeller, Allentown Central Catholic led Lucas Carver, 6-4, 0-1 (match halted).
No. 1 doubles – Luca DeRome-Jason Joshi, Dallas, def. Jake Zeller-Danny Patruno, 6-2, 6-2.
No. 2 doubles – Owen Wandalowski-Enzo Fantozzi, Allentown Central Catholic led Jonathan Florencio-Mihur Mukul, 6-4, 4-5 (match halted).
Unionville (19-2) 3, Abington Heights (16-1) 0
No. 1 singles – Andrew Ou, Unionville, led Praneel Mallaiah, 7-5 (match halted).
No. 2 singles – Andrew Poprik, Unionville, def. Sam Christman, 6-1, 6-3.
No. 3 singles – Matthew Miller, Unionville, led Domenic Peters, 6-1, 5-2 (match halted).
No. 1 doubles – Jack Barrickman-Matt Farnell, Unionville, def. Luke Morgan-Ryan Salony, 6-0, 6-1.
No. 2 doubles – Ryan Megill-Nate Butler, Unionville, def. Gavin Ross-Connor Clearwater, 6-3, 6-3.