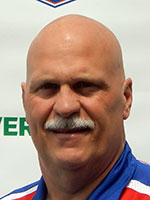 Even facing a two-touchdown deficit in the second quarter and still trailing by six at the half, Carbondale coach Jeff Arthur never moved away from his ground game.
Arthur was rewarded with his first head coaching victory when Vinny DePalma led a potent running attack that carried the Chargers to a 54-27 victory in a non-league game between Lackawanna Football Conference teams Saturday afternoon at St. Anthony's Playground in Dunmore.
DePalma carried 14 times for 202 yards, 3 touchdowns and a pair of two-point conversions to lead a ground attack that piled up 360 yards by averaging 12 per carry.
Holy Cross led 21-15 at halftime, but Carbondale moved ahead to stay by taking the second-half kickoff and driving for a 5-yard touchdown by DePalma before Guy Mushow rolled right and hit Logan Wormuth in the end zone for the tie-breaking, two-pointer.
The Chargers then forced a three-and-out and DePalma returned the punt 65 yards.
Davon Reams barreled into the end zone from the 8 on the next play for a 31-21 lead.
The Crusaders moved back within four, but DePalma scored his third touchdown on a 13-yard run before the quarter was over and Carbondale tacked on two more touchdowns in the fourth to outscore Holy Cross, 39-6, in the second half.
Wormuth turned both his carries into touchdowns, a 27-yarder to start the comeback in the second quarter and a 51-yarder in the fourth.
Reams, who had 51 yards on 6 carries, produced 16 points. He ran for two touchdowns and two conversions.
Mushow picked up 28 yards on two carries and ran for a two-pointer along with throwing for one.
MORE SATURDAY FOOTBALL COVERAGE
Hanover Area-Susquehanna game: https://www.nepafootball.com/event/2021-hanover-area-at-susquehanna/.
Honesdale-Abington Heights: https://nepasportsnation.com/hornets-rally-past-comets-20-19/.
Wyoming Area/Wilkes-Barre Area: https://nepasportsnation.com/warriors-hold-off-wolfpack-31-30/.
Scoreboard: https://nepasportsnation.com/district-2-football-scoreboard-4/.