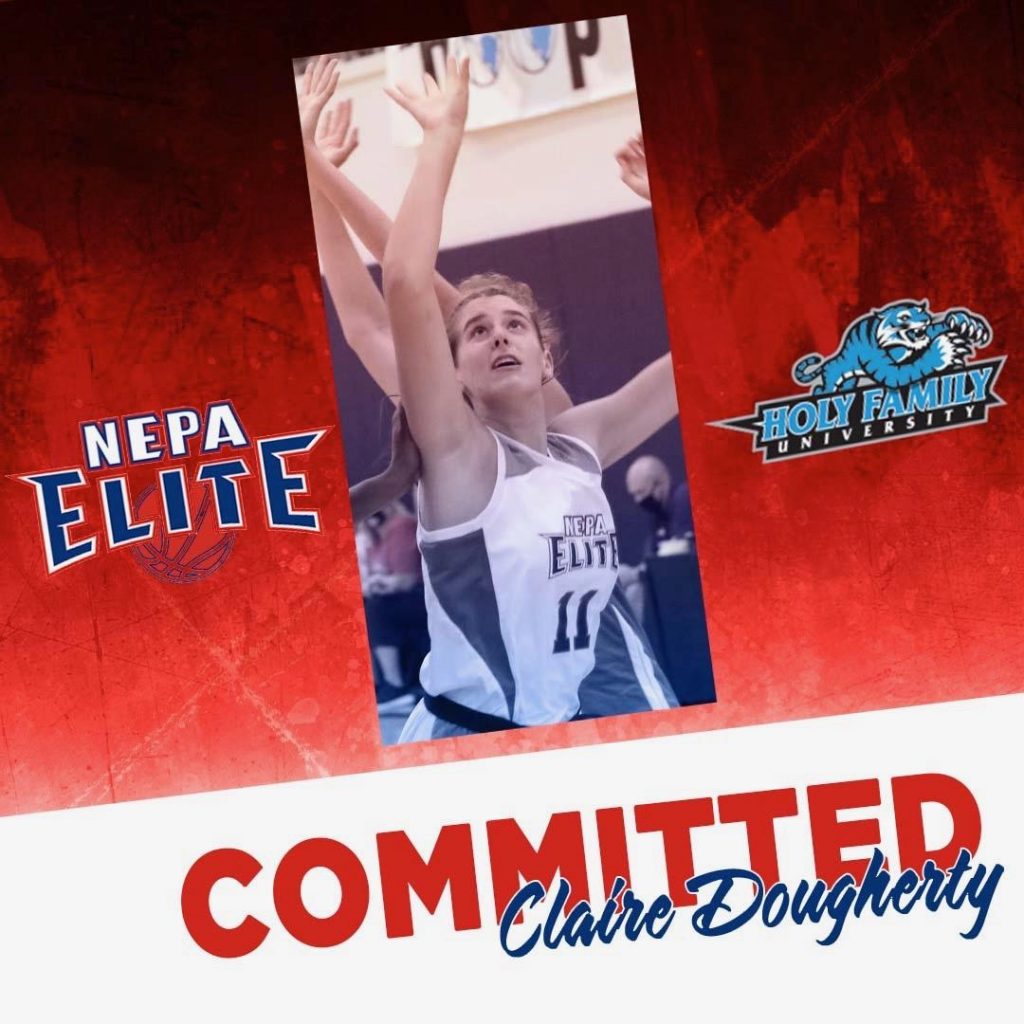 By Tom Robinson, NEPASportsNation.com
Claire Dougherty has turned her athletic and academic performances into a full scholarship combining those two areas.
After visiting Holy Family University Saturday, Dougherty made the decision Sunday to accept the scholarship package from the National Collegiate Athletic Association Division II school in Philadelphia.
The 6-foot-1 center/forward for the NEPA Elite Rini 17U team was followed closely by Holy Family's coaches during the AAU season-ending Hoop Group Season Championships in Atlantic City in July. The rising senior was the Wyoming Valley Conference Division 2 Player of the Year last season at Lake-Lehman where she ranks third in her graduating class.
Dougherty, who is still deciding between pre-med and business paths for college, canceled plans to visit with other in-state Division II and Division III programs that had been recruiting her.
"The last AAU tournament in Atlantic City, they came to every single one of my games and kept reaching out after," Dougherty said. "So, I've been in contact with them."
Dougherty felt like an offer was coming, but did not receive it formally until her visit.
"Right from the beginning, the way the coaches welcomed me, their hospitality, was amazing," Dougherty said. "Everything about the college felt like it was a perfect fit for me.
"While I was there, I really loved everything about the campus."
Dougherty said the coaches project her as a center, but told her they liked her versatility and did not picture her always playing with her back to the basket.
A starter in every high school game since the beginning of her freshman season, Dougherty was a first-team WVC Division 2 all-star choice by NEPABasketball.com as a sophomore when the Lady Knights won the overall conference title. She progressed to division Player of the Year as a junior and helped the team to the division championship.
Dougherty led the Lady Knights in scoring with 13 points per game. She hit 44 percent of her 3-point attempts while also averaging 10 rebounds, 4 assists and 2.5 blocked shots.
"I think I've wanted to play college ball since the (Lake-Lehman Youth Basketball) League in about sixth grade," Dougherty. "And, then around my freshman year, I really started thinking about college offers and working toward them.
"It's been a big goal for me and my family."
Dougherty thanked NEPA Elite coach Jess Rini, Lake-Lehman coach Charlie Lavan and her uncle, John Dougherty, a long-time local high school coach and Lavan's assistant at Lake-Lehman, for helping her achieve the goal.
The Rini team went 21-6 this season with Dougherty and Lake-Lehman teammate Chase Purdy serving as the top two scorers and rebounders. Dougherty averaged close to 15 points per game for the AAU club out of Riverfront Sports in Scranton.
Dougherty has also performed off the court. The vice president of her class, she is a Future Business Leaders of America state finalist and has won multiple awards for her artwork.
Holy Family is coached by Bernadette Laukaitis, who is entering her third season as a head coach and second with the Tigers, with a successful run as assistant in between.
Laukaitis went 23-5 and won the Colonial States Athletic Conference title with Cabrini in 2008-09 to reach the NCAA Division III Tournament. She moved to Penn where she helped the Quakers to 4 Ivy League and 2 Big Five titles in 10 seasons as assistant coach.
At Holy Family in 2019-20, Laukaitis guided the Tigers to the Central Atlantic Collegiate Conference championship game and an 18-11 record. The team's 2020-21 season was canceled because of the pandemic.