Before taking the field Friday night to face Riverside, the Dunmore Bucks paused to honor the program's history and the man who led the team to state prominence.
A statue of coach Jack Henzes was unveiled at Dunmore Veterans Memorial Stadium during a ceremony before the Bucks took the field for pregame warm-ups. Henzes, 86, and his family attended.
Henzes retired in April of 2019 as the second-winningest coach in state history behind only the late George Curry, another former District 2 coach, who spent most of his career at Berwick. Henzes has since moved to third on the list after being passed by Southern Columbia's Jim Roth.
Under Henzes, the Bucks won a Pennsylvania Interscholastic Athletic Association Class A title in 1989, just the second year of state football championships in Pennsylvania. He guided the Bucks to three more state final appearances.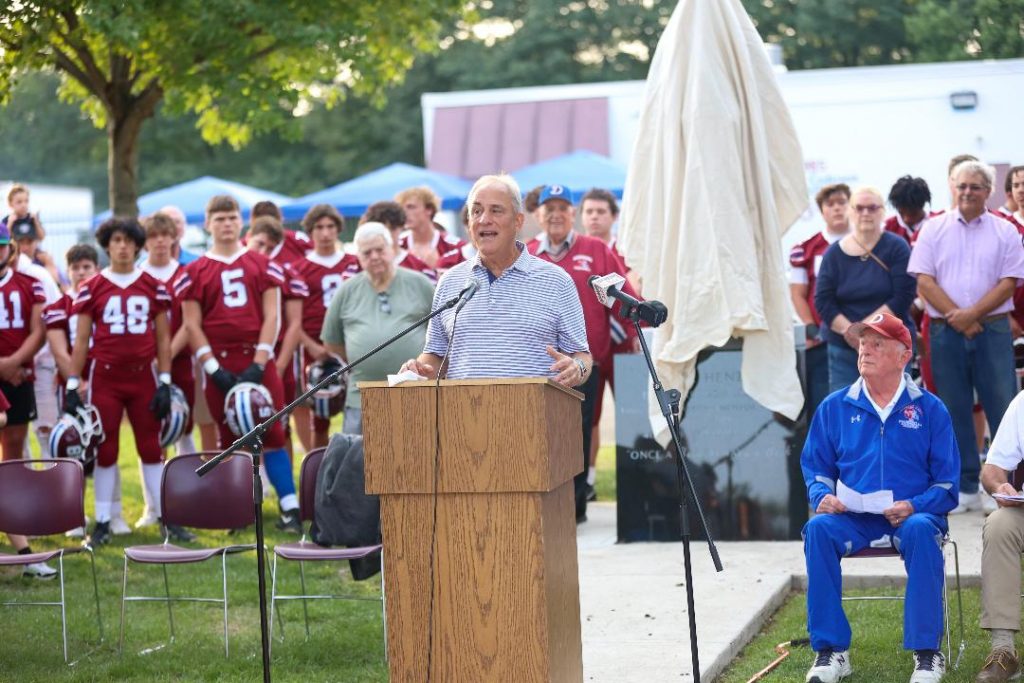 Henzes won games and helped advance players and coaches on to the college and professional level. His coaching tree includes Vic Fangio, the former head coach of the Denver Broncos and long considered one of the best defensive assistant coaches in the National Football League, who spoke at Friday's ceremony.
The son of Blakely's legendary John "Papa Bear" Henzes, Jack Henzes coached as an assistant under his father, then began a 52-year career as high school head coach by taking the job at Wyoming Area.
Henzes was 31-12 as head coach of the Warriors from 1966 through 1969. He took over at Dunmore in 1971 and won more than 400 games as leader of the Bucks, pushing his combined career record to 444-164-8.
Health concerns became an issue late in Henzes' coaching career and kept him from being on the sideline for much the 2018 season. He cited health reasons when he resigned the next spring.
Dunmore completed the night by rallying to defeat Dunmore, 40-22.