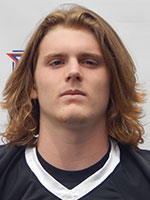 C.J. Ross passed for 293 yards and 3 touchdowns Saturday afternoon to lead Delaware Valley to a 49-10, Homecoming Day victory over visiting Wilkes-Barre Area in a non-league game between District 2 Class 6A football teams.
The win was the first after three straight road losses against state-ranked opponents to begin the season for the defending Lackawanna Football Conference Division 1 and district Class 6A champion Warriors.
Ross hit six receivers, including five at least twice each.
Aiden Black caught 4 passes for 112 yards and a touchdown. Jayden Ramirez had 3 catches for 59 yards. Tim Kizis had 54 yards and 2 touchdowns on his 2 catches. Joe Sciascia (30 yards) and Harlem Cook (22 yards) also had 2 catches.
The Warriors piled up 471 yards of total offense with the help of Sciascia running for 104 yards and 2 touchdowns on 20 carries.
Wilkes-Barre Area struggled offensively throughout the first half and Delaware Valley took advantage of the field position as the Wolfpack did not get a first down until the final three minutes of the half. Wilkes-Barre Area punted on its first three possessions and lost a fumble on its fourth, helping Delaware Valley overcome its own costly turnover for a 28-7 lead with 9:40 left in the half.
Ross hit Kizis with a 37-yard touchdown pass on the game's opening possession and Paulie Weinrich added a 3-yard run for a 14-0 lead after one quarter.
Javon Goodwin's fumble return for a touchdown cut the deficit to 14-7, but did nothing to slow the Delaware Valley offense.
The Warriors scored on the next play when Ross hit Black for a 68-yard touchdown. He found Kizis with a 17-yard touchdown pass just 1:23 later.
Ross finished the half 9-for-14 for 184 yards and his 3 touchdowns.
Wilkes-Barre Area finally got moving offensively late in the half and moved within, 28-10, on Evan Corcoran's 26-yard field goal on the last play of the half.
The Wolfpack never got any closer.
Delaware Valley put the game away with its ground attack.
Sciascia carried 7 times for 55 yards in a 10-play, 75-yard, third-quarter scoring drive that he completed with a 3-yard run. He added a 1-yard run early in the fourth quarter.
The Warriors closed the scoring on Matt Cammarano's fumble recovery in the end zone.
MORE SATURDAY FOOTBALL COVERAGE
Lackawanna Trail-Susquehanna: https://nepasportsnation.com/big-plays-lift-lions-over-sabers/.
Scoreboard: https://nepasportsnation.com/district-2-football-scoreboard-6/.