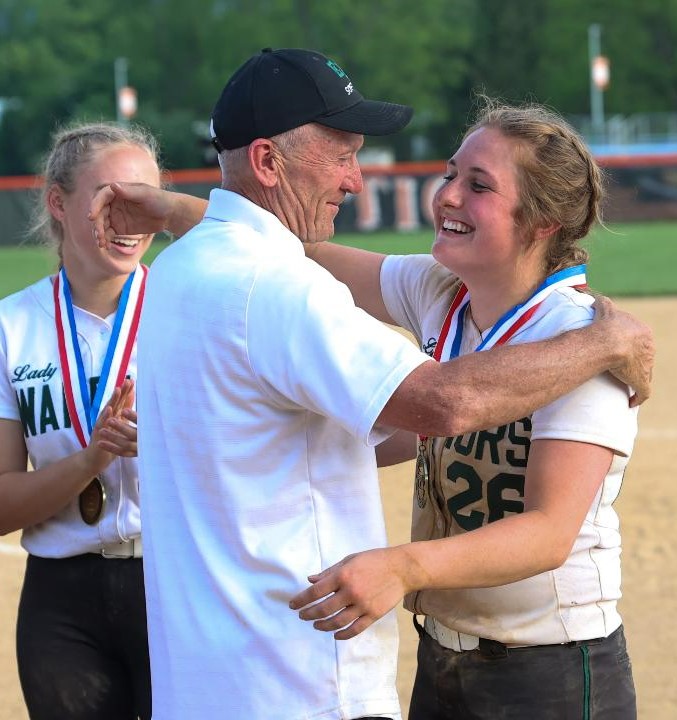 Elk Lake was one run away from an early victory on the 10-run rule.
Then, the Lady Warriors were a run away from seeing their entire lead slip away.
Mati Lord drove in four runs while Reese Warriner supplied three hits, three runs and three RBI May 30 when Elk Lake held on for a 13-12 victory over Holy Cross and a repeat of its District 2 Class 2A softball title.
The Lackawanna League Division 4 champion Lady Warriors entered the game as the No. 2 Small School in the Riverfront Sports Super Six Power Rankings of District 2 teams while the Lady Crusaders were No. 3.
Holy Cross jumped in front 3-0 in the top of the first and held that lead until the bottom of the third when Elk Lake scored five runs.
The Lady Warriors broke loose for seven runs in the fourth and a 12-3 lead.
The lead was 13-5 after five, but Holy Cross made things interesting with three runs in the sixth and four in the seventh, getting the tying run into scoring position.
Elk Lake had a dozen hits, half of them doubles.
Lord doubled twice and scored twice. She drove in one run and scored the last run of the five-run third, then had a three-run double to highlight the fourth inning, pushing the lead to 9-3.
Warriner was 3-for-4 with a double.
Layla Weaver had a single, double and two runs scored.
Paige Kenney also had two hits, Marissa Horn scored twice and Leah Traver drove in two runs. Each had a double.
Warriner doubled in the first two Elk Lake runs in the third and singled in one in the fourth. She scored what proved to be the winning run in the sixth when she singled with two out and scored on Horn's double.
Holy Cross was led by Katie Wywoda, who went 3-for-4 with three RBI and two runs scored. Mia Galella went 2-for-3 with four runs scored and three RBI.
MORE COVERAGE
Photo Gallery from the game: https://nepasportsnation.com/elk-lake-holy-cross-softball-photo-gallery/.