By Tom Robinson, NEPASportsNation.com
Larry Gabriel III started coaching early and there was a time when he thought he would never stop.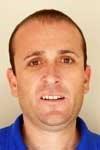 That changed Tuesday with Gabriel's resignation as head coach of the football team at Carbondale where he remains as athletic director.
"I came from a family of five boys," Gabriel, the oldest of those boys, said Tuesday night while repeating a story he had shared in a meeting with his players. "All the athletic ability skipped over me and went to all of my brothers."
Logan Gabriel went on to play basketball as a walk-on at Syracuse University; Landon Gabriel played basketball at King's College before serving as head basketball coach at Carbondale and now Lackawanna College; twins Lincoln and Lance Gabriel played through high school.
Larry Gabriel III turned away from playing between youth sports and high school, but still accompanied his father to the practices that Larry Gabriel Jr. coached.
"I was around sports my whole life and I learned it," Larry Gabriel III said. "As a 14-year-old, I began assisting my father coaching 10-year-olds.
"So, while I'm relatively young at 39 years old, I have been around and teaching the game for 25 years."
Gabriel progressed to seven years as a high school football offensive assistant under John Lasavage before spending 12 years – 11 seasons, plus the 2020 season that was canceled because of the pandemic – as head coach. During that time, Gabriel often thought he would never want to leave the position and school to which he was devoted.
A developing career transition toward a planned future as a school administrator, however, took Gabriel in a different direction.
Gabriel entered into the Delaware Valley University Master's program in educational leadership in the fall of 2019 and is now in the doctoral program. He has completed certification to work as a principal and is on path to become eligible to be a superintendent at the end of this calendar year.
As an athletic director, faculty member, administrative intern and coach at Carbondale, as well as a student who may soon be a prospect for a new job, Gabriel knew something would have to give.
"It was a culmination of a lot of things," Gabriel said. "About a year and a half, two years ago, my long-range goals changed."
Gabriel questioned how long he could give coaching the commitment it requires and said it would be "unfair to the next coach and, more importantly, our team," if he ultimately left the position at a time that was detrimental to the program.
"I couldn't live with the fact that I wasn't giving the football team my 100 percent attention and effort – things I preach to the team," Gabriel said. " … I know eventually I want to pursue a path in administration. I didn't think it would be right to be applying, whether it be within the district or outside the district, and be going through interview processes and being distracted.
"I felt as if the team was owed somebody who was 100 percent all-in."
Saying it would be selfish to hold on to the position, Gabriel had reason to finalize his decision Tuesday when he was elected as the new Lackawanna Football Conference assignor of officials.
Citing the obvious conflict of interest, Gabriel immediately informed Carbondale superintendent Holly W. Sayre that his formal resignation would be delivered later in the day.
Realizing news was getting out from coverage of the Lackawanna Interscholastic Athletic Association meeting where his new role was determined, Gabriel sent a text message to his players and arranged a Tuesday night meeting to talk to them.
"I think they understand," Gabriel said. "I told them, at times in life, goals kind of change."
Former Scranton Prep and University at Albany lineman Corey Christian has been overseeing weight training at the school since March.
Gabriel said that if any outside workouts are sought by the football players between now and the hopeful appointment of the next coach at a May 20 school board meeting, he would be happy to remain actively involved.