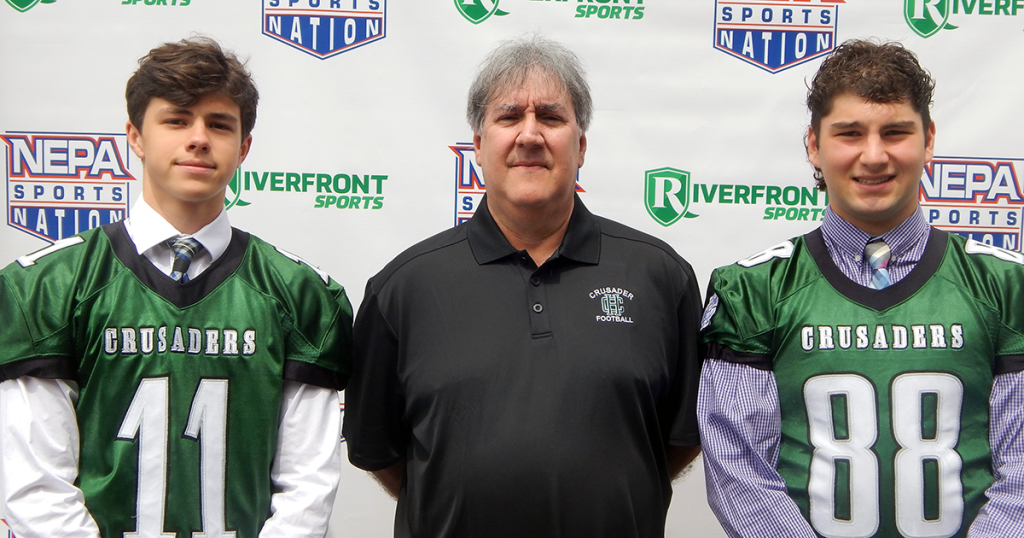 By Tom Robinson, NEPASportsNation.com
OLYPHANT – The Lackawanna Football Conference's newest head coach understands the task at hand.
Joe Giorgio spent the last four years assisting Dave Gatto, who stepped down this spring, leading to Giorgio's June hiring as the head coach at Holy Cross.
Giorgio's other coaching experience also came at Holy Cross, when he led the Crusaders freshman program in 2011 and 2012.
The Crusaders have gone without a win four of the last five falls – three winless seasons and an idle year in 2019 when the roster numbers were not enough to sustain a team.
"This year, we have 27 kids out, which is quite a good number for us," Giorgio said during LFC Media Day at the Regal Room. "We're excited about the future of the program."
Giorgio will rely on the basics to try to improve Holy Cross, which went 0-5 last season and 2-23 in four years – and three seasons – under Gatto.
"I think we're probably going to try to establish more of a running game than previous years," Giorgio said. "We want to try to keep the ball on the ground, run the football, eat up some clock.
"I do think we're going to be much improved in that area."
Giorgio thinks that when the Crusaders can remove that persistent zero from the win column, momentum will take the team forward from there.
"Winning is going to cure a lot of ills," he said. "We need to get some wins under our belt.
"I think that will spark some excitement in the school."