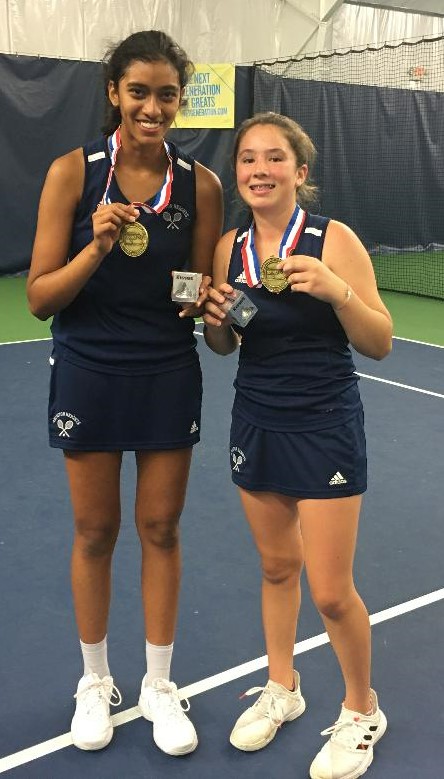 By Tom Robinson, NEPASportsNation.com
CLARKS SUMMIT – The Abington Heights team of Rina Hanumali and Susan Arp beat consecutive West Scranton opponents in the semifinals and finals Oct. 27 to capture the District 2 Class 3A girls tennis doubles championship.
The district gold medals were the second each for Hanumali and Arp this season. They are both singles players in the Abington Heights lineup that won the district team championship and Hanumali also earned a district silver medal in singles where she lost the final to teammate Bella Peters.
Hanumali and Arp advanced to the Pennsylvania Interscholastic Athletic Association state tournament Nov. 5-6 at the Hershey Indoor Racquet Club when they defeated Madison Maloney and Mia Butka, 6-4, 6-1, at the Birchwood Tennis & Fitness Center.
Maloney-Butka started strong taking leads of 3-1 and 4-3 in the first set.
"I think in the beginning of the match, it was just a lot of nerves and we both weren't really playing at our peak," Hanumali said. "Then, we kind of noticed how they were playing and how they were attacking.
"We realized they were going to make some shots and hit some winners on us, but we just can't let that bring us down. We just had to focus on grinding out the match."
Hanumali-Arp won 9 of the last 10 games.
"I think we got more consistent and were able to hit some volleys," Arp said.
The doubles team joins Peters in Hershey. They clinched that opportunity a day after falling short of making it to Hershey for the final three rounds of the team tournament when they lost to Pennsbury, 3-2, in a first-round state match.
"We really wanted to keep our season going," Arp said.
Both semifinals sent Abington Heights teams against opponents from West Scranton.
Hanumali-Arp won the semifinal over Gabrielle Chantiloupe-Camilla Sphabmixay, 6-0, 6-2.
Maloney-Butka defeated Hanna Adonizio-Faith Bennett from Abington Heights, 6-3, 6-3.