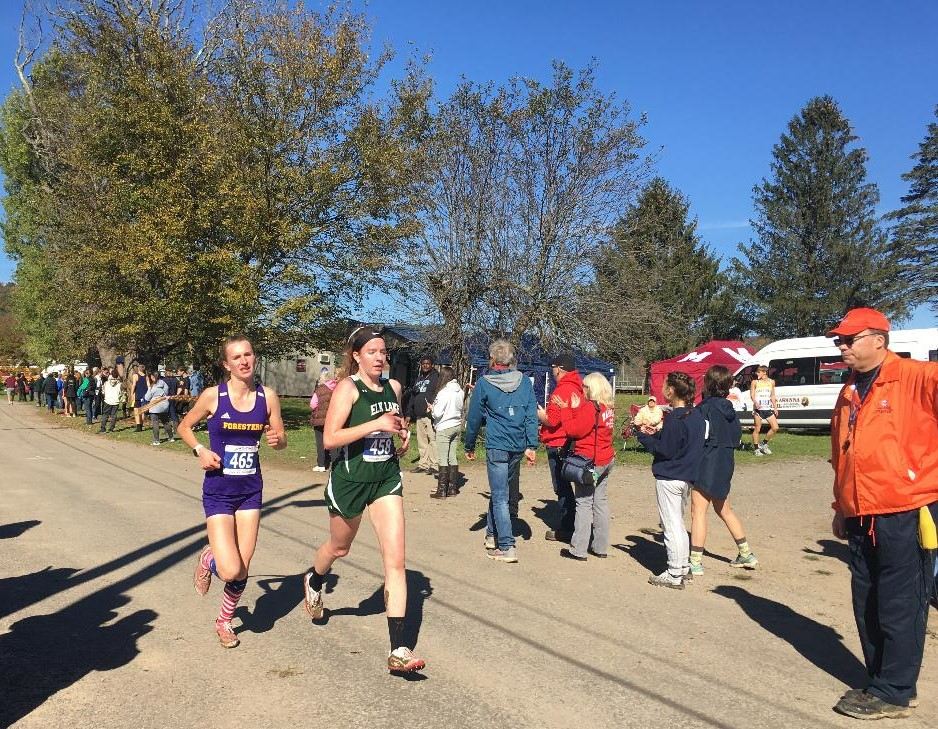 Forest City freshman Kate Korty and the Montrose team each finished third in the state in Class A Saturday morning in the Pennsylvania Interscholastic Athletic Association Cross Country Championships on the Hershey Parkview Course.
Korty finished the 3.1-mile course in 20:00.3 to lead five Lackawanna League runners in the top 18, all earning medals, which go to the top 25 in each race.
Montrose finished just one point out of second.
Elk Lake's Krista Jones earned her third state medal, taking eighth in the 251-runner field in 20:18.4. Mountain View's Carissa Flynn (13th), Riverside's Lacey Danilovitz (14th), Forest City's Rachel Korty (18th) all repeated as state medalists.
Notre Dame Green Pond from District 11 won the team title decisively with 117 points. Mohawk (160), Montrose (161) and Marion Center (165) were then in a tight battle for the second team medal position. Elk Lake also finished in the top half of the 23-team field, placing 11th with 293.
Penns Valley's Anna Stitzer won in 19:32, finishing 5.2 seconds in front of Lauren Shaffer from Portage in a race where Kate Korty joined three seniors in the top four places.
Kathryn Long from Mountain View missed out on repeating a medal by two places, finishing 27th.
Paige Brewer and Daegan Giannone finished back-to-back in 39th and 40th place to lead Montrose.
Runners qualified for the state meet as part of teams or individually. The individual qualifiers are not part of the team score.
Brewer and Giannone were 13th and 14th of the 149 runners from team entries.
Full results for District 2 runners:
Medalists
| | | | | |
| --- | --- | --- | --- | --- |
| Runner | School | Class | Place | Time |
| Kate Korty | Forest City | Fr. | 3 | 20:00.3 |
| Krista Jones | Elk Lake | Sr. | 8 | 20:18.4 |
| Carissa Flynn | Mountain View | So. | 13 | 20:29.5 |
| Lacey Danilovitz | Riverside | Jr. | 14 | 20:30.6 |
| Rachel Korty | Forest City | Sr. | 18 | 20:42.8 |
Montrose runners
| | | | |
| --- | --- | --- | --- |
| Runner | Class | Place | Time |
| Paige Brewer | Jr. | 39 | 21:23.4 |
| Daegan Giannone | So. | 40 | 21:26.4 |
| Stephanie Summerville | Jr. | 57 | 21:42.1 |
| Mary Pichette | So. | 81 | 22:17.3 |
| Annika Bixby | Sr. | 143 | 23:26.6 |
| Margaret Nebzydoski | Sr. | 202 | 25:11.5 |
Elk Lake runners
| | | | |
| --- | --- | --- | --- |
| Runner | Class | Place | Time |
| Krista Jones | Sr. | 8 | 20:18.4 |
| Mackenzie Strohl | So. | 103 | 22:37.9 |
| Makayla Wagner | Jr. | 136 | 23:22.3 |
| Sydney Upright | So. | 157 | 23:38.8 |
| Hanna Howell | Fr. | 185 | 24:33.7 |
| Molly McGlynn | Sr. | 194 | 24:54.7 |
| Gina Warnero | Fr. | 241 | 28:37.3 |
Other individuals
| | | | | |
| --- | --- | --- | --- | --- |
| Runner | School | Class | Place | Time |
| Kathryn Long | Mountain View | Sr. | 27 | 20:59.4 |
| Morgan Lutz | Lakeland | So. | 73 | 22:08.9 |
| Kaitlyn Farrell | Holy Cross | Sr. | 93 | 22:30.7 |
| Mary Kate Kupsky | MMI Prep | Fr. | 94 | 22:31.9 |
| Emma Piechocki | Blue Ridge | Fr. | 111 | 22:41.1 |
| Emily Black | Lakeland | Fr. | 175 | 24:11.2 |