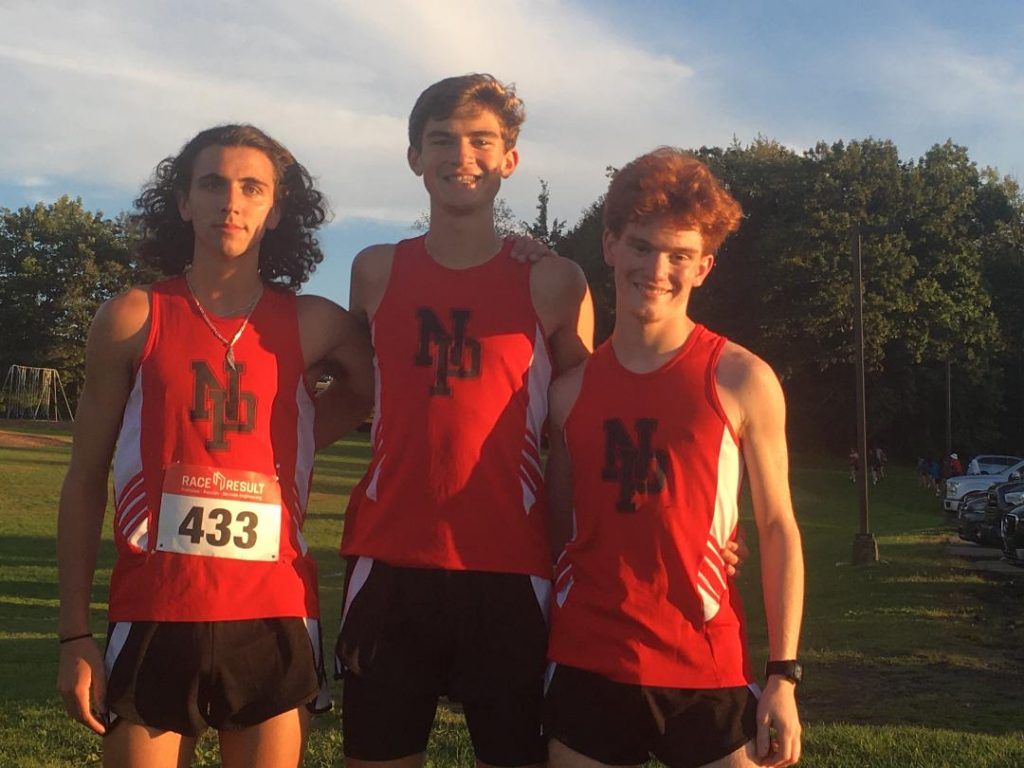 By Tom Robinson, NEPASportsNation.com
NEWTON TWP. – The finish line area at a large cross country meet can be surrounded by confusion and anxiety as scores are sorted out.
Coaches, team volunteers and media members can position themselves at the finish and record unofficial placements and often make quality estimates of results. Even then, however, there is usually uncertainty because of the possibility that one mistake or one misidentified runner can significantly alter the results, leaving even winners often waiting for the confirmation of scores, which can take even longer at meets that are hand-scored.
In dual-meet competition, however, there is a simple way to eliminate the uncertainty.
Grab the first three place finishes and there is no mathematical way for a team to lose.
That is what Caleb Kenyon, Aiden Horne and Mason Natalini provided for the North Pocono boys Tuesday in what probably will ultimately go down as the most important meet of the Lackawanna League cross country season.
North Pocono was facing five opponents in a six-team cluster meet. With dual meet scoring in place, results would need to be separated and the Trojans would be scored against each of those opponents as if they were the only teams in the race.
When Kenyon, Horne and Natalini ran at the front of the field and reached the finish line together in first, second and third, the suspense was effectively over.
By comfortably securing the first three spots out of 69 varsity boys running from six schools, North Pocono knew it therefore had the first three spots in each of the five duals.
The North Pocono trio came in more than 11 seconds before fourth-place finisher Scott Bevilacqua from Lakeland and, more importantly, more than 24 seconds ahead of any of the runners from Abington Heights, another unbeaten team at the start of the day.
It was a result that the teams all knew was possible with North Pocono accomplishing the 1-2-3 finish previously in cluster meets where Abington Heights, North Pocono and Valley View run together each week. Tuesday was the one race each season where travel partners are scored against each other as well as the other "cluster" involved and, therefore, the meet carries more weight than other weeks on the schedule.
Kenyon, Horne and Natalini paced each other to the important finish until exchanged looks indicated an unspoken race was on for the finish line.
"I outleaned him for the win, but we tied for time because our chip was in the same place," Kenyon said after the electronic timing put him and Horne at identical 17:48.0 finishes on the 3.1-mile Abington Heights Middle School course.
Natalini followed in 17:49.6.
"That's what we're going for," Natalini said, "because our fourth and fifth are back a little bit and Abington Heights is so consistent with its top five that we knew that just to be sure, we had to go 1-2-3.
"Abington Heights almost always has five in the top 10, but we knew if we went 1-2-3, we were sure to win and that's what we went for."
The Comets remain dangerous in scoring for larger multi-team meets like the District 2 Class 3A Championships where they are the defending champions. In such meets, the placement of other runners in relation to each team figures into the scoring and even teams that take the first three spots are not guaranteed wins.
For now, however, the 25-31 victory over Abington Heights and Tuesday's four other wins by margins of between 26 and the maximum 35 points, put North Pocono in a first-place tie with Mid Valley at 14-0.
The Trojans, ranked first among boys in the Century Dental Associates Cross Country Power Rankings of District 2 teams, have the advantage of having potentially cleared their biggest hurdle in beating the No. 2 Comets.
Abington Heights went 4-1 on the day, with each win coming by at least 21 points to improve to 13-1. Tommy Walsh and Gavin Ross led the Comets, placing fifth and sixth.
Valley View was 3-2, Lakeland 2-3, Lackawanna Trail 1-4 and Western Wayne did not have entries and therefore lost to each.
GIRLS
Abington Heights withstood challenges by its cluster partners, posting a 26-29 victory over Valley View and a 26-31 win over North Pocono to go 5-0 and protect the league's only perfect girls record.
The Comets are second in the Power Rankings and Valley View, which won four times to reach 12-2, is seventh.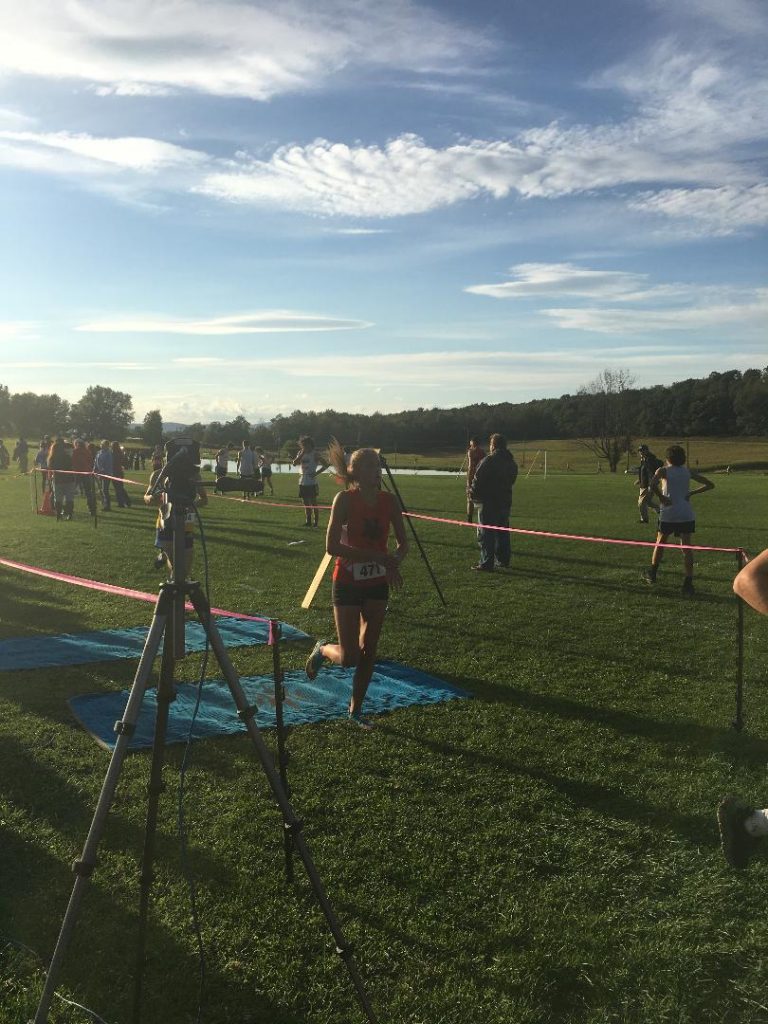 North Pocono, led by individual winner Emily Franklin, went 3-2 for the day.
Lakeland picked up two wins and Lackawanna Trail one.
Western Wayne did not get any wins, but did have second-place finisher Madison Kammer.
Abington Heights won with the combination of Maia Arcangelo in third, Emma Horsley in fifth and Reese Morgan in seventh.
The individual results, the team scores for all the meets decided at Abington Heights Tuesday and the updated records for all the involved teams are below.
BOYS SCORES
North Pocono 25, Abington Heights 31
North Pocono 17, Lakeland 43
North Pocono 17, Valley View 46
North Pocono 17, Lackawanna Trail 46
North Pocono 15, Western Wayne 50
Abington Heights 20, Lakeland 41
Abington Heights 18, Lackawanna Trail 45
Abington Heights 18, Valley View 45
Abington Heights 15, Western Wayne 50
Valley View 28, Lakeland 30
Valley View 20, Lackawanna Trail 41
Valley View 15, Western Wayne 50
Lakeland 21, Lackawanna Trail 38
Lakeland 15, Western Wayne 50
Lackawanna Trail 15, Western Wayne 50
BOYS RECORDS
| | |
| --- | --- |
| Team | Record |
| North Pocono | 14-0 |
| Abington Heights | 13-1 |
| Lakeland | 9-5 |
| Valley View | 8-6 |
| Lackawanna Trail | 6-8 |
| Western Wayne | 0-12 |
TOP 20 BOYS
| | | | |
| --- | --- | --- | --- |
| Place | Runner | School | Time |
| 1. | Caleb Kenyon | North Pocono | 17:48.0 |
| 2. | Aiden Horne | North Pocono | 17:48.0 |
| 3. | Mason Natalini | North Pocono | 17:49.6 |
| 4. | Scott Bevilacqua | Lakeland | 18:01.3 |
| 5. | Tommy Walsh | Abington Heights | 18:13.8 |
| 6. | Gavin Ross | Abington Heights | 18:16.0 |
| 7. | Brayden Clarke | Lackawanna Trail | 18:26.2 |
| 8. | Ethan Williams | Valley View | 18:27.1 |
| 9. | Nicholas Booth | Abington Heights | 18:40.6 |
| 10. | Sean Rooney | Abington Heights | 18:41.5 |
| 11. | Bruce Haines | North Pocono | 18:43.7 |
| 12. | Alex Duffy | Abington Heights | 19:04.8 |
| 13. | Jack Sorensen | Abington Heights | 19:06.8 |
| 14. | Noah Haines | North Pocono | 19:07.5 |
| 15. | Thomas Rohan | Lakeland | 19:23.7 |
| 16. | Aiden Clarke | North Pocono | 19:25.7 |
| 17. | Dylan Kopa | Lakeland | 19:26.0 |
| 18. | Hamza Mirza | Abington Heights | 19:28.5 |
| 19. | Colin Kravitz | North Pocono | 19:49.2 |
| 20. | Evan Babarski | Valley View | 19:51.6 |
GIRLS SCORES
Abington Heights 26, Valley View 29
Abington Heights 26, North Pocono 31
Abington Heights 20, Lakeland 40
Abington Heights 20, Western Wayne 43
Abington Heights 15, Lackawanna Trail 50
Valley View 26, North Pocono 31
Valley View 21, Lakeland 39
Valley View 20, Western Wayne 43
Valley View 15, Lackawanna Trail 50
North Pocono 22, Lakeland 33
North Pocono 19, Western Wayne 44
North Pocono 15, Lackawanna Trail 50
Lakeland 20, Western Wayne 43
Lakeland 15, Lackawanna Trail 49
Western Wayne 19, Lackawanna Trail 20
GIRLS RECORDS
| | |
| --- | --- |
| Team | Record |
| Abington Heights | 14-0 |
| Valley View | 12-2 |
| North Pocono | 10-4 |
| Lakeland | 9-5 |
| Western Wayne | 2-12 |
| Lackawanna Trail | 1-13 |
TOP 20 GIRLS
| | | | |
| --- | --- | --- | --- |
| Place | Runner | School | Time |
| 1. | Emily Franklin | North Pocono | 20:53.5 |
| 2. | Madison Kammer | Western Wayne | 21:13.7 |
| 3. | Maia Arcangelo | Abington Heights | 21:30.0 |
| 4. | Kaitlyn Newberry | Valley View | 21:48.1 |
| 5. | Emma Horsley | Abington Heights | 22:16.5 |
| 6. | Morgan Lutz | Lakeland | 22:19.1 |
| 7. | Reese Morgan | Abington Heights | 22:20.7 |
| 8. | Gianna Godino | Valley View | 22:24.8 |
| 9. | Morgan Davis | North Pocono | 22:25.4 |
| 10. | Samantha Adams | Valley View | 22:32.0 |
| 11. | Kaitlyn Kravitz | North Pocono | 22:34.3 |
| 12. | Olivia James | Lakeland | 22:47.4 |
| 13. | Della Noon | Valley View | 22:57.5 |
| 14. | Lauren Posluszny | North Pocono | 23:07.2 |
| 15. | Casey Healey | Abington Heights | 23:08.3 |
| 16. | Chloe Stafursky | Valley View | 23:11.3 |
| 17. | Abby Adamsky | Abington Heights | 23:15.7 |
| 18. | Paige Redman | Valley View | 23:27.0 |
| 19. | Sophie Breitenoeder | Abington Heights | 23:33.7 |
| 20. | Emily Black | Lakeland | 23:58.7 |