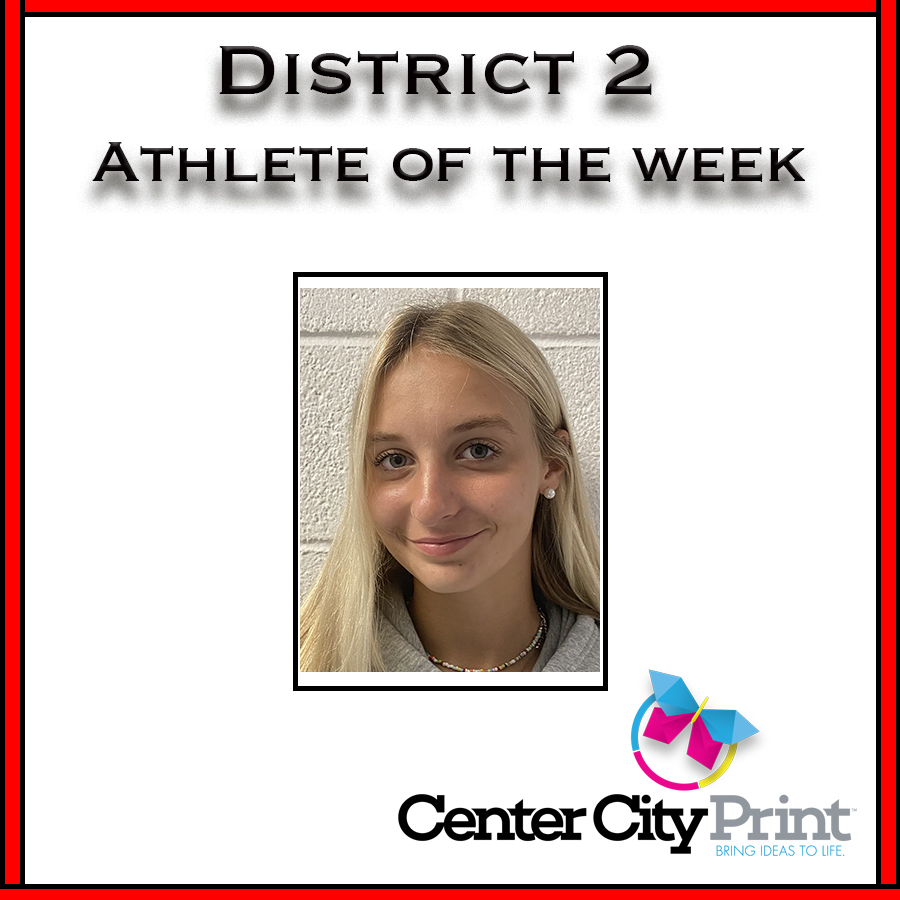 By Tom Robinson, NEPASportsNation.com
KINGSTON – Goals had been extremely difficult to come by when the Wyoming Valley Conference's top two field hockey teams – Wyoming Seminary and Wyoming Area – met in recent seasons.
Emma Watchilla changed that in this season's first showdown between the two teams with the WVC Division 1 lead on the line.
And, she did it in a hurry.
Watchilla scored twice in the first five minutes of the Sept. 22 game and went on to complete her hat trick in a 4-0 Wyoming Seminary victory that kept the three-time defending state champion Blue Knights perfect for the last two seasons.
The hat trick was one of two that Watchilla produced during the week. She had two goals in her other game to finish the three-game week with eight goals and three assists.
Those efforts make Watchilla the Center City Print District 2 Athlete of the Week for the period of Sept. 20-26.
The junior forward/midfielder made an early commitment to play National Collegiate Athletic Association Division I field hockey at the University of Virginia during preseason practices and started her season strong. The nationally ranked Blue Knights followed suit, finishing the week with five straight shutouts, adding a sixth since before finally being scored on in a 6-1 road win at Honesdale.
After a six-game 2020 district and state playoff run in which it only allowed one goal, Wyoming Seminary seems to be threatening to be even stronger this time around.
"I just think we're really jelling," Watchilla said. "We have in the past years, but I just think this year it's coming a lot quicker.
"We come to practice, we work together and I think it really shows when we get on the field.
" … I think there's always room for improvement. If we keep going at this rate we're going, we're going to be great."
Watchilla is adding to the firepower offensively. A member of the U.S. Under-16 National team in 2020, she continues working on developing her game, particularly her scoring touch, year-round.
"I'm always working on finishing in the cage," she said. "I think that definitely is one area that I've really improved in and second-effort, tackling, when you lose the ball, getting right back into it; not giving up."
That work has been evident in Watchilla's early-season scoring prowess, including against Wyoming Area, a team that held Wyoming Seminary scoreless in regulation twice last season before the Blue Knights pulled out overtime wins.
"Coming out right off the bat, we were able to execute quickly and put them under a lot of pressure," Watchilla said.
The second goal showed off Watchilla's wide range of skills. Sprinting down the field into the offensive circle with a defender on her shoulder, Watchilla stopped quickly, spun and got off a difficult reverse chip inside the far post.
"I could feel the defender running with me," Watchilla said. "I knew she was on my left side. I figured if I touched it back quick, I could lose her and take the quickest shot I possibly could. That was my first instinct and it went in.
"Whenever you shoot the ball, sometimes you're not sure how it's going to go, but right when I shot that, I knew, 'oh, this is a good one'."
Watchilla said Virginia has "always been my top school." She made one other unofficial college visit and had other official recruiting visits tentatively scheduled, but after making her first official visit to Virginia, the recruiting process was essentially over.
"You step on the campus and you know you love it," she said.
Watchilla, whose first foray into youth sports was in soccer, has been building to that point for years. A family friend suggested she try an introductory camp as an elementary student at Wyoming Valley West and within two years she was playing with the Ka-Pow club team. She has since switched to the Electric Surge club team in addition to participating in USA Field Hockey's Futures Program.
Emma is the daughter of Jim and Shelby Watchilla from Kingston.
CENTER CITY PRINT DISTRICT 2 ATHLETE OF THE WEEK
Sept. 13-19: Krista Jones, Elk Lake girls cross country. https://nepasportsnation.com/jones-runs-alternate-paths-to-success/.
Sept. 6-12: Ron Prislupski, Holy Cross boys soccer. https://nepasportsnation.com/prislupski-doubles-up-on-hat-tricks/.
Aug. 30-Sept. 5: London Montgomery, Scranton Prep football. https://nepasportsnation.com/montgomery-sprints-to-award/.
Aug. 19-29: Chloe Sipe, Elk Lake girls golf. https://nepasportsnation.com/preparation-paid-off-for-sipe/.