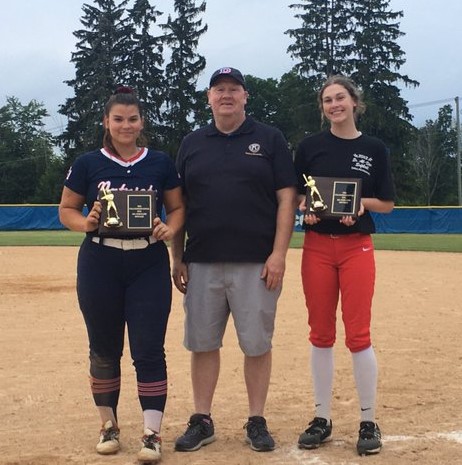 By Tom Robinson, NEPASportsNation.com
DALLAS – Crestwood's Jessica Koptcho shut down the East offense and got the West offense started.
Koptcho, the winning pitcher, was named Most Valuable Player for the West team in its 4-2 victory during the 42nd annual Robert L. Dolbear Senior All-Star Softball Game at Misericordia University's Anderson Field.
The game, sponsored by the Dallas Kiwanis Club, is for recent graduates of Wyoming Valley Conference team.
Koptcho and Pittston Area's Tori Para had nearly identical offensive performances.
Each went 2-for-3 with a double, drove in the first run for their team and scored the second. Para had one additional plate appearance in which she drew a walk.
While Para, one of the leaders of Pittston Area's unbeaten, state Class 5A championship team, played her usual strong game in the middle of the infield defensively, Koptcho was positioned to have an even bigger impact on the outcome as the starting pitcher.
Koptcho allowed just two hits and a walk while striking out three in four scoreless innings.
"It was awesome to play with girls I never got to play with before so I was real excited about that," said Koptcho, who led a team made up of players from Crestwood, Nanticoke, Lake-Lehman and Northwest and coached by Dave Koptcho, her father.
The East was coached by Pittston Area's Frank Parente and included players from his team, Wilkes-Barre Area, Holy Redeemer and Wyoming Valley West.
Koptcho overcame an error and walk in the top of the first by getting two straight outs with two runners in scoring position.
The West then moved in front in the bottom of the inning.
Brooke Aton from Crestwood walked to lead off the inning.
Koptcho's one-out double brought her home.
The score remained 1-0 until the West broke loose for three runs in the bottom of the fourth.
Koptcho singled with one out, then Nanticoke's Ali Keener drew a walk.
Lake-Lehman's Jillian Ulozas doubled to drive in Koptcho.
A groundout by Crestwood's Stephanie Pollock drove in Keener and Ulozas came home on an error to make it 4-0.
The East scored twice in the top of the fifth, but reliever Tiffany Brogan from Nanticoke got a strikeout with the tying runs on base and the go-ahead run at the plate.
Lyssa Rhodes walked with two out, Para doubled to left-center field to drive her in and Holy Redeemer's Jenna Santuk followed with an RBI single through the left side.
Skylar Borthwick's single put runners on the corners.