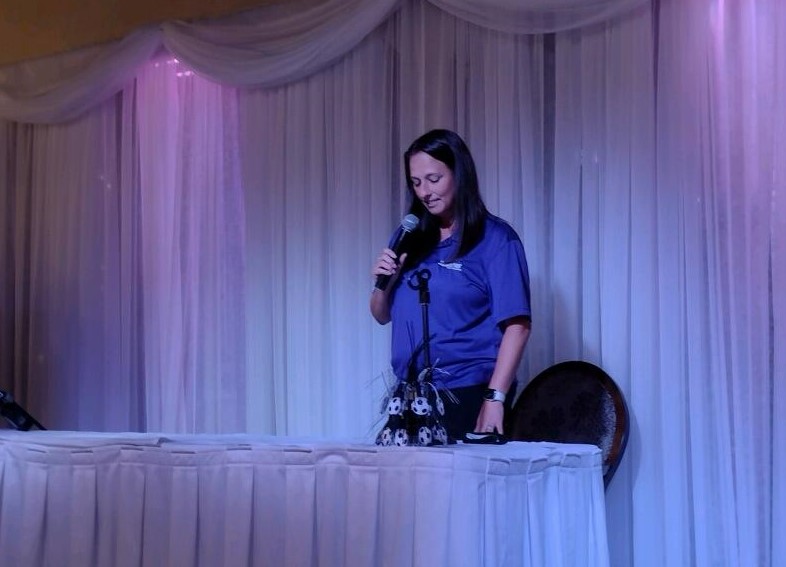 By Tom Robinson, NEPASportsNation.com
OLYPHANT – Wednesday was a day for welcoming back and, quite often, just welcoming in general when the Lackawanna Soccer League Media Day was conducted at the Regal Room.
Wallenpaupack girls coach Alicia Sodano organized the fourth annual event, which had to take a year off in 2020 as one of the many concessions to the coronavirus pandemic.
More than three-quarters of the league's boys and girls programs were represented, in most cases by a head coach and two players, in the event designed to gather the league's coaches and top student-athletes while showcasing them to the local media.
Between boys and girls teams, the league will have 10 new coaches in the 42 programs.
Also, Abington Heights and Carbondale return to boys and girls competition after sitting out last fall for precautionary measures related to the pandemic. Forest City rejoins league play after starting its season too late in 2020 to be part of the division races.
The Carbondale girls team both returns to action and starts out under a new coach.
Monique Cobb, a former assistant, was all set to make last season her head coaching debut.
"I think they let that go, it's over with and done with," Cobb said of the missed season. "They're all just excited. I have a young team.
" … I have two starting varsity players back and everyone else is brand new to us."
That is true because of the number of seniors who missed out on a 2020 season.
"We lost eight seniors and they were girls who had played from the time they were little, so they were quite devastated," said Cobb, who still organized senior recognition and other activities that could be handled virtually.
The Abington Heights girls had a similar experience. The long-time power anticipated a special season after winning Lackawanna League Division 1 in 2019.
"We didn't even anticipate winning our league in 2019 and we ended up winning the league and we had pretty much our entire squad back," said Errol Mannick, whose team, featuring 13 seniors, sat out the season. "That bunch there would have been my fifth year coaching them because I coached them in junior high. We had the co-ed junior high team and I coached eight of them from the junior high squad. There was a lot of continuity there.
" … Last year was really the year, we were looking forward to, to try to make some kind of state run for the first time in a while."
Mannick said the revamped team is eager to move forward.
"It was heartbreaking last year, but we're very appreciative and we've talked about that as a team, you just don't know when and if something can be taken away from you," he said.
For those who did participate in 2020, three league members, including both Delaware Valley teams, were able to win both district and division championships.
Both Delaware Valley teams won District 2 Class 4A and Lackawanna Division 1 titles.
Mountain View won District 2 Class A and Lackawanna Division 2 championships on the boys side.
The Montrose girls, in Class A, were the league's other district champion after finishing behind Lakeland in Division 2.
The Old Forge boys and Elk Lake girls won the Division 3 titles.
With experience at keeper, scorers returning and an all-star center back in senior Theresa Ficken, Delaware Valley coach Jeff Rainear hopes his team can maintain its status despite the loss of nine players to graduation and the return of Abington Heights.
"Outside back is our question mark, but we have a lot of talent," Rainear said.
The Delaware Valley boys were hit a bit harder by graduation, but three of their four returning starters are at midfield.
The Old Forge boys title was the first for soccer in a school athletic program that knows a little bit about championships, including the state baseball title in which coach John Mucciolo played a major role in back in 1992.
"It was a nice turnaround, the first winning season that I know of, in the last decade at least," Mucciolo said of a sport that started at the school long after those for which the Blue Devils are more noted. "It's an awesome group, super dedicated and what's most important is that they get along."
Nearly as important as that eight of those starters return for another shot after going undefeated in the division.
Even for some of those who are back for another year, there are changes.
At Valley View, Dan Berg takes on the unique double-duty of coaching the boys and girls teams simultaneously. He had already been coaching the boys team when the girls position opened up at his alma mater six weeks before the season.
Jordan Carr, a three-year starter as both a defender and forward, will continue to show off his versatility at North Pocono, which was second to Delaware Valley in Division I boys last season.
Carr will move to his natural position of goaltender, where he has nine games of varsity experience, including two shutouts while posting a 1.27 goals against average.
Western Wayne's 8-3 record gave it a slightly better winning percentage than Montrose's 8-3-1 for the second-best record in Division 2 girls.
Second-year coach Tyler Jakes will look to replace the scoring of all-stater Cassidy Asinski by moving two of his seven returning starters.
Two juniors make the move from defense with Cyrah Bihler going to forward and Jaden Gregory going to midfield.
"We're moving some pieces around and working on some different things in training to see who can generate the attack for us," Jakes said.
Along with photo sessions and media interviews, the gathering included a luncheon for the players and coaches as well as three speakers.
Sodano provided the welcome and introduced the new coaches in attendance.
Nino Cimino from the American Cancer Society explained information about the Red Card Cancer fundraising program.
Former North Pocono and East Stroudsburg University goalkeeper Riley Lougee, who is just beginning a coaching career, spoke to the players.
Lougee, who spent a season as an assistant at Keystone College and is beginning a teaching and junior high coaching position in the Delaware Valley School District, reminisced about his experiences in the sport and addressed the players about issues such as mental toughness and sportsmanship.