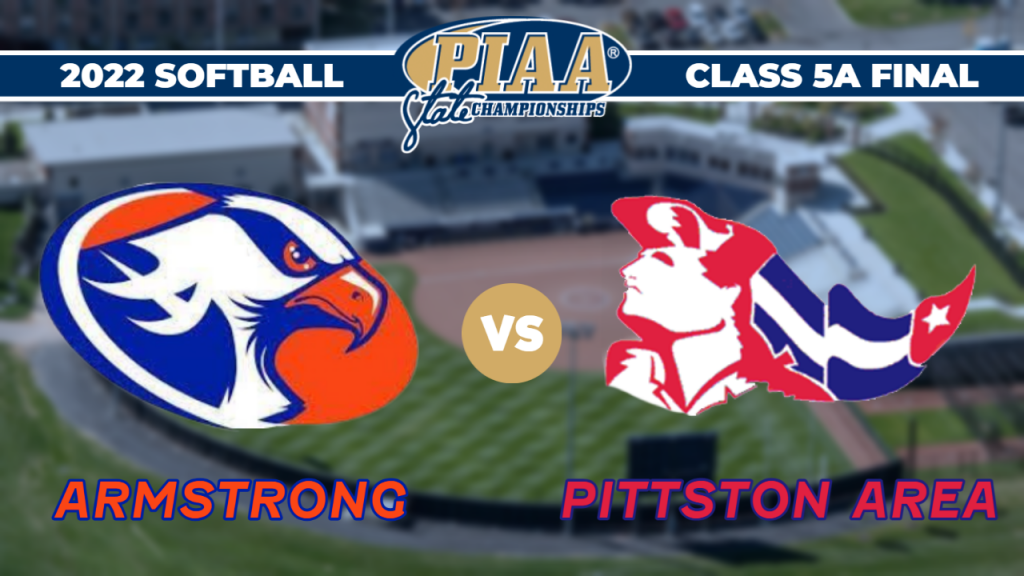 By Tom Robinson, NEPASportsNation.com
UNIVERSITY PARK – Pennsylvania's most successful high school sports teams have, for decades, celebrated the qualification for a state championship game with Hershey's Kisses because of the location of so many of those contests.
Pittston Area softball coach Frank Parente waited a little longer, but allowed himself to go a bit bigger on the sweet celebration, even if he was nearly 100 miles from Chocolatetown.
After the Lady Patriots completed their perfect season with a 4-0 victory over Armstrong in the Pennsylvania Interscholastic Athletic Association Class 5A final at Penn State's Beard Field, Parente was looking forward to his own sweet treat, an entire Hershey bar – plain or almond did not matter.
"Traditional Hershey bar; the flat, regular Hershey bar, that's what I'm going for," Parente said.
It was an indulgence worth the wait.
"On December 31st, I said I will not eat a piece of candy until this team loses a game or our season ends," Parente said. "I haven't eaten candy and, honestly, I thought we had the ability to go undefeated. I really did, otherwise I would have never done that."
The goal was a lofty one, for many reasons.
No Pittston Area team had ever been to a state team championship game – let alone won one.
And, the path was particularly difficult this season with a returning state finalist and semifinalist along the way.
Those teams were among the reasons that an experienced and otherwise previously successful Pittston Area team did not have any recent championships on its resume.
Tunkhannock, which will take a shot at the Class 4A state championship again Friday, and West Scranton had finished ahead of the Lady Patriots last season in Wyoming Valley Conference Division 1 and District 2 Class 5A competition. West Scranton, an eventual state semifinalist last season, was not even defending champion in its own division where Lackawanna League Division 1 honors went to Abington Heights, another team in the District 2 Class 5A field.
All four of those potent teams returned almost their entire lineups.
To go undefeated, Pittston Area had to defeat Tunkhannock twice in the WVC and had to get through a District 2 Class 5A field that included four teams – Lackawanna Division 2 champion North Pocono was the other – that maxpreps.com ranks among the best 25 in Pennsylvania regardless of classification.
The Lady Patriots did just that and they were seldom challenged. They trailed at the end of just two full innings and two other half innings all season while going 25-0.
Thursday was not much different with Pittston Area jumping in front in the top of the first inning and outhitting Armstrong, a repeat Class 5A state finalist, 11-2.
Gianna Adams fired a two-hitter with 10 strikeouts and was one of four Pittston Area players with two hits each.
Bella Giardina drove in the last two runs with the second of her two hits.
Sage Weidlich scored the game's first two runs along with getting two hits.
Adams had two hits, but her run production came with a sacrifice fly for a 2-0 lead in the third inning.
Maura Mihalka added two hits and scored a run from the ninth spot in the order.
The only concern came from the offense not putting enough hits together to break away from Armstrong. Adams' pitching and the work of catcher Ava Callahan and shortstop Tori Para in controlling the River Hawks running game kept that from being a serious issue.
Two of the first three Armstrong runners to get on base attempted to steal. The first, leadoff hitter Emma Smerick became her team's first out when she could not remain on second base with her slide and Para alertly kept the tag on her.
Callahan's throw cut off the second attempt to end the second inning.
"We knew they were an aggressive team," Callahan said. "Tori made a great play on that first steal.
"I felt like they were going to try to steal every time."
Following the first two attempts, the River Hawks did not try again.
After Giardina's two-out, two-run single made it 4-0 in the top of the fourth, Armstrong went down in order in three of four innings and only got one runner past first base.
"All of us, the cheering got louder in the dugout and we got happier," Adams said. "We actually could relax. We had smiles on our face. It was amazing."
Adams ended each of the last four innings with strikeouts, fanning seven total during that time.
"She shut the door and Bella had a huge hit," Parente said.
They helped fulfill a dream the entire team shared.
"They believed from the beginning of the year that this could be special and they finished it off," Parente said. "I'm so proud of them."