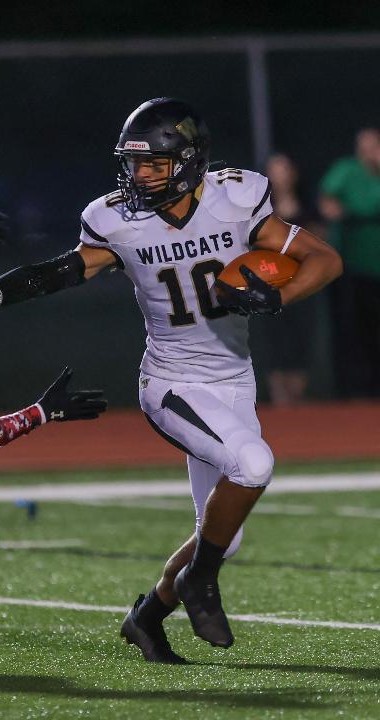 Frankie Leyshon hit Sean Owens for the game's first two touchdowns, but neither player's contribution ended there as Western Wayne rolled over visiting Old Forge, 35-7, in a non-league game between ranked Lackawanna Football Conference teams.
Leyshon later ran for a touchdown.
Owens picked off two passes, including one in the end zone, for Western Wayne, which improved to 2-1.
Western Wayne is No. 3 and Old Forge No. 6 among Small Schools in the Gaughan Auto Store Super Six Power Rankings, compiled by our partners from NEPAFootball.com from among LFC and Wyoming Valley Conference teams.
The Wildcats proved too much for the Blue Devils, sending the game into the Mercy Rule early in the fourth quarter and carrying a shutout into the final two minutes.
Western Wayne outrushed Old Forge, 301-105, and outgained the Blue Devils, 424-230, overall.
Luke Janiszewski carried 14 times for 160 yards and the other two Western Wayne touchdowns and, like Leyshon and Owens, made multiple contributions to the victory. He was in on seven tackles, tied for most on the team, forced and recovered a fumble, and hurried the passer twice.
The Wildcats had two rushers surpass 100 yards with Josh Vinton adding 111 on 17 carries.
Leyshon went 5-for-8 for 123 yards passing and scored on his only rushing attempt.
Owens had 4 catches for 92 yards and booted his only punt 49 yards.
Leyshon hit Owens with a 49-yard touchdown pass in the first quarter and a 37-yarder in the first minute of the second quarter.
Janiszewski broke a 74-yard touchdown run for a 21-0 halftime lead.
The lead reached 35-0 on a 15-yard Janiszewski run midway through the third quarter and a 6-yard Leyshon run with 8:55 remaining.
Carter Mistishin kicked all five extra points.
Paul Guidice was also in on seven tackles for the Wildcats.
Geno Scatena ran 4 yards for the only Old Forge touchdown.
James Sobol passed for 125 yards for the Blue Devils (1-2).
Connor Oshinski had a team-high nine tackles.