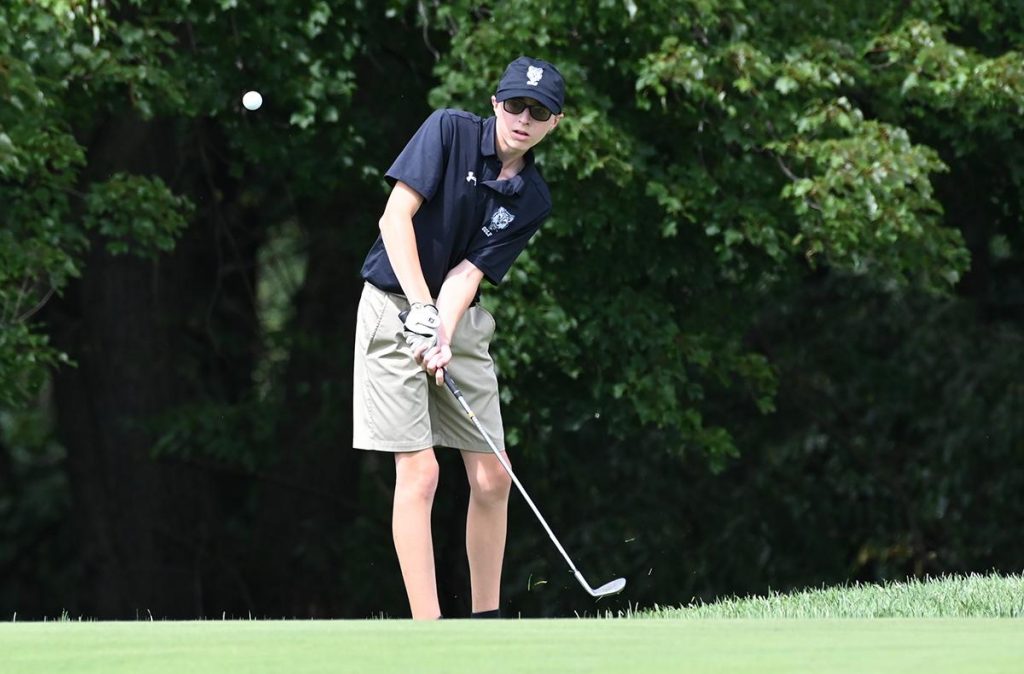 By Tom Robinson, NEPASportsNation.com
EXETER – Michael Lugiano went through the front nine of his Tom Tryba Memorial Tournament title defense without a birdie.
Once he broke through, however, there was no stopping the Lake-Lehman junior.
Lugiano birdied five of the back nine holes on the way to a 4-under-par, 67 and three-stroke victory at Fox Hill Country Club Monday.
Eli Ropietski was part of the three-way tie for second place while joining Lugiano in leading Lake-Lehman to a title repeat.
Lugiano made the turn in 1-over, but went right to work from the 10th tee on the way to shooting 31 on the par-36 back side.
"I hit my drive about five yards short of the green," Lugiano said, "then chipped to about eight feet and made that putt."
Lugiano took off from there, putting his tee shot about 10 feet away on the par-3, 11th for another birdie.
"My birdie on 10 got me some momentum, then the one I made on 11 got me even more momentum," Lugiano said. "Then, some putts just started falling on the back that didn't on the front."
Lugiano made it to the fringe in two on the par-5, 14th, then used wedges to get close enough for two more birdies on 17 and 18.
"It's awesome," he said. "Two in a row is always nice against all the good people playing in this tournament.
"I knew I would have a good chance coming in. I've been hitting my wedges great, so I knew if I was putting well, with how close I've been hitting my wedges, I'd be able to put up a number."
Four players finished in the red – two each from the Wyoming Valley Conference's top two teams – in what became a close battle with Crestwood.
Crestwood, the WVC Division 1 leader, posted a four-player score of 295 to ultimately fall one stroke short of the defending WVC Division 2 champion Black Knights.
The final scores were the result of some creative decision-making when, despite a patient wait of nearly four hours by tournament officials, nearly half the field was unable to finish its last hole or two.
Lightning halted play early in the round, then again as players neared the conclusion.
The second delay ran much longer as the clock was continually reset to a half-hour each time lightning registered on monitors. Players were sent back out on the course minutes before 5:30 p.m., prepared to resume play, only to be called back off the course when another lightning strike was detected fewer than 10 miles away.
The tournament was halted for good at that point.
Players who had not completed their rounds were given a par for their final hole or a bogey and par if they had two holes left. That option had already been taken by all but four teams, with players exiting the course periodically throughout the afternoon, as long as they were not in contention for individual or team honors.
Players from Lake-Lehman, Crestwood, third-place Hazleton Area and Dallas waited out the delay, but still wound up having their scorecards completed the same way.
With those scores used, Lake-Lehman came in at 294.
Crestwood's Derek Johnson and Tommy Biscotti matched Ropietski in the second-place tie.
Hazleton Area was third as a team with 306, behind the play of Connor Matteo, who finished alone n five place at even par.
All 15 WVC teams were represented, but only 11 had at least four finishers in order to post a team score.
MORE COVERAGE
Photo Gallery: 2022 Tryba Photo Gallery – NEPA Sports Nation.
Tournament scores: Tryba Memorial scores – NEPA Sports Nation.