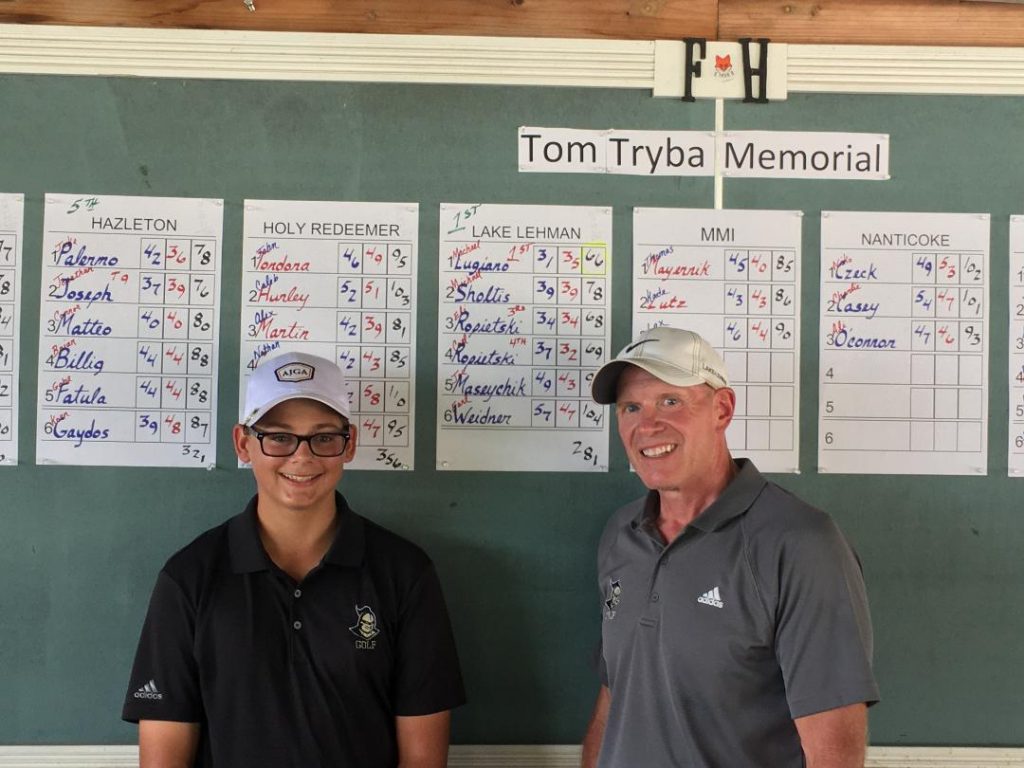 By Tom Robinson, NEPASportsNation.com
EXETER – Lake-Lehman sophomore Michael Lugiano followed Dallas senior and tournament record-holder Logan Paczewski around Fox Hill Country Club Monday, playing immediately behind the 2019 champion in the Tom Tryba Memorial Tournament for Wyoming Valley Conference golfers.
After falling behind by three shots in the first three holes, Lugiano chased down Paczewski, stormed into the lead and held on to win with a 5-under-par, 66.
Paczewski posted a 67 and his Dallas team put up an impressive four-man team score of 297, but neither was enough to keep up with Lugiano and the Black Knights.
"I knew I was going to shoot under par today because I've been playing good golf,' Lugiano said after finishing as one of four players in the tournament – and three from Lake-Lehman – to break 70. "After I made that bogey on 3, I knew I had to make a stroke or two up."
Lugiano made up five by the turn with birdies on 4, 5, 6, 8 and 9.
Already a Pennsylvania Interscholastic Athletic Association Class 2A state tournament qualifier last year as a sophomore, Lugiano came back this season with a much stronger game.
"Everything is better," Lugiano said. "I'm at my home golf club practicing every single day. Playing tournament golf has been a big help for me. There's a lot of great golfers out there.
"My driving is better. I'm hitting the ball way farther. My approach shots, chipping, putting; everything has improved."
It's no accident.
Lugiano spent each day of the summer putting in long hours with his new Lake-Lehman teammates, brothers Eli and Cael Ropietski, and against national-level competition such as Paczewski, who he defeated in a playoff for the Huntsville Golf Club junior club championship after both shot 67s.
Eli Ropietski shot 68 and Cael Ropietski 69 and got support from a 78 by Michael Sholtis to give Lake-Lehman the team title by 16 strokes with a 281.
"You know why these scores are so low?" Lake-Lehman coach Tom Yoniski said. "It's because they're at Huntsville from 10 o'clock in the morning until 5 o'clock or later in the afternoon."
Yoniski is getting used to being beaten to the course for scheduled practices by his ambitious young players. Eli and Cael, who transferred from Holy Redeemer since the end of the last school year, are a junior and sophomore.
Paczewski saw the same things Yoniski did. The four players in the 60s Monday all have made frequent appearances on the American Junior Golf Association Tour.
When not traveling to face the country's best players their age, they work on their games.
"We play over at Huntsville all summer," said Paczewski, who sometimes joins the three Lake-Lehman players for a round. "I see the work they're putting in.
"They're there from sun up to sun down. They're really grinding."
Paczewski can see they are driven to be every bit as good as he is and that's no easy task. Paczewski played in this year's U.S. Junior Amateur and qualified for age-group World Championships events – along with beating the area's best high school players in tournaments – before he was even a teenager.
The way Lugiano played Monday, eight birdies was not enough for a repeat win by Paczewski, who set the Tryba Tournament record with a 64 as a sophomore in 2019. That made him the defending champion because the tournament could not be held last year during the pandemic.
Lugiano's play, plus the combination of two errant tee shots and a pair of three-putts, prevented a title repeat despite the rash of birdies.
"I got off to a hot start, then I made a really poor mistake on 5, hit it way right, (out-of-bounds) and made double," Paczewski said. "That took me back to even there."
After birdies on 6 and 7, Paczewski hit another tee shot into the words, but managed to salvage par. He was 3-under the rest of the way to finish at 67.
"It was pretty rollercoaster," he said. "Other than a couple mistakes, I played a good round.
" … It's only a one-day tournament, only 18 holes, so I ran out of time to make more birdies."
Lake-Lehman coach Tom Yoniski he said he is "blessed" with the talented combination of strong returning players and two quality transfers. As much he respects the work his players have put in, he was still surprised by the 66-68-69 combination at the top of the lineup in a tournament that was postponed twice last week because of the recent wet conditions.
"I did not expect three scores in the 60s," he said. "I don't know if anybody did.
"Let's be honest. The conditions were tough. The rough was high; the grounds were wet; and the greens were super fast."
Five players broke par and another matched it.
Nick Werner from Wyoming Seminary, one of three schools that had individuals entered, but not enough for a full team, shot a 70.
Derek Johnson's 71 led third-place Crestwood.
Kyleen McCance, who posted the day's top score by a female player with a 77, led Hanover Area to fourth place, one shot ahead of Hazleton Area.
Kyle Langan from Dallas was sixth with a 74.
Zach Valeski was seventh with a 75 to help Pittston Area, one of two teams that uses Fox Hill as its home course, place sixth out of 12 full teams.
Scoreboard: The scores for all teams and the individuals that finished in the top half of the 77-player field. https://nepasportsnation.com/tryba-memorial-scores/.