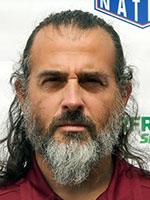 By Tom Robinson, NEPASportsNation.com
Montrose is in its 49th season of the modern era of its high school football program.
Making it to 50 could be difficult.
The Meteors will not play Friday's game, the scheduled second of the season, because of a lack of available, healthy players.
Montrose was scheduled to host Riverside in its home opener.
Athletic director Joe Gilhool said Monday that the school will take the football season "week to week."
The team could return this season if it reaches a number of players to proceed safely, either by players returning from injuries or by others joining the program.
Montrose had a roster of 22 players in the days before the opener and Gilhool said 21 went to Wyalusing for Friday night's game.
Following a weather delay of more than two hours, Montrose took the field. The Meteors fell behind 49-0 at halftime and lost 64-0, reaching the end of the game with 14 healthy players.
Gilhool put the count of healthy, available players at 12 as of Monday morning.
Riverside's sports calendar on its "bigteams" webpage shows the Vikings are now scheduled to play Saturday at 2 p.m. at Cowanesque Valley.
Riverside being able to replace the game on the schedule possibly could mean it would not be necessary to charge Montrose with a forfeit.
The Meteors are in their second season under coach Kerry Patton. Of the District 2 teams that played through the COVID-19 pandemic last fall, Montrose played the fewest games, finishing 1-1.
Patton addressed the program's uncertain future during an interview at the Lackawanna Football Conference Media Day.
"I'm here to coach," he said. "I will be devastated if anything happens to this program.
"Would I be understanding of it? Would I be accepting of it? Going down fighting, yes.
"But at the end of the day, it would be an absolute heartbreak."
The program produced Chris Snee, an All-Pro guard for the New York Giants who started on two Super Bowl-winning teams and was selected for four Pro Bowls.