Pictured above: Noah Ardestani rings The Bell he helped Scranton retain by scoring two touchdowns and setting up a touchdown and field goal in the team's rivalry game with West Scranton. (Tim Drewes Photo).
By Tom Robinson, NEPASportsNation.com
SCRANTON ­– Billy Maloney's two interceptions allowed Scranton to keep West Scranton scoreless through the first half of Saturday afternoon's Bell Game.
Noah Ardestani made sure his interception added to the points the Knights used to make sure the entire second half of the rivalry game was played under the Mercy Rule.
Maloney and Ardestani led the way as unbeaten Scranton rolled up a 39-point halftime lead en route to a 39-20 victory at Memorial Stadium.
"He's just a great all-around athlete," Scranton coach Steve Shumbres said of Maloney, who has also led the 3-0 start as a dual-threat quarterback. "He can do anything for us obviously on offense, but he's a leader for us too at free safety.
"He makes all of our calls, gets us set up and he made two nice interceptions today."
Maloney picked off second-quarter passes at the Scranton 12 and 1, returning them a combined 44 yards, to wipe out West Scranton threats and get the Knights out of a hole.
His interceptions were followed by consecutive scoring drives that built the lead to 36-0.
Ardestani's fumble recovery led to Scranton adding another score – it scored twice in the last 30.6 seconds of the half – on a 32-yard Keegan Hughes field goal.
Maloney and Ardestani also got the Knights started offensively.
They combined for the game's first 22 points.
Ardestani made West Scranton pay for a bad punt snap, making a tackle for a 16-yard loss before the Invaders could get a kick away and setting up the Knights in the Red Zone.
Scranton had one touchdown called back, but covered the 15 yards with the help of a West Scranton penalty. Maloney went around right end for a 5-yard touchdown and 7-0 lead with 5:39 left in the first quarter.
After taking advantage of a short field, the Knights covered nearly the entire field on their next possession.
Scranton stopped West Scranton's deepest penetration of the first half, then drove 92 yards in just 8 plays.
Maloney hit Nasir Moore with a 54-yard pass on the next-to-last play of the first quarter, then rolled out and found Ardestani for a 7-yard touchdown in the opening minute of the second.
A West Scranton penalty moved the ball half the distance to the goal line and Scranton took advantage by having Dohnavin Laybourn-Boddie run for the two-pointer and 15-0 lead.
Three plays later, the Knights were in the end zone again.
Ardestani batted a pass into the air in the West Scranton backfield, then caught it and returned the interception 39 yards for a touchdown.
With the 22-0 lead protected by the first of Maloney's two interceptions, Shumbres gave his quarterback, who doubles as the team's most frequent and most productive runner, a break from his heavy workload.
Promising freshman Brody Coyle took over, running for 25 yards on his first play, and leading two straight touchdown drives.
"The first couple of games, Billy's gotten a lot of carries and taken a lot of hits," Shumbres said. "I figured, give the freshman, our backup, a chance to get in there and get his feet wet.
"He did a real nice job for us."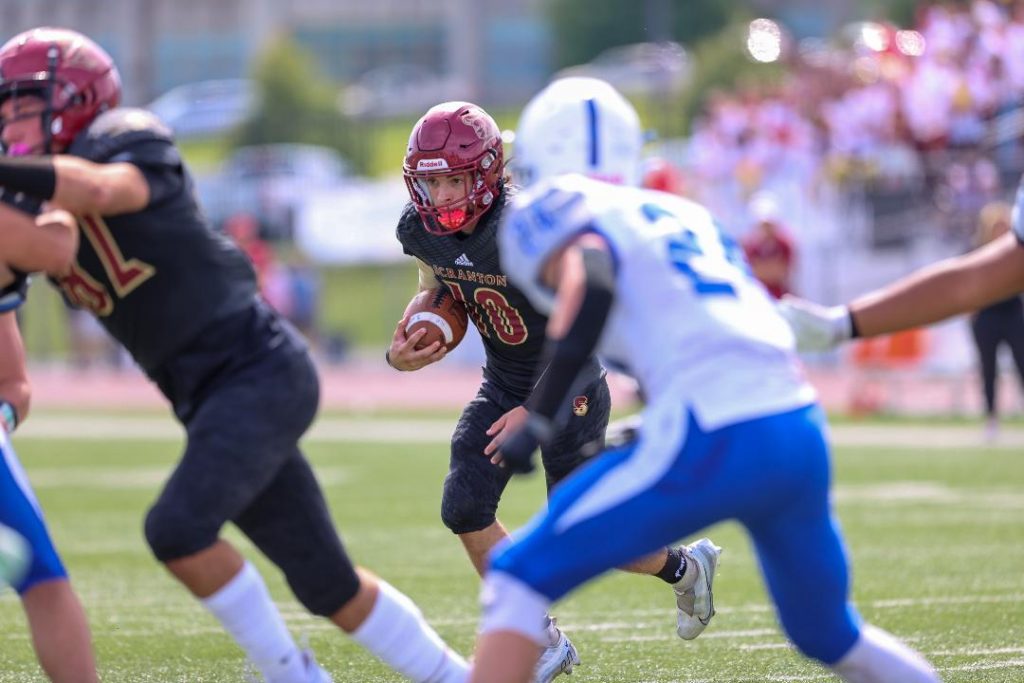 Maloney went 3-for-3 passing for 92 yards and a touchdown, along with running 4 times for 15 yards and another score.
Coyle was 6-for-9 for 63 yards and a touchdown and picked up 41 more yards on 6 carries.
Lamaire Soldano got to the corner for a 19-yard touchdown to cap a quick, three-play, 63-yard possession.
Then, Coyle executed the two-minute drill. He completed 4 passes, all for at least 10 yards, in an 80-yard drive. Coyle threw a screen to Saldano for 16 yards on fourth-and-10, then went down to middle to Donato Stepney for a 15-yard touchdown on the next play.
Scranton ended the half with its 39-0 lead, built off a 15-5 advantage in first downs and a 301-76 lead in total offense.
West Scranton (1-2) cut into those advantages in the second half while Scranton went deep into its bench.
The Invaders led 5-1 in first downs and 137-18 in total offense under the running clock conditions and scored three touchdowns.
Evan Laybourn-Boddie, whose brother Dohnavin was Scranton's leading rusher with 54 first-half yards on 7 carries, scored two of the West Scranton touchdowns.
Evan Laybourn-Boddie ran 4 yards for a third-quarter score and caught a 43-yard pass from Caiden Berardi for the last touchdown. Laybourn-Boddie had 5 catches for 121 yards while Berardi passed for 167 yards.
Berardi also scored on a 2-yard run.
Scranton increased its series lead to 19-14 by beating West Scranton for the fourth straight time with the help of a defense that threw West Scranton for seven losses while forcing five turnovers.
"We had a good rotation going today," Shumbres said. "We played a lot of guys up front and they came to play.
"It's a rivalry game. You don't have to say much to the kids. They know they just have to come out and play."
The Knights are 3-0 for the first time since starting 5-0 in 2017.
"It's been a while," Shumbres said. "It's a nice feeling.
"Spirits are up. When things are going good, everything feels good. We just keep going with it."
PHOTO GALLERY
The Bell Game in pictures: Scranton/West Scranton football photo gallery – NEPA Sports Nation.