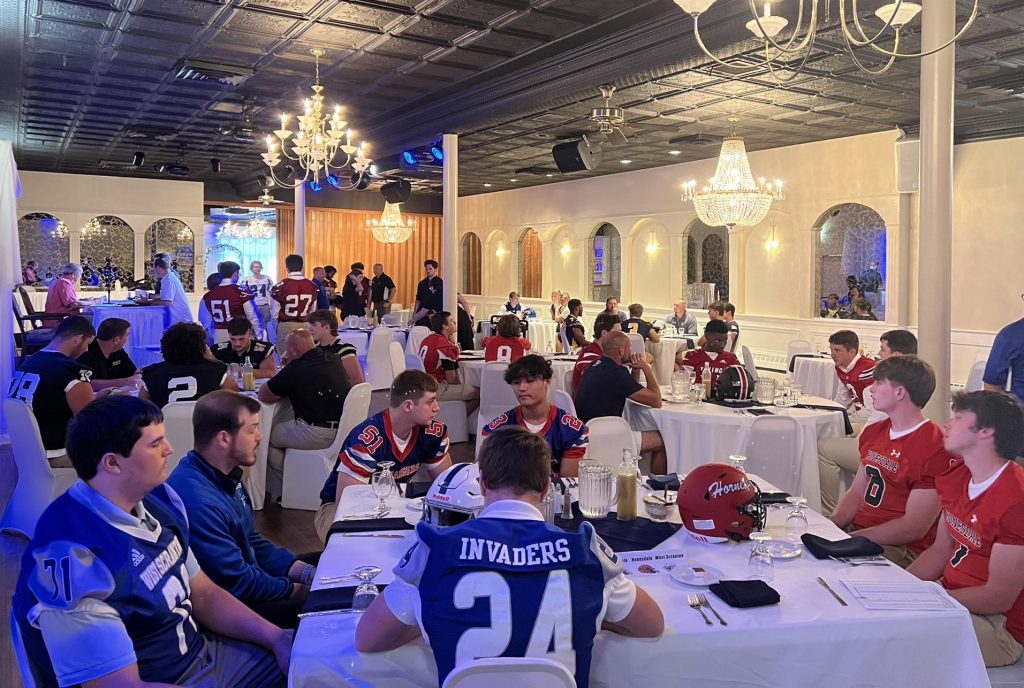 By Tom Robinson, NEPASportsNation.com
OLYPHANT – Jake Manetti is being introduced to the head coaching ranks earlier than most.
George Howanitz knows the time is right to say "good-bye" to that particular role in the game of football.
Manetti, who is trying to revive a once-proud West Scranton program mired in the cellar, and Howanitz, who, in one last trip through a football schedule in District 2, is preparing to turn over a championship Valley View team, were among the coaches who brought representatives to Lackawanna Football Conference Media Day Tuesday at the Regal Room.
All 19 active member schools – Montrose has stepped out of the conference to try to rebuild as an independent – had two players in attendance at the event that also included most of the head coaches. That group met with the media and enjoyed lunch with rivals just weeks before heading into Friday night competition.
As coaches around the room stood to announce the veteran players they chose to join them, Manetti was also being introduced to the group that included many more likely to know him from his days playing at Old Forge or starting his coaching career as an assistant at his alma mater.
Manetti was on path to be an assistant coach on a new staff at West Scranton when Paul Stefani Sr. resigned less than three months before his scheduled debut.
"Being a head coach has been a goal of mine since I ended my playing career and began coaching at Old Forge in 2018," said Manetti, who started in the defensive backfield at King's College. "I prepared myself to be a head coach for the last multiple seasons, but particularly in this last offseason when I did apply for and interview for head coaching positions.
"I had a lot of thoughts and ideas down on paper and a general knowledge of my philosophies. So, I was prepared even before receiving it, even though it did come about relatively quickly."
Like most coaches, Manetti will adjust, at first, to the personnel he inherits at West Scranton. The Invaders have lost 21 straight since beating Lakeland Sept. 13, 2019 and have not won an LFC divisional game since topping Western Wayne Oct. 12, 2018.
"You have to cater to the talent and play style of your players," Manetti said. "I would like to be as balanced as possible on offense, even though it might lean more toward a spread-style offense with the amount of athletes that we have.
"Defensively, it's going to be a multiple style approach with some odd fronts and some even fronts. It's going to be trying to find a way to get as many of my athletes on the field as possible. We're very athletic at many positions and I think the more athletes we're able to put on the field, the better off we'll be."
Howanitz is in a different position at Valley View, the defending District 2 Class 4A champion and a likely contender on the LFC divisional and District 2 level in the last of his 16 seasons as head coach.
"I keep telling everybody that I think the program is in a real good place, which is the way I wanted to leave it," said Howanitz, the quarterback and safety on the school's undefeated, 1992 state championship team. "I don't feel stressed out about my decision or iffy. I think it's time.
"I think the program is in a good place. I'm leaving it in a better place than when I found it and it's just time to do some other things."
Howanitz has one son, Dylan, playing college baseball at West Chester. Another son, Adam, the Cougars quarterback, is a Division I prospect with scholarship offers as he projects to play tight end in college, beginning next year. His daughter, Addison, is approaching her days as a high school athlete.
"I don't like missing anything for them," he said. "I like being at everything. It's just getting more and more difficult to be able to balance all those things."