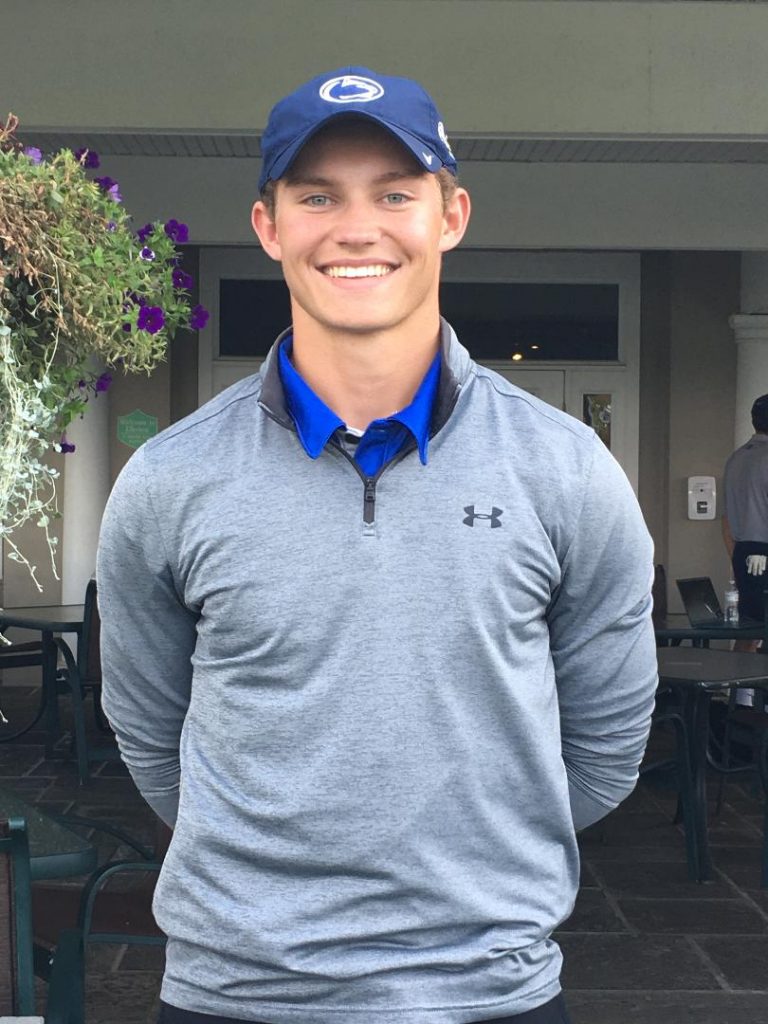 By Tom Robinson, NEPASportsNation.com
GREENFIELD TWP. – Eddie Kaufman had never won an individual stroke play golf tournament of any kind.
Mid Valley has had golf since 1969, but never produced an individual champion in the early-season Lackawanna League tournaments.
Kaufman ended both of those droughts Monday with a comeback on the back nine at Elkview Country Club to capture the title of the second annual Bob Simons Classic with an even-par, 72.
The win represented a breakthrough for the Spartans in the Simons Classic or its predecessor, the Jackman Tournament.
"This is my first win ever for golf in a stroke play tournament," Kaufman said. "It's definitely special for me."
Kaufman shot even par on each side. His par on the downhill, par-3, 16th put Kaufman ahead in a first-place battle within the foursome with Riverside's Michael Maslanka. He then locked up the win by sinking a 10-foot birdie on 18 before Maslanka could make his own birdie from closer range.
The last hole was not easy for Kaufman.
"On 18, I think my nerves got to me a little bit," he said. "I knew I was the frontrunner. I duck-hooked my drive to the left."
Kaufman caught a break when the ball sailed through the tree line without being knocked down by any of the branches. The ball traveled to within 140 yards of the green.
From there, Kaufman hit a pitching wedge to 10 feet to set up the birdie that left him a stroke in front of Maslanka and Scranton Prep's Gavin Walsh.
Kaufman had four birdies and an eagle to eventually catch Maslanka, who had the only under-par, nine-hole score, shooting 2-under, 34 on the front to take the lead.
By the time Kaufman made it back to the red numbers with his birdie at 11, word had made its way around the course and through coaches that those two were probably battling for the lead.
Walsh worked into the mix and would have been part of a three-way playoff if Kaufman had not made his birdie putt on 18.
Kaufman opened the day with a birdie on 1 and had his eagle on 8.
"On 8, I had a really good drive, a little bit left in the rough, but luckily I had a very clear shot in at the pin," Kaufman said. "I had about 146 yards and I put it just right of the flag, about a 15-footer uphill.
"That was the place to keep it because it was uphill without too much break and luckily a put a good stroke on it and it went in."
Kaufman birdies three of the last eight holes – 11, 14 and 18.
Tougher conditions – highlighted by fast greens – and the loss of a strong senior class from last season led the number of players breaking 80 to be cut in half from 16 to 8.
The top three finishers received individual awards along with the low player from each grade in the rest of the field.
Wallenpaupack's Kevin Wortmann was fourth overall with 76 and captured the low junior award after being low sophomore last season.
Cade Kelleher, one of three players from team champion Abington Heights to shoot in the 70s, won low sophomore with a 77.
Valley View's L.V. Pegula shot 78 to earn low senior.
Scranton Prep's Ben Walsh was low freshman with an 81.
MORE SIMONS CLASSIC COVERAGE
Team champs: Abington Heights, with three sophomores and a freshman in the lineup, captures team title. Young Comets win Simons title – NEPA Sports Nation.
Scores: All team totals and the top 43 individuals: Bob Simons Classic boys scores – NEPA Sports Nation.
Bob Simons feature: The story, first posted in 2021, explains why the tournament carries the name of the Wallenpaupack coach. Simons recognized for role in sport – NEPA Sports Nation.