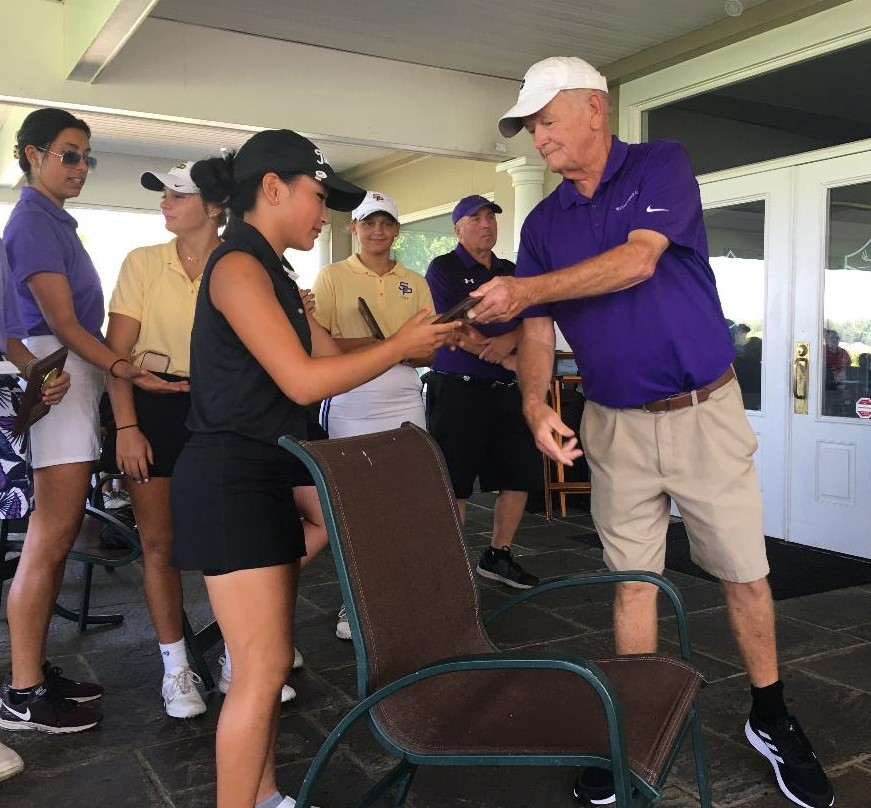 By Tom Robinson, NEPASportsNation.com
GREENFIELD TWP. – There was something a little extra special about winning the Lackawanna League's early-season golf tournaments this season.
The first Bob Simons Classics were played at Elkview Country Club – Aug. 24 for the girls; Aug. 31 for the boys.
Although the tournament was essentially the same as its predecessor, the Jackman Memorial Tournament, this was the first time it carried the name of Pennsylvania's all-time winningest high school golf coach.
Simons' players at Wallenpaupack, where he is now in his 51st season as head coach, were among those chasing honors. One, Kevin Wortmann, came away with the plaque as low sophomore in the boys tournament.
Billy Pabst Jr. took the biggest boys prize as medalist and leader of the championship team at North Pocono and realized the impact of the man who presented him with awards.
"It's just an honor that they named this for him and I was fortunate enough to be able to win it today," Pabst said Tuesday.
Scranton Prep coach Eddie Cimoch had similar thoughts after the Classics won the girls team championship last week.
"I just want to say it was an honor winning the first-ever Bob Simons tournament," said Cimoch, who is in his 34th and final season coaching against Simons.
Simons, simply known as "Si" to those around Wallenpaupack and northeastern Pennsylvania high school golf, is recognized with the tournament named after him as much for his gentlemanly approach to which the sport aspires as he is for his 666 wins or 51 seasons.
"Coach Simons is just the absolute nicest guy," Pabst said. "He's always looking out for everyone, even from the other team."
Wallenpaupack golf started in 1963 and Simons became its second coach in 1971, one year after the Honesdale High School and Bloomsburg University graduate started his career in education.
Simons took over a program that he said was already "in good shape," and turned it into a consistent winner and frequent title contender.
The Buckhorns won nine regular-season titles between the Wayne County League and Lackawanna League division and overall.
Simons has coached the program through two leagues, two districts and three home courses.
Wallenpaupack has won 11 Pennsylvania Interscholastic Athletic Association district boys team titles under Simons, including two since the program moved from the former District 12 to District 2 where there are many other opponents to get past.
After originally playing at Lords Valley Country Club, the team moved to Cricket Hill Golf Club in Hawley, closer to the school, in 1980.
There has also been an occasional match thrown in at Paupack Hills Country Club, but Wallenpaupack has played at the Country Club of Woodloch Springs since 2000.
"It's a very good home course," Simons said. "Any time you go to a country club, it prepares you well for districts.
"What you want to try to do for your better players is get them to regionals and states."
Simons' program has done that.
With titles in Class 3A in 2016 and 2018, Alex Pillar became the first Wallenpaupack boy to break through with an individual championship in District 2, following a series of champions, including his father, Woodloch Springs Director of Golf John Pillar, in District 12.
Simons' totals for championships and wins is just for his years as a boys coach. He also oversees girls who play at the school, with that wavering between a separate girls team or playing with the boys, depending on the number participating and whether they are part of what becomes a co-ed lineup for league play. This season, two Wallenpaupack girls have been part of the lineup for matches in the boys league, but they are still eligible to compete, as individuals only, against other girls in tournaments.
Those girls, Alexis Peet and Maya Pagano, have helped Wallenpaupack remain competitive at 2-2-1 overall despite heavy graduation losses.
The Buckhorns showed just how competitive they could be by winning their opener, then battling two-time defending District 2 Class 3A champion Abington Heights on its tough Glen Oak Country Club home course before falling short, 5½-3½ in the first Lackawanna League Division 1 match.
"We had a couple of injuries and I had five new players, but they put it together," Simons said of that strong early-season effort. " … We gave them a good battle."
Simons also spent many years as a junior varsity coach and varsity assistant in girls basketball and headed that program for three years, 1996-1999.
After teaching sixth grade for a quarter century, he served his last 10 years working in discipline for the Wallenpaupack Area School District. He retired in 2005, but has remained active in coaching.
"Wallenpaupack has been good to me," Simons said.
As was made clear by the Lackawanna League with the two new tournaments bearing his name, Simons has been good to the game in return.
MORE SIMONS CLASSIC COVERAGE
Boys event story: https://nepasportsnation.com/pabst-np-team-take-simons-titles/.
Video Interview: NEPA Sports Nation's Chris Kucharski interviewed Billy Pabst Jr. about his round: https://www.youtube.com/watch?v=ck7a5SaSi_4.
Boys scoreboard: All the team scores and all the individuals in the top half of the field: https://nepasportsnation.com/bob-simons-classic-boys-scores/.
Girls team story: https://nepasportsnation.com/classics-claim-simons-team-title/
Girls individuals: Elk Lake's Chloe Sipe claimed title. https://nepasportsnation.com/els-sipe-wins-first-simons-classic/
Girls scoreboard: See how the top half of the field finished. https://nepasportsnation.com/bob-simons-classic-girls-scores/.