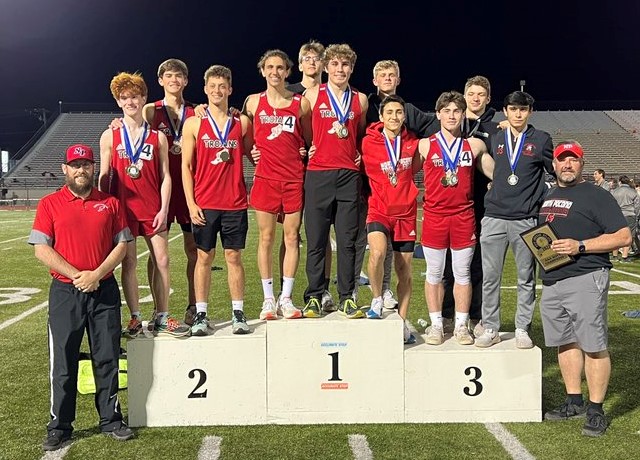 By Tom Robinson, NEPASportsNation.com
SCRANTON – The Jordan Relays have a distinctly different format from traditional track and field meets.
The field athletes had the night off, but the North Pocono boys still had plenty of ways to show off reasons this has been an extremely successful season for the Trojans.
And, show off they did.
With distance star Caleb Kenyon and sprinter Colin Kravitz leading the way, as usual, North Pocono won five events and came within 1.05 seconds of making it a sweep of all six.
As a result, the Trojans scored 58 of a possible 60 points to run away with the Class 3A boys title Thursday night at Scranton Memorial Stadium. That was the highest point total on a night when all four champions – Abington Heights in Class 3A girls, Mid Valley in Class 2A boys and Montrose in Class 2A girls – dominated and won clearly.
Just as it was nothing new for Kenyon and Kravitz to shine brightest, it was no surprise that they were far from alone in producing impressive results for the Trojans.
"The kids are talented, but the things that really impresses me is they put the work in," said Trojans coach Jason Sepkowski, whose defending District 2 Class 3A champions are unbeaten in duals, with the title of Lackawanna Track Conference Division 2 and victories over two other champs, and won their own Walt Godek Twilight Invitational. "It's one thing sometimes to have the talent.
"But, when you can match the two, talent and hard work, that gives good results. We have a lot of kids who are doing that, buying in to what the coaches are doing and it makes for some good performances."
Kenyon anchored three of the wins. Kravitz anchored the other two wins and the second-place 1200 sprint medley team.
Kenyon, Kravitz and Korry Eisley all won three events and had a second-place finish. Mason Natalini and Aiden Horne also won three times.
Noah West was on two winning relay teams and three other runners took part in one.
"We're getting some kids who are seeing what it takes to be top level and they're trying to catch up, too," Sepkowski said. " … I have a great group."
Wallenpaupack won the only other event and finished second in the team standings with 32, four points ahead of both Abington Heights and Scranton.
CLASS 3A BOYS
Final Team Scores
| | | |
| --- | --- | --- |
| Place | Team | Points |
| 1. | North Pocono | 58 |
| 2. | Wallenpaupack | 32 |
| 3. | Abington Heights | 28 |
| 3. | Scranton | 28 |
| 5. | Honesdale | 23 |
| 6. | Valley View | 21 |
| 7. | Delaware Valley | 17 |
| 8. | Pittston Area | 15 |
| 9. | West Scranton | 12 |
Event Winners
Distance Medley Relay (800-400-400-1600) – North Pocono, Mason Natalini, Aiden Horne, Jake Silva, Caleb Kenyon. 8:10.56. Abington Heights, second; Honesdale, third.
4×100 Relay – North Pocono, Korry Eisley, Mike Blaine, Noah West, Colin Kravitz. :44.19. Delaware Valley, second; Scranton, third.
1200 Sprint Medley – Wallenpaupack, Chris Quigley, Shadrak Agyei, Dylan Shorten, Michael Passent. 2:31.10. North Pocono, second; Pittston Area, third.
4×800 Relay – North Pocono, Stephen Tellez, Aiden Horne, Mason Natalini, Caleb Kenyon. 8:19.67. Abington Heights, second; Scranton, third.
1600 Sprint Medley (200-400-400-800) – North Pocono, Korry Eisley, Noah West, Colin Kravitz, Caleb Kenyon. 3:37.70. Honesdale, second; West Scranton, third.
4×400 Relay – North Pocono, Aiden Horne, Mason Natalini, Korry Eisley, Colin Kravitz. 3:27.62. Wallenpaupack, Pittston Area.