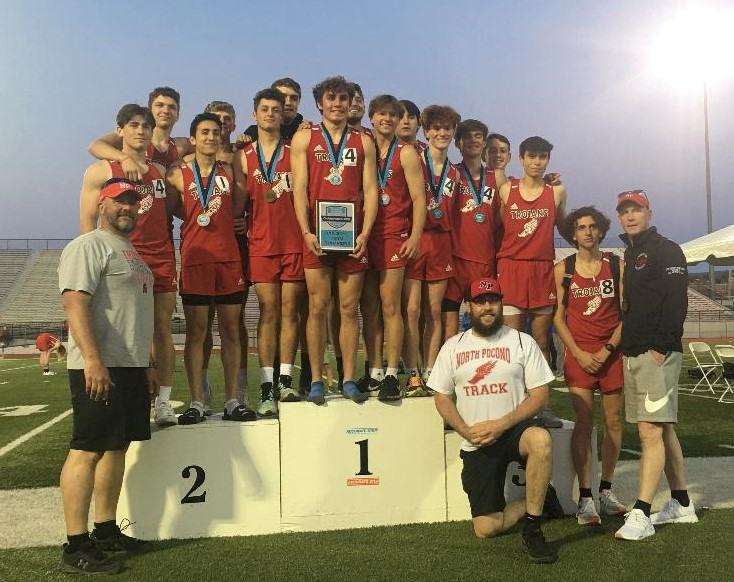 By Tom Robinson, NEPASportsNation.com
SCRANTON – North Pocono continued to hammer home the point that it is the top boys track and field team in the Lackawanna Track Conference and perhaps all of District 2.
While the Trojans were cruising to the Class 3A boys title at the Robert Spagna Lackawanna Track Conference Championships May 10 at Memorial Stadium, Connor Hilling made sure Valley View came out on top of a competitive race for second place.
Colin Kravitz, Caleb Kenyon and Mason Natalini each earned multiple gold medals while North Pocono was winning six events and compiling the victorious point total of 100.
Hilling won the day's most competitive race, the 100-meter dash, and anchored the winning 400 relay as Valley View scored 78 points to beat out the two-teams with which it shared the LTC Division 1 title, Scranton and Valley View.
Scranton's Antonio Hairston was the only boy to win three individual events while helping the Knights to 73 points for third place.
Abington Heights took a different approach, using balance to place fourth with 63 points despite not winning an event.
Hilling's 11.095 in the 100 allowed him to lead a pack of seven sprinters that crossed the line within .124 seconds of each other.
Hairston won the long jump, triple jump and 300 hurdles.
North Pocono had three of the five multiple gold medalists.
Kravitz won the 200, 400 and as part of the 1600 relay. Hilling edged him by five-thousandths of a second to prevent Kravitz from winning four golds.
Kenyon won the 1600 and 3200 for the defending District 2 Class 3A champions, who already won the LTC Division 2 and Jordan Relays Class 3A titles this season.
Natalini ran on the winning 3200 and 1600 relays.
Honesdale had two individual winners, Aidan LaTourette in the 800 and Tyler Winters in the javelin.
MORE SPAGNA MEET COVERAGE
See what Class 2A champion Mid Valley coach Nick Kazinetz had to say about North Pocono's success: https://nepasportsnation.com/angelo-rodriguez-zarnowski-lead-way-as-spartans-win-with-balance/.
Full team scores, plus top three finishers in each event: https://nepasportsnation.com/spagna-ltc-championship-results/.
Full team scores and top three finishers from each event can be found