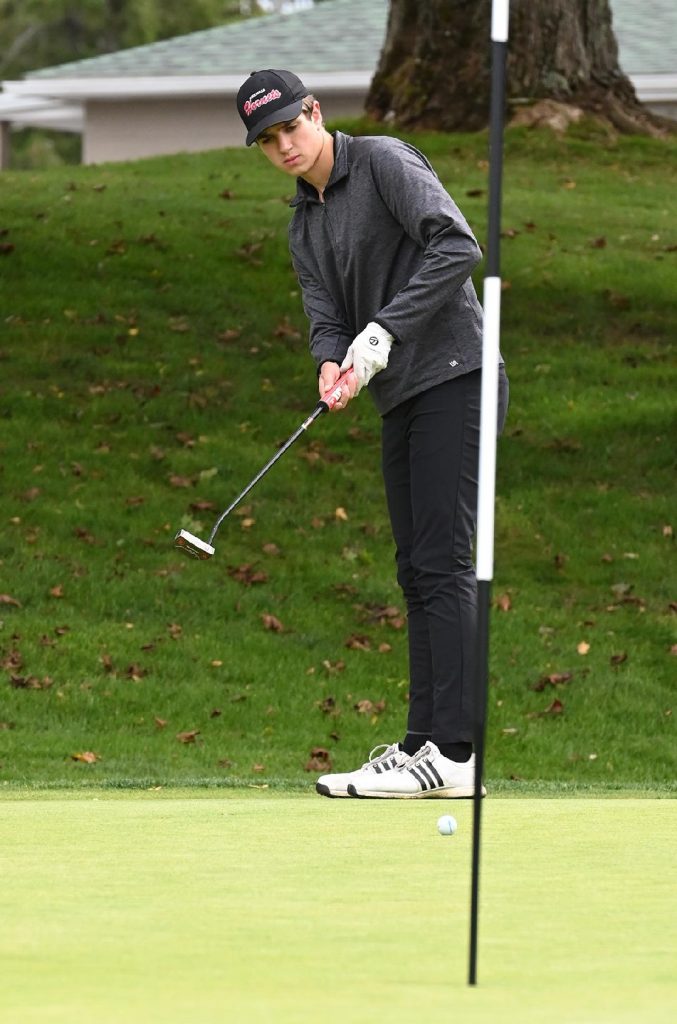 By Tom Robinson, NEPASportsNation.com
GREENFIELD TWP. – Kevin Wortmann was the leading reason the 2022 team season lasted longer at Wallenpaupack.
With the Buckhorns done as a team, Wortmann came to Elkview Country Club Monday intent on extending his own season – all the way to the Pennsylvania Interscholastic Athletic Association Championships.
"I had both thoughts in mind," Wortmann said after shooting a 2-over-par, 74 to claim the Class 3A boys title at the Distri2ct 2 Individual Golf Championships. "I definitely wanted to win a district title, but at the end of the day just qualifying is the key part."
Wortmann led the group of four Class 3A boys qualifiers from the district for the state tournament
"Getting the (win) is the add-on," he said. "It's an awesome accomplishment."
Wortmann started with a birdie on 1, added another when he "stuffed a wedge shot pretty close" at 4, then had back-to-back birdies at 8 and 9, where he rolled in a long putt.
Those birdies allowed Wortmann to withstand two double bogeys, including a late one at 15, and post a one-shot victory over Crestwood's Derek Johnson.
Johnson led early, shooting a 2-under on the front while playing with Wortmann and fellow state qualifier L.V. Pegula from Valley View.
After also posting four front-nine birdies, Johnson was still in front at 2-under through 14, before running into difficulties at 15 and 16.
At that point, he knew from within his own group that he had lost his lead, but also feared he might have lost control of a state berth.
"I was trying to play a little more aggressive after that because I thought maybe I would need to get a couple shots back," Johnson said.
He wound up making it with room to spare.
Crestwood teammate Owen Blazick was third with a 77.
Pegula wound up in a three-way playoff for the last state berth with Valley View teammate Zach Smith and Hazleton Area's Connor Matteo after they shot 79 to tie for fourth. He ended that playoff quickly with a birdie on the par-5, first hole.
Luke Morgan from Abington Heights had three straight birdies while shooting 37 on the back nine, but had to settle for a seventh-place tie at 80.
Mike Hamel from Wilkes-Barre Area and Bradley Kugler from Dallas also shot 80.
Johnson and Blazick led Crestwood to an unbeaten regular season and have the Comets pursuing team success.
Wortmann and Pegula get to extend their season to the PIAA Championships, which for Class 3A players will be on the Penn State White Course Oct. 17-18.
It's a much better finish at Wallenpaupack than last place as a team with an uncharacteristic 1-8-1 record in 2021.
Wortmann was one of three juniors who teamed with two freshmen and district girls tournament qualifier Maya Pagano to win nine times this season and reach the Lackawanna League playoffs before being eliminated.
"Last year was rough, but we bounced back," Wortmann said. "We worked a lot in the offseason. We have a young team.
" … It was a good season overall."
MORE COVERAGE
The quick recap of all four tournaments: BULLETIN: Titles for Werner, Powell, Wortmann, Karoscik – NEPA Sports Nation.
Boys photo gallery: District 2 Boys Golf photo gallery – NEPA Sports Nation.
Girls photo gallery: District 2 Girls Golf photo gallery – NEPA Sports Nation.
Full scoreboard: District 2 individual golf championship scores – NEPA Sports Nation.