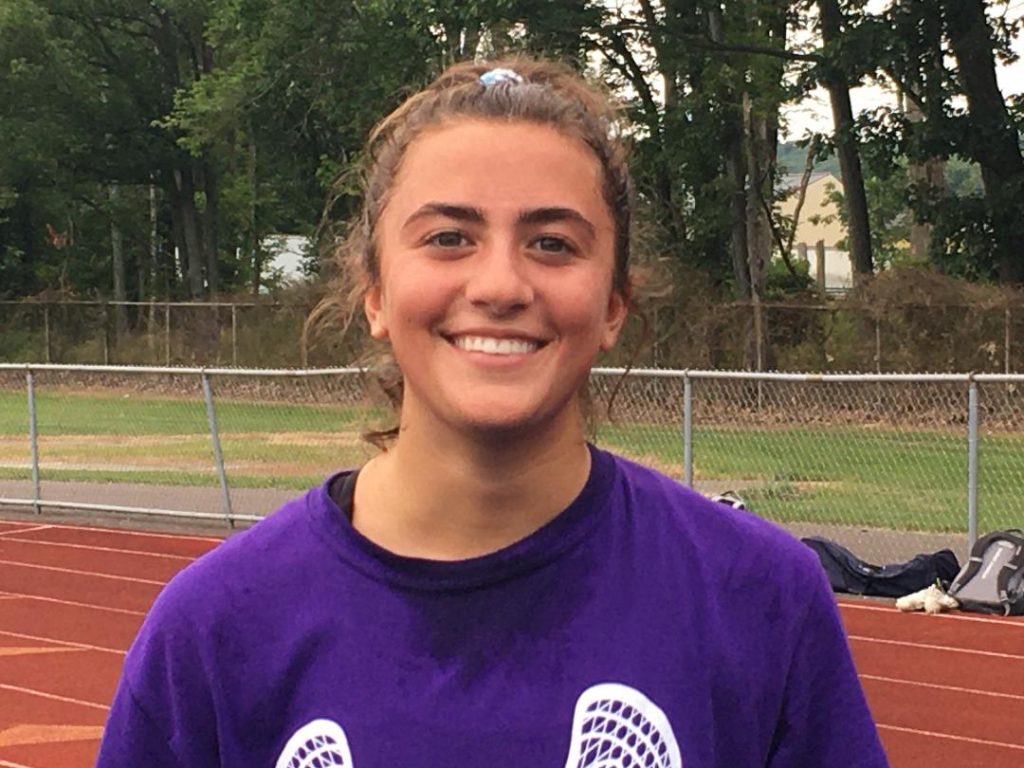 By Tom Robinson, NEPASportsNation.com
LEHMAN TWP. – Christina DeNaples' next planned lacrosse venture is to be part of the launching of a National Collegiate Athletic Association Division I women's program at the University of Pittsburgh.
Before heading off to college, DeNaples excelled in one last local game.
The recent Scranton Prep graduate scored four goals and assisted on two others Saturday when Team Purple overpowered Team Yellow, 21-6, at Lake-Lehman's Edward Edwards Stadium in the opener of a Senior Lacrosse All-Star Doubleheader.
DeNaples, selected as her team's Most Valuable Player, was one of five Purple players to score either three or four goals.
Rachel Shook from Lake-Lehman had four goals and an assist. Emma Kelleher from Wyoming Area had three goals and five assists. Tunkhannock's Becca Fick and North Pocono's Kendra Jordan also scored three goals.
Hannah Chocallo, a Wilkes-Barre Area graduate who plans to play at King's College, was named Yellow MVP after scoring two goals.
"This is going to be our first year and we're building a program," said DeNaples, who was offered a scholarship to play at Pitt after being observed in travel tournaments.
Pitt coach Emily Boissonneault was appointed in 2019 and has been building the first roster. The Panthers will enter Atlantic Coast Conference play with a roster that currently exists of 14 transfers, including some high-level Division I players; a group of 15 recruits from the 2021 class that includes DeNaples; six recruits from the 2020 high school class that have already reported; and three members of the school's club team that won a national club championship in 2019.
DeNaples had three goals and an assist when Purple was scoring the last 10 goals of the first half to break away from a 3-3 tie. She started the decisive streak off a Shook assist, then scored twice in the last 2:10 of the half, once on a free-position hit and the other time off a set-up by Kelleher.
Purple added the first goal of the second half – Shook converted after cutting down the middle – to open a 14-3 lead.
The game for recent graduates of Wyoming Valley Conference teams came up one short of having enough available players for two full rosters.
Purple controlled the game despite playing one player short for the first 14:25 and last 23:18. Yellow kept one player on the bench as a substitute in between to have the teams compete with the same number of players.
During the 37:43 that it played short, Purple still managed a 14-5 advantage. It outscored Yellow, 8-1, in the 12:17 played with the same number of on-field players.
Jill Taleroski from Crestwood added two goals and two assists in the game. Delaney Greenish from Abington Heights also scored twice. Lake-Lehman's Paige David and Crestwood's Julia Johnson had assists.
Lakeland's Grace Kelley and Addie Piraino, Delaware Valley's Madison Fedun and Hazleton Area's Riley Hudock scored the other Yellow goals. Meaghan Drennan from Hazleton Area had an assist.
Purple outshot Yellow, 39-14.
Avery Bogdon from Crestwood made 11 saves in the loss.
Lake-Lehman's Kortney Harry had five saves for Purple.
The doubleheader was presented by 570 Sports Show LLC.