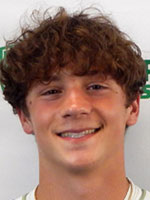 By Tom Robinson, NEPASportsNation.com
DUNMORE – Rocco Pizano did not need many touches to make an impact on Friday night's game.
One return got the game off to an exciting start and got Wyoming Area ready to move for its first score.
Two deep challenges to his pass-coverage abilities by Dunmore both resulted in interceptions.
Three long touchdowns were the result of just four chances for Pizano to run the ball.
It all added up to the speedster leading Wyoming Area to a 35-6 road victory in a non-league football game.
Pizano's exploits allowed Wyoming Area to open a 28-0 halftime lead and send the game into the Mercy Rule at 35-0 on his 65-yard touchdown run with 2:45 left in the third quarter.
What happened after that was irrelevant to the game's outcome. To that point, Wyoming Area had demolished Dunmore up front while setting Pizano, Leo Haros and others loose to run free while building a 389-45 advantage in total offense.
"You saw him kind of let loose off the chain tonight offensively," Wyoming Area coach Randy Spencer said of his leading receiver. "He's so explosive and dynamic on the edge.
"And, he was able to get the ball up between the tackles and Rocco can go."
Whether coming in motion to be in position to take a pitch or handoff or making a cameo appearance in the backfield to take one wildcat snap, Pizano made the most of chances to operate as a runner.
In two first-half carries, Pizano had his first 100-yard rushing game.
Pizano worked himself out of traffic with a couple of slick moves for a 30-yard touchdown on his first carry.
"It was great vision, a jump-cut back," Spencer said. "To make that cut and then hit that gear right off that next step makes him special."
Pizano finished with 166 yards and an average of 41.5 per carry.
"I thought I was going to be catching the ball more than running the ball," Pizano said, "but, the first carry I had, I scored.
"So, I guess they figured, they would keep giving me the ball and I could score on the ground."
Pizano still found a way to impact the passing game – Dunmore's passing game.
Following their only first-half defensive stop, the Bucks aired it out from midfield on third down.
Pizano made an adjustment while the ball was in the air and intercepted the dangerous pass at the 11.
It was an adjustment Pizano didn't make that resulted in the second interception.
Dunmore got to the Wyoming Area 35 to open the second half, then went for the home run on second down, a pump-and-go pass attacking Pizano, who was playing right corner.
Pizano barely flinched on the pump fake and had the position to make an interception at the 6.
"I saw it coming," Pizano said, " and I just played the ball."
The interceptions were just the second and third of the season for Pizano, but Spencer said that is because many opponents will not even test him.
"The ball went up his way twice tonight and he came away with two interceptions," Spencer said. "You've seen teams go away from him; not challenge him, so I think he has that kind of respect."
As dynamic as Pizano's effort was, he still had plenty of help, including from Haros, Aaron Crossley and Jayden Rusyn.
The Warriors moved 61 yards in 5 plays after Pizano's 31-yard return on an opening kickoff that originally had gotten away from him.
Haros ran 20 yards on the second play and Crossley went untouched off the right side for a 26-yard touchdown.
With Haros, Pizano and Crossley leading the way, Wyoming Area averaged 17 yards on its 17 first-half carries.
The three runs on the next drive produced 60 yards. Haros ran for 19 and 11 before Pizano's 30-yard touchdown for a 14-0 lead after one quarter.
On the first play after Pizano's first interception, Haros ran 51 yards, putting him over the 100-yard mark in 6 carries. He finished with 109 yards on 7 carries, all in the first 16½ minutes.
Two plays later, Blaise Sokach-Minnick hit John Morgan in stride on a slant pass and Morgan was off to the races for a 27-yard touchdown.
The offensive efficiency rendered Red Zone production meaningless because the Warriors scored their five touchdowns without ever taking a snap from closer than the Dunmore 26.
The next touchdown, which created the 28-point halftime lead, was the longest.
After a penalty ruined a Morgan punt return, Pizano took a jet sweep 70 yards down the right sideline, changing speeds to keep the defense from closing in.
A Domenic DeSando kickoff return and a short Wyoming Area punt allowed Dunmore to start in Warriors territory on each of the first two second-half drives.
Pizano's interception and consecutive tackles for five-yard losses by Rusyn and Joe Marranca kept the Bucks from cutting into the 28-0 deficit.
Rusyn's third-and-six sack was his second sack on a night when he added another tackle for a loss and led the Wyoming Area defense in tackles. He also kicked the team's first three extra points before soccer standouts Halle Kranson and Liam Burke added one each.
Pizano then put the game away with his 65-yard touchdown on the first snap after Marranca blew up a fourth-down reverse by the Bucks.
With Wyoming Area blending in players from its deep bench, Dunmore (3-5) moved the ball the rest of the game, driving 67 yards for a 6-yard touchdown by Nick Ruggiero, then moving to the Wyoming Area 10 where the game ended.
Crossley carried 5 times for 51 yards and Nico Sciandra 5 times for 35 yards as Wyoming Area finished with 378 yards on 26 carries.
Ruggiero led Dunmore with 35 yards on 8 carries.