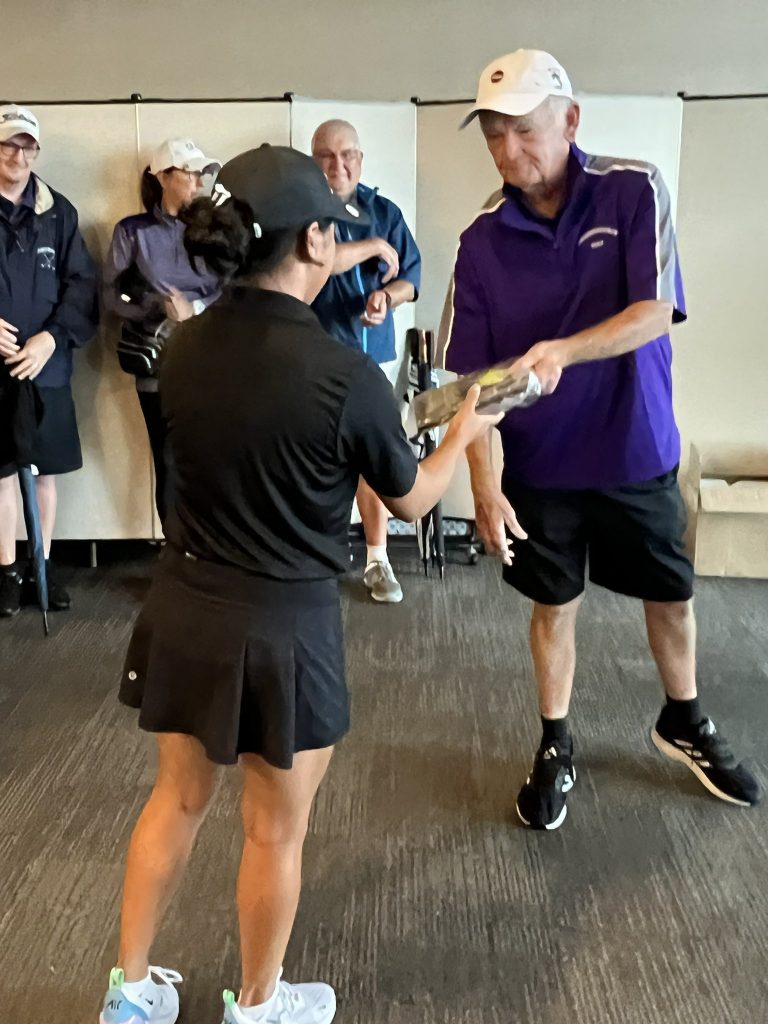 ROARING BROOK TWP. – Gwen Powell was nearly perfect from tee to green, giving the North Pocono junior enough of a margin for error that missed putts could not stop her from claiming the individual title of the Bob Simons Classic for Lackawanna League girls golfers Monday at Elmhurst Country Club.
Powell hit 16 of 18 greens while shooting a 2-over-par, 75, two strokes better than the round Gianna Cafarella put together while leading Scranton Prep to the team championship.
"Definitely hitting the greens helped, even though I did have a few three putts," Powell said. "I had a lot of good birdie opportunities."
And, three eagle opportunities that turned into easy birdies at 7, 10 and 14.
Powell putted for eagle three times before she missed a green in regulation for the first time.
After reaching the par-5 seventh and 10th holes in two, Powell drove the ball to within three feet of the cup on the par-4, 14th.
Scranton Prep had four of the top nine finishers to easily win the team title, 255-284, over North Pocono.
The three lowest scores from each team made up the team score.
Powell and Cafarella were the only two players to break 80.
Honesdale's Kayla Benson was third with an 84.
Following awards for the top three finishers, the low score from each grade was also recognized.
Scranton Prep claimed the low senior award with Miranda Karoscik's 85 and low sophomore with Chloe Lynch's 93.
Ana Galko had a 94 for the Classics.
Low freshman Lyla Jones supported Powell, adding a 99 to help North Pocono easily secure second place.
Abington Heights was third in the six-team field with 317.
Lily Sedlak, who plays for the Mountain View boys team during the regular season, was low junior with a 95.
Dunmore's Maddie Valvano was fifth overall with a 90, one stroke better than Riverside's Jennifer Genell and Wallenpaupack's Maya Pagano.
Sophia Policare from Abington Heights rounded out the top 10 with a 98.
The tournament drew a field of 41 players from 15 schools.
Powell and Cafarella posted their scores early, then waited for hours while lightning delayed the chance for other players to complete their rounds.
Eventually, they finished and awards were presented.
"It was a long day," Powell said.
NOTE: This story was created from the reporting of Ben Magnotta.
MORE COVERAGE
Tournament scores: Simons Classic girls scores – NEPA Sports Nation.