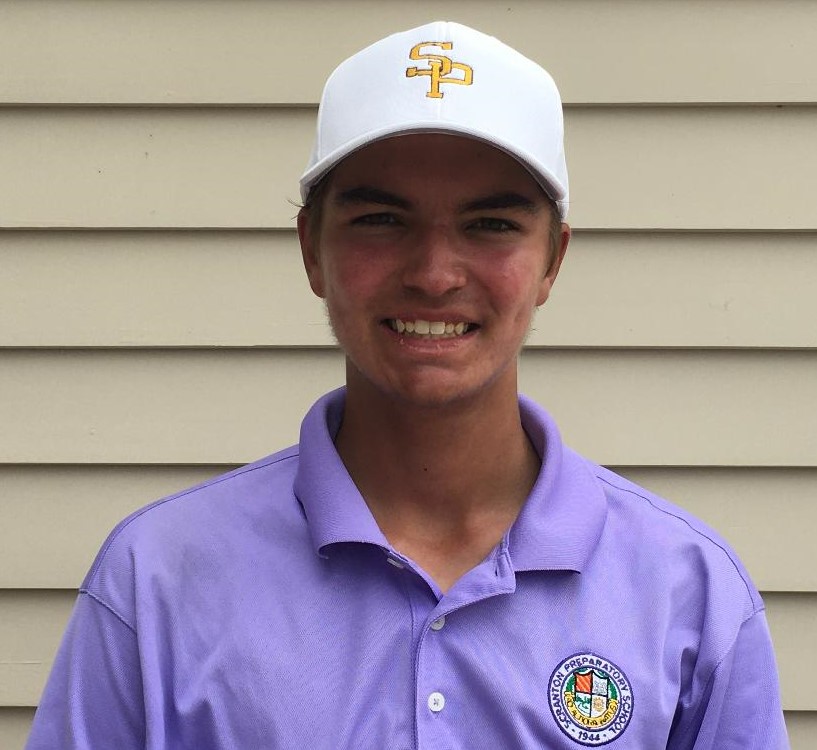 Michael Sewack got Scranton Prep started and Gavin Walsh finished up Friday afternoon.
They each provided key points as the visiting Cavaliers defeated second-place Abington Heights, 5½-3½, on the front nine at Glen Oak Country Club to clinch no worse than a tie for first place in Lackawanna League Division 1 golf.
Sewack, who joined Thomas Lynch in shooting 1-under-par, 35 for the Cavaliers, was part of a three-point sweep in the first foursome.
Scranton Prep, which is unbeaten in head-to-head competition, had already secured no worse than a tie for the match when Walsh made it to the ninth tee in the last foursome.
Walsh needed just to halve the hole to earn the half-point needed to clinch the team win. Instead, he delivered a regulation par to win the hole and secure both the match victory and the clinching.
The win was the second of the season for Scranton Prep over Abington Heights, the top-ranked Big School in the Scranton Golf Center Super Six Power Rankings of District 2 teams.
"It's a rarity for one of these teams to beat the other guy twice in a season," Scranton Prep coach Eddie Cimoch said of the annual battles that often decide supremacy in the Lackawanna's top division.
The only time any team has finished ahead of defending Pennsylvania Interscholastic Athletic Association Class 2A state champion Scranton Prep at any time this season was during a second-place finish behind North Pocono at the Bob Simons Classic.
Scranton Prep has been tough since, including beating North Pocono, 7½-1½, Thursday to avenge both the tournament loss and improve on the score of its closest match of the season, an early, 5-4 win over the Trojans at Elmhurst Country Club.
"We were a little dejected," Cimoch said of the Simons Classic finish. "North Pocono played fantastic that day. I was watching (individual champion) Billy Pabst (Jr.). He had a spectacular round.
"But, that gave us incentive when we played them Thursday. We had a little chip on our shoulder. We really wanted to show who's best and we did a pretty good job against them."
Pabst had North Pocono's only win in the match, but Sewack played well enough in the same foursome to make sure the defending District 2 champion could not also earn a better-ball point for the Trojans.
The play of Sewack and the rest of the Cavaliers carried over into Friday and the difficult challenge of beating Abington Heights at Glen Oak.
Sewack won, 3 and 2, over Michael Marion, one of the top Abington Heights threats. He also teamed with Brett Strong to defeat Marion and Quentin Birch, 5 and 3. Strong defeated Birch, 4 and 3.
The teams each took 1½ points in the middle foursome. Lynch's 35 helped him to a 3-and-1 win over Bryce Florey, but Florey and Luke Morgan helped each other to a 1-up victory over Lynch and Ben Galko.
Galko salvaged a split within the foursome when he made a clutch putt at 8 to keep his match even and wound up halving the singles match against Morgan.
"With Thomas Lynch at 1-under, Florey played pretty good to get that match to 8," Cimoch said.
Although he lost the singles point there, Florey came back with a birdie on 9 for the better-ball win that kept Abington Heights' hopes alive into the final hole of the final group.
James Flickinger gave Abington Heights its only singles win, 3 and 2 over Michael Lynch, and joined freshman Cade Kelleher for a 1-up win in better ball against Michael Lynch and Walsh.
"In that situation, we couldn't lose," Cimoch said, noting that Walsh was in a position where he just needed to play for par.
While both players hit the green with their tee shots on the par-3, ninth, Walsh put his closer, making the par almost a certainty and forcing Kelleher to go for broke. Kelleher wound up three-putting on his must-try for a long birdie.
Scranton Prep, the No. 2 Small School in the Super Six behind Lake-Lehman, is 8-0 in the division with two matches left and is 9-0 overall. Abington Heights is 6-2 in the division and 9-2 overall.
The Cavaliers need only to pick up one win or tie in the remaining two matches, which are against the bottom two teams in the division — Valley View on the road and Wallenpaupack at home.