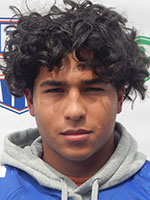 Mid Valley scored six touchdowns in seven offensive plays during the second quarter and early moments of the third quarter Friday night, turning a scoreless game into a 44-0 romp over visiting Montrose in a non-league meeting of Lackawanna Football Conference members.
Once Cameron Riccardo hit Jason Lowe with a 19-yard touchdown pass to break a scoreless tie early in the second quarter, the Spartans were off and running to a 38-0 lead over the next 14 minutes.
Mid Valley recovered an on-side kick after the first touchdown and scored again on the next play with Riccardo and Lowe again connecting, this time from 45 yards.
Before the Spartans could run another play, they had a third touchdown on Devin Ayala's 70-yard punt return.
Riccardo, who was 8-for-9 for 117 yards passing, all in the first half, added an 8-yard touchdown run on the second play of the next possession for a 24-0 halftime lead.
Ayala scored twice early in the third quarter. He had an 8-yard run on the second play of the second half, then scored again on a 38-yard run on the first play of the next possession.
After five straight failed conversion attempts, Mid Valley tacked on two points when Riccardo passed to Jaden Carroll.
Zach Popko broke a 75-yard touchdown run early in the fourth quarter to close the scoring.
Mid Valley has won two straight since a loss at Old Forge to open the season.
Montrose, which sat out the second week because of a lack of available healthy players, fell to 0-2.
The Meteors, who are still looking for their first score of the season, had the game's first threat.
Gus Brown found Landon Baker for a 72-yard pass on the second possession, putting Montrose at the Mid Valley 3.
The Meteors got as close as the 2 before a third-down sack led to them turning the ball over on downs.
Ayala ran for 115 yards and 2 of his 3 touchdowns on 8 carries.
MORE FRIDAY NIGHT FOOTBALL COVERAGE
Dallas/Wilkes-Barre Area: https://nepasportsnation.com/wydra-ormando-lead-dallas-rout/.
Dunmore/Lake-Lehman: https://nepasportsnation.com/ruggerio-defense-lead-bucks/.
Hazleton Area-Berwick: https://nepasportsnation.com/wolfe-leads-cougars-rally-to-first-win/.
Holy Cross-Hanover Area: https://nepasportsnation.com/tierney-leads-win-by-crusaders/.
Pittston Area-Wyoming Valley West: https://nepasportsnation.com/pittston-area-ends-slide/.
Tunkhannock-Crestwood: https://nepasportsnation.com/strong-start-carries-tunkhannock/.
Scoreboard: https://nepasportsnation.com/fridays-district-2-scoreboard-4/.