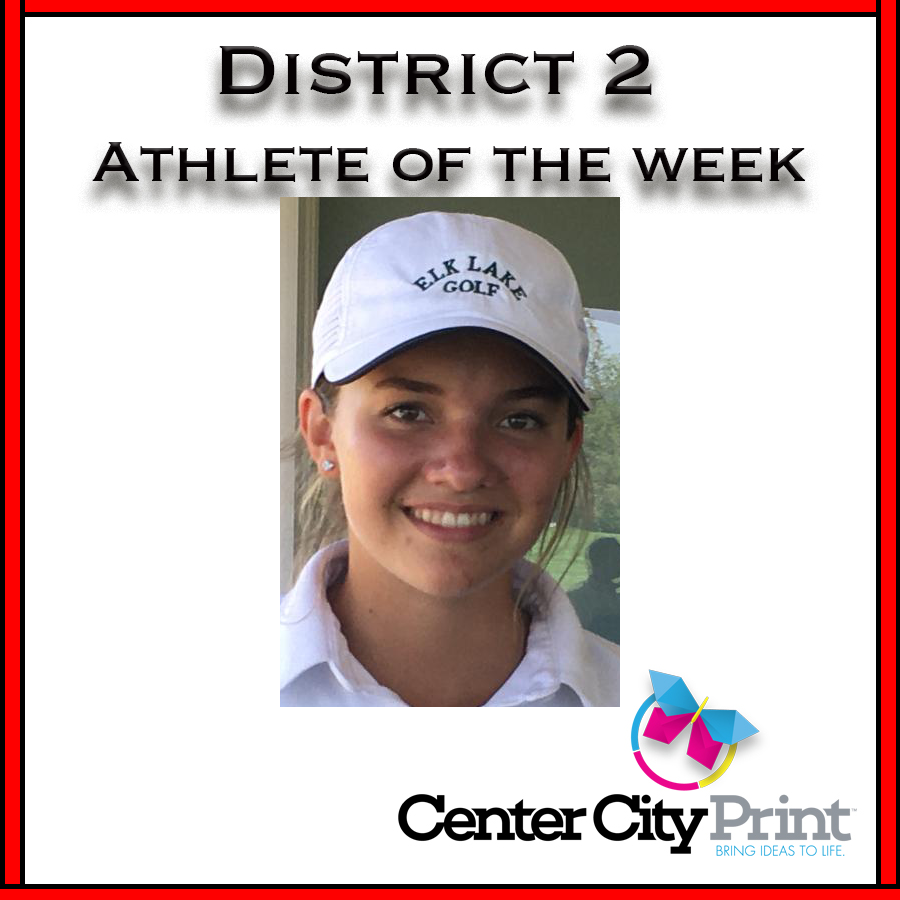 By Tom Robinson, NEPASportsNation.com
GREENFIELD TWP. – Chloe Sipe spent her summer making sure she would be ready for the first golf tournament of the high school season.
"I went south and I can't tell you the last time I took a day off from golf," said Sipe, who spent time at her family's second home in Sunset Beach, N.C., playing at Sandpiper Bay Golf and Country Club. "That's kind of what my summer has been like, getting ready for this tournament."
Sipe showed how ready she was.
The Elk Lake senior opened a five-stroke lead by the turn and held it, posting a 2-over-par, 74 for the championship of the Bob Simons Classic girls tournament at Elkview Country Club. She finished five strokes in front of another defending district champion, Class 3A's Gwen Powell from North Pocono.
As a result, Sipe is the first Center City Print District 2 Athlete of the Week. She was selected for the period from the beginning of the high school season through Sunday.
Sipe's scorecard reflected the steadiness of her driver. She finished with 14 pars, 3 bogeys and a birdie.
"Getting off the tee was absolutely amazing for me, which boosted my confidence for my second shots and my fairway shots because I was where I wanted to be," said Sipe, a three-time Pennsylvania Interscholastic Athletic Association state qualifier and a defending District 2 Class 2A individual and team champion. "I felt really confident coming into the greens. So, that was where my game was really strong today was on the tee boxes."
Elk Lake's first action of the season came prior to the tournament with a win over Abington Heights when Sipe shot a 3-over-par, 39 at Glen Oak Country Club.
"I still have a couple of things I can dial in and do better, but for the most part, I'm really happy with my game," Sipe said.
And, happy to play big events at Elkview Country Club.
Sipe's first competitive under-par round was a year ago when she shot 71 at Elkview in the Lackawanna League qualifier for the district tournament. That was a springboard to the district title and a second state top-10 finish, placing sixth.
During her career, Sipe has helped launch the Elk Lake program, encouraging other players while leading the team to three district titles and consecutive state finishes of sixth, fourth and third place.
Chloe is the daughter of Brian and Rachel Sipe from Dimock.
MORE
DISTRICT 2 HONOR ROLL: Sipe's tournament win was just one of the impressive efforts in the first 11 days of the season. Check out more at https://nepasportsnation.com/district-2-honor-roll/.