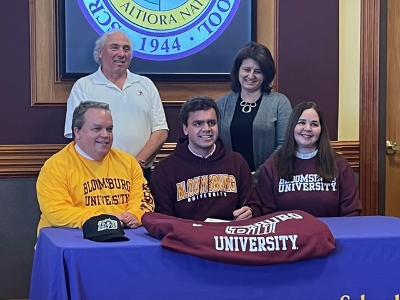 Scranton Prep senior golfer Ben Galko signed a National Collegiate Athletic Association Letter of Intent late last month to continue his academic and athletic careers at Division II Bloomsburg University on a partial golf scholarship.
"I am very excited to have Ben on our Husky golf team next fall," Bloomsburg head coach Gary Sohosky said, according to a press release. "I'm certain he will make an immediate and positive impact."
During Galko's four years on the Scranton Prep golf team, the Cavaliers won District 2 and Lackawanna League division titles each season. Also a four-year starter and state qualifier in swimming, Galko was a starter on the 2020 Scranton Prep team that captured a 2020 Pennsylvania Interscholastic Athletic Association Class 2A state golf championship.
"I am excited to continue my golf career playing for Bloomsburg University and coach Sohosky," Galko said. "I am thankful to Prep, my coaches and teammates for an unforgettable four years on and off the golf course."
Bloomsburg is a member of the Pennsylvania State Athletic Conference. The Huskies play both a fall and spring schedule.