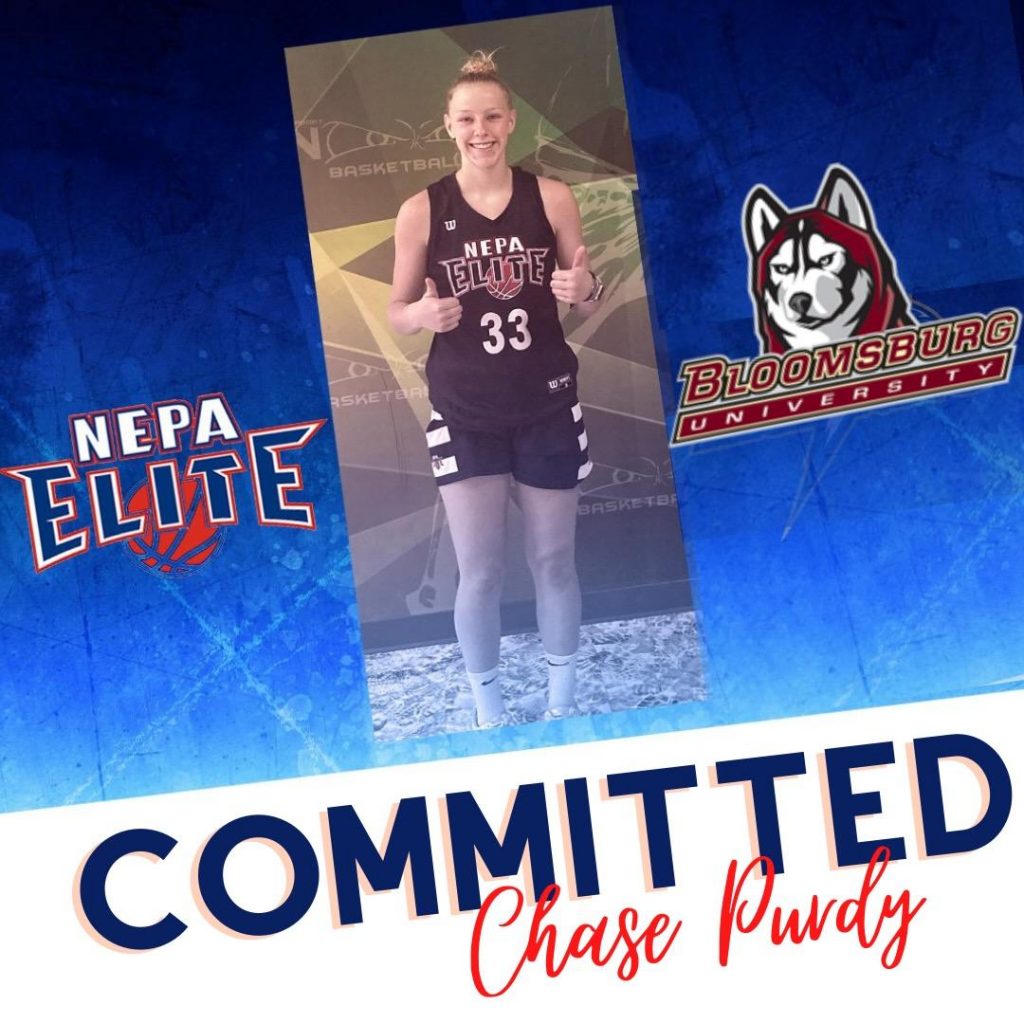 By Tom Robinson, NEPASportsNation.com
The process of transitioning from high school standout to college prospect pushes many basketball players away from the basket.
For Chase Purdy, it confirmed that she can continue playing where she is most comfortable, closer to the basket, often against bigger players.
Purdy gave her verbal commitment Tuesday to accept academic and athletic scholarships from Bloomsburg University where the NEPA Elite Rini 17U player and Lake-Lehman senior will play for the National Collegiate Athletic Association Division II program.
It was facing other prospects in summer AAU competition with NEPA Elite that Purdy was able to likely remove the request to become a guard from the equation. Her hustle and aggressiveness showed that Purdy could be effective close to the basket at a shade under 5-foot-11.
"That was one of the questions I asked probably every college coach that I visited," said Purdy, who checked in with "about 20" schools during the recruiting process. "When I played with NEPA Elite, I started out as more of an outside guard, then they moved me in and I was more down low, a 4 or 5 (forward or center).
"I really liked it down there and I think that's where I can thrive, so I wanted to know where coaches saw me playing. The Bloomsburg coach said I could be a 3 or 4 and more inside and that's kind of where I want to play."
Playing inside, Purdy was consistently among the Rini team's top rebounders and scorers and after some early recruiters treated her as a guard prospect, Bloomsburg coaches valued her play as a college forward.
"I love rebounding," she said.
It showed on a Rini team that had a winning record in every weekend of competition in 2021.
"I love playing hard and good competition," Purdy said. "I love playing with good players.
"Playing with and against other good players really brought out what I was able to do down there. The competition definitely went up (last) summer from previous years and I realized I can do well against good competition."
Purdy was also part of a group of girls that have raised the profile of Lake-Lehman's program in recent years.
An NEPABasketball.com Wyoming Valley Conference Division 2 first-team all-star last season, she joined classmate and NEPA Elite Rini teammate Claire Dougherty in leading the Lady Knights to a division title.
Before having her senior season cut short when she suffered a torn anterior cruciate ligament and meniscus in her left knee Tuesday – after committing to Bloomsburg earlier in the day – Purdy had helped Lake-Lehman climb to its current status as division leader and third-ranked Big School in the My City Mortgage Super Six Power Rankings of District 2 teams.
Bloomsburg staff has reassured Purdy of her position with the program since the injury and she will have surgery next week, then begin the rehabilitation process to prepare for her college career.
Purdy plans to major in finance with a possible minor in engineering management at Bloomsburg.
Bloomsburg is 10-0 at home this season while going 13-4 in the Pennsylvania State Athletic Conference and 15-8 overall.
Purdy originally thought she would like to leave the area for college, but by the time she approached her final decision, she was down to Bloomsburg, the nearest NCAA Division II program, and Misericordia, the closest Division III team.