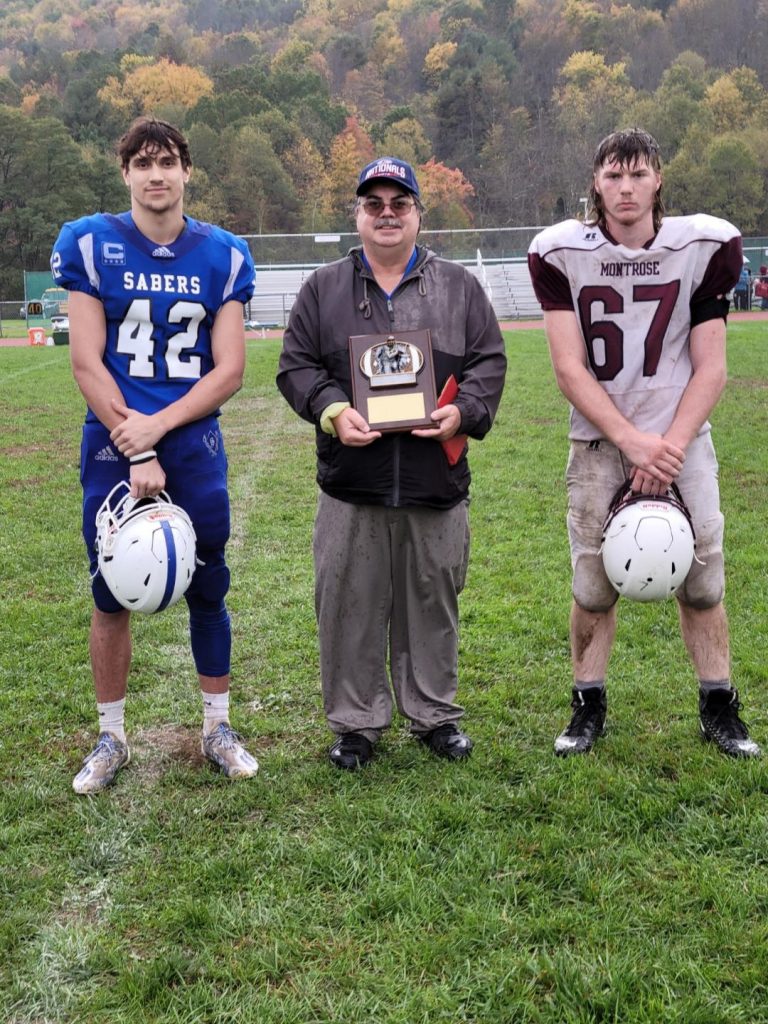 By Tom Robinson, NEPASportsNation.com
SUSQUEHANNA – Susquehanna never let Montrose near the end zone or the Bluestone Trophy.
The Sabers held the Meteors to 53 yards of total offense while winning the Battle for the Bluestone for the ninth time in its 10-year history with 37-0 a shutout Saturday afternoon at William Emminger Memorial Field.
Montrose ran just one play from inside the Susquehanna 44.
A 15-yard penalty on Susquehanna put Montrose at the 29 midway through the fourth quarter, trailing 30-0.
Rykin Hobart rushed the quarterback and Jason Smith intercepted the pass, which he returned 53 yards.
Susquehanna held Montrose to two first downs through three quarters – one on a penalty, the other on a fourth-and-17 conversion. The Meteors finished with minus-27 yards rushing.
The Sabers used a balanced offense to open a 14-0 lead after one quarter and a 30-0 lead at halftime.
Colton Stone threw two touchdown passes to Jesse DeLousia, Kaleb Shimer ran for two touchdowns and Layne Fisk kicked a 27-yard field goal to build that halftime advantage.
The balance extended to the defense.
Hobart and Auston Harvey each had two tackles for losses and four other Sabers had one.
DeLousia, who caught 3 passes for 82 yards, and Montrose's John Tyler shared the seventh annual Thomas E. Robinson Memorial Award for outstanding play while showing respect for opponents and officials. It was the first time there were co-winners of the award.
"We did what we planned on doing," said DeLousia, who scored from 47 yards in the last minute of the first quarter and 27 yards with 27 seconds left in the half. "We wanted to get it done quick because we wanted to beat the rain. We got our pass game doing quick."
The Homecoming game was moved up three hours to try to beat the rain, which did not arrive until midway through the fourth quarter.
Once it stopped, the Sabers finally moved the game into the Mercy Rule on a 28-yard touchdown run by Isaiah Valentin with 2:34 left.
The rain then stayed along long enough for the presentation of the Bluestone Trophy and the individual awards in the game between Susquehanna County's only two football programs.
Stone went 6-for-10 for 113 yards and finished 9-for-15 for 116. Shimer ran for 72 yards on 15 carries.
Tyler stood out defensively with stops that forced Susquehanna to settle for a field goal after scoring touchdowns on its first two possessions, then more that forced the Sabers to come up scoreless on a possession for the first time with 4:24 left in the third quarter.
The 6-foot, 195-pound, two-way junior lineman had a sack, two other tackles for losses and an assist on the fourth-down sack that forced the Sabers to give the ball up in the third quarter.
Tyler returned from a concussion as well as arm and shoulder injuries to try to bolster an undersized and overmatched line.
Montrose coach Kerry Patton praised the loyalty of Tyler for returning to the team late in a winless season when he could be just getting ready for his primary sport. Tyler wrestles at Elk Lake, which sends football players to the Meteors as part of a cooperative sponsorship of the sport.
"We're just hanging in there; we're having fun. It's all right here in your chest," Tyler said pointing to his heart. "It's giving it 110 percent every time you step on the field and protect your quarterback at all times.
" … We've just got to drive forward."
Tyler was emotional after the game, having fought hard in a situation without much chance of success, committing to helping his teammates and honoring the memory of another Elk Lake student.
Matthew Kinney, a 14-year-old from Springville, died from injuries suffered in an ATV accident Friday.
"We had a loss in the community back home," Tyler said of the inspired effort in defeat. "We didn't win it, but this game was for him.
"He was like a brother to me."
Tyler said Hunter Hunsinger, a 5-3, 110-pounder, who often lined up next to him in the interior of the defensive line, was even closer to Kinney.
"We were struggling out there," Tyler said.
MORE
Wallenpaupack-Abington Heights game story: https://nepasportsnation.com/paupack-downs-abington-heights/.
Weekend scoreboard: https://nepasportsnation.com/weekend-football-scoreboard-3/.
Explanation of Thomas E. Robinson Memorial Award: https://nepasportsnation.com/nation-nostalgia-sabers-meteors-to-play-for-two-trophies/.