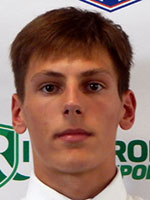 Noah Schultz carried 25 times for 302 yards and the game's first 4 touchdowns Friday night when Crestwood shut out visiting Abington Heights, 33-0, in a non-league football game.
Schultz ran for 207 yards and 3 of his touchdowns in the first half as Crestwood improved to 2-5, with both wins coming by shutout.
Abington Heights lost its sixth straight. The Comets were shut out the last two games and have scored just three touchdowns in five-plus games since taking a 19-7 lead into the fourth quarter against Honesdale in search of a 2-0 start.
Schultz opened the scoring with a 17-yard touchdown with 7:08 left in the first quarter to make it 7-0.
The lead reached 20-0 at halftime on 16- and 33-yard touchdowns by Schultz in the second quarter.
Schultz broke a 63-yard run for a 27-0 lead with 3.2 seconds left in the third quarter.
Chase Pugh added a 24-yard touchdown run midway through the fourth quarter.